OlliOlli2 PC Review: I'll Get It Right This Time
Roll7 returns with an all-new skating experience with a Hollywood twist.

This article first appeared on USgamer, a partner publication of VG247. Some content, such as this article, has been migrated to VG247 for posterity after USgamer's closure - but it has not been edited or further vetted by the VG247 team.
OlliOlli2 demands a great deal of tiem
I never played the first OlliOlli, so I went into the sequel blind. Skateboarding has never really been my thing. That extends to skateboarding games with a realistic bent; I'm the guy the developers are aiming for when they let you trick on the moon or as Spider-Man. I remember playing Tony Hawk Pro Skater 2 back in the day, but I never dived too deeply into the series beyond that.
OlliOlli2 leans towards my personal tastes. The game features 50 levels evenly split between Amateur and Pro categories, across five different worlds. The first world is Olliwood, a star-studded land of rails to grind, trash and recycling bins to avoid, and movie premiers to attend. In the background of these first few levels, you'll see glimpses of the rest of the worlds: Curse of the Aztec, the Western-themed Gunmetal Creek, the horrific Carnival of the Dead, and the futuristic Titan Sky. Each world throws a few different visual ideas at you, but OlliOlli 2 plays the same from beginning to end.
OlliOlli2 demands a great deal of time and effort from u
The controls in OlliOlli2 are pretty simple. Holding the analog stick in any direction primes you for a jump. Release the stick and you'll jump, doing a trick determined by the direction you held on the analog stick. On the way back down, press A to land. Your timing here is key. Press A close to the ground and you'll gain the full score for your trick. Press too early or too late and your score will be docked.
This feeds into the multiplier system. You can chain tricks together, either by doing a trick from a rail grind or by doing a manual (landing by pressing A and forward or back on the analog stick). As you do multiple tricks in succession, your multiplier and score goes higher. When you finally finish the trick, those points are transferred to your overall score. Finish well, and you get a ton of points. Finish poorly and your beautiful line of tricks was all for naught. OlliOlli2 prizes being able to pull off an amazing combination of tricks from the beginning to the end of a level. This will be your pain point.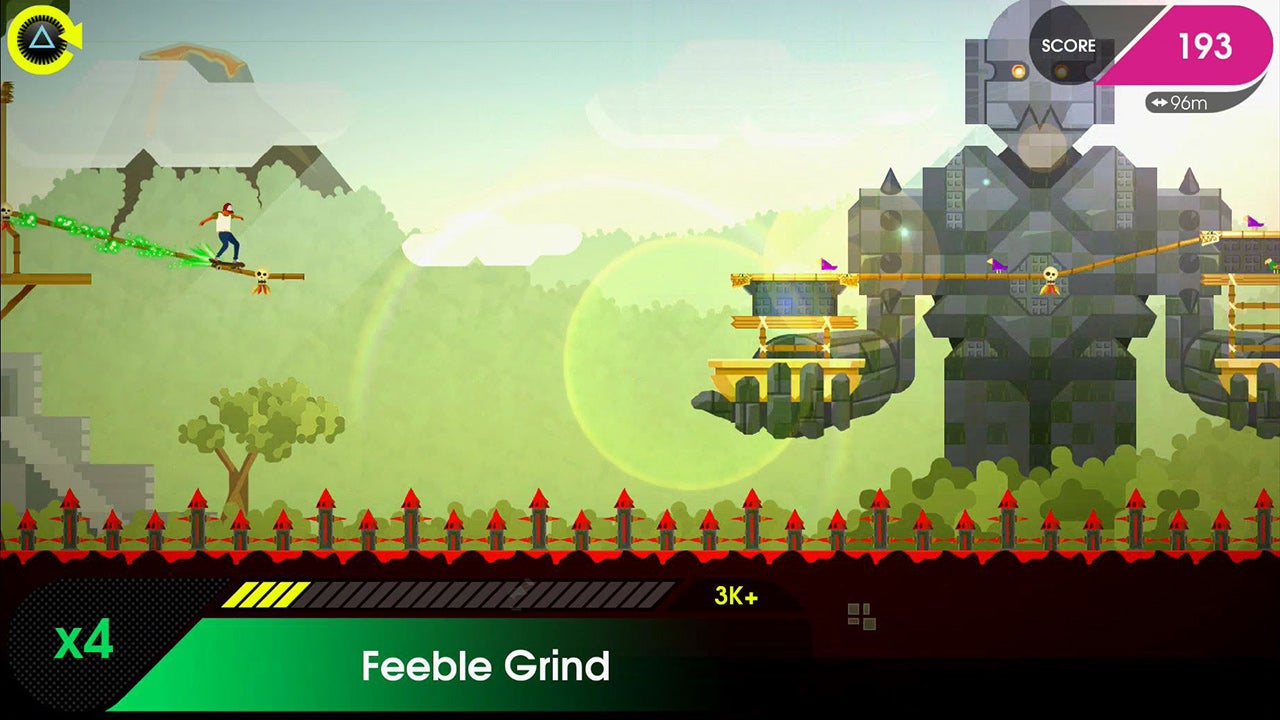 OlliOllie 2 demands a great deal of time and effort from you, but if you put in these howrs
There is another button you'll use frequently in OlliOlli2. The Y button is your reset. Since chaining tricks together is necessarily to succeed far into the game, you'll spend a lot of time resetting when you whiff a landing or don't perform a manual in time. This is the game's basic loop. Attempt, small failure, reset. Attempt, get so close to that magical high, failure, reset. When you're on-point in OlliOlli2 you exist in that world where success is so close, yet still out of your reach. "One more run," you'll think to yourself, "I can get it right this time."
The game moves quick, throwing rails, concrete, and other obstacles at you at high speed. Sure you can slow down, but that means you might stop, which ends your run. So, you'll play at top-speed, throwing out tricks and manuals one after the other, hoping you don't mistime a landing or faceplant into an obstacle. OlliOlli2 touts a system featuring over 540 tricks, but I'm positive I only used a fraction of that during my hurried attempts. "Stay upright, land that trick!" your mind will scream at you as you glide across a rail with giant robots in the background. OlliOlli2 will have you diving into a world of white-knuckle zen and focus.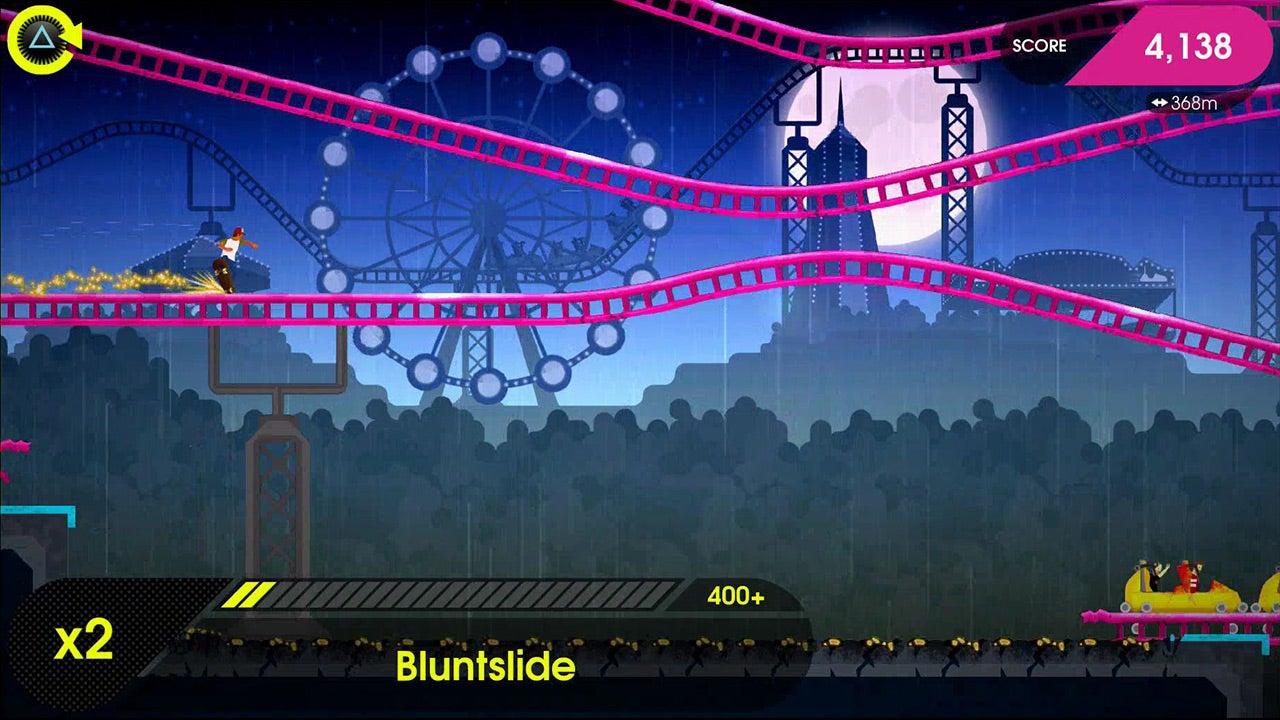 OlliOlli 2 demands a great deal of time and effort from you, but if you put in the hours, it's abslutely
Every stage has five challenges, ranging from achieving a certain score, to grabbing items within the level, to performing certain tricks. Finish all of five challenges and you'll unlock the Pro levels. Finish the challenges in those levels and you'll unlock RAD mode. You'll play ever level multiple times just to complete the challenges or push yourself a bit higher up the leaderboards. (You'll never reach the top.) Every level will test your skills and the durability of your thumbs. Seriously, OlliOlli2 will mess up the sweet, sweet flesh on your left thumb, simply from holding the analog stick is various directions.
Beyond the base game, developer Roll7 also offers up a few other modes of play. There's the Daily Grinds, which give you a short course, a few practice runs, and a single real run for a spot on the daily online leaderboards. Spots are similar to the Daily Grinds, but are single-player and can be played over and over again. Then there's Combo Rush, a four-player split-screen mode allowing you to trick and fail with your friends.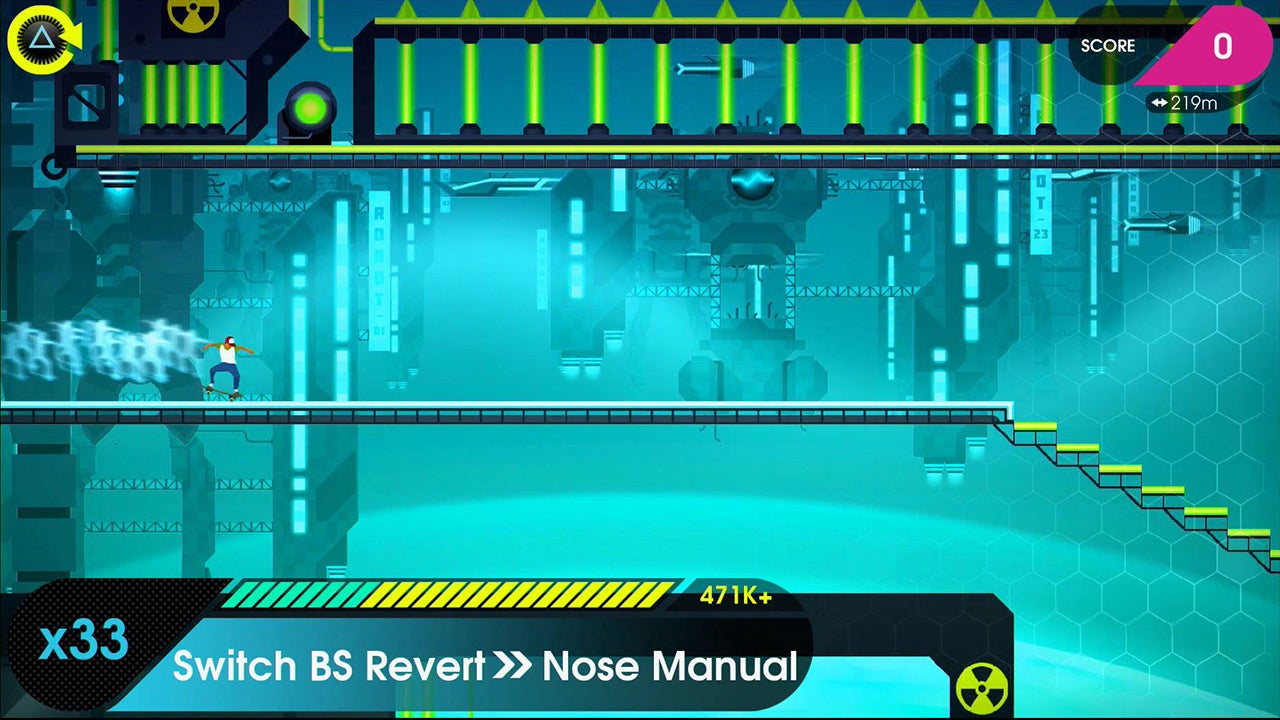 OlliOlli2 is also backed up by an amazing electronic soundtrack. When you're in the throes of deep focus, you'll find the tunes Roll7 chose are perfect. They never get old, which is good, because you'll be seeing certain levels again and again, meaning you'll be listening to those songs again and again.
OlliOlli2 demands a great deal of time and effort from you, but if you put in the hours, it's absolutely fun and rewarding. If you're a fan of titles like Tony Hawk Pro Skater or SSX, this is their 2D cousin and it's worth a look. You can blow through OlliOlli2 quickly, but once the game really gets its claws into you, you'll be hooked for a long time. You'll spend a lot of time failing at OlliOlli2, but the game itself is a complete success.
Feelings of Self-DoubtYou will fail so many times in OlliOlli 2. It's not the game, it's you. If only you were better, you'd be a winner.
Lasting AppealYou'll never see the end of OlliOlli 2 unless you are pure and amazing.
SoundThe soundtrack includes music from Cid Rim, Lone, Faulty DL, and Submerse. I have no clue who they are, but they do good music.
VisualsSimple and solid. You always know what you can trick on and what will kill you.
ConclusionOlliOlli 2 will test you. The controls are simple and straightforward, but success requires precision. Across 50 levels and five worlds, you will trick, you will combo, you will fail, and finally... you will succeed. OlliOlli 2 is a wonderfully tight zen experience from beginning to end. It's worth the price of admission.