EPOS B20 Review | A slick-looking streaming microphone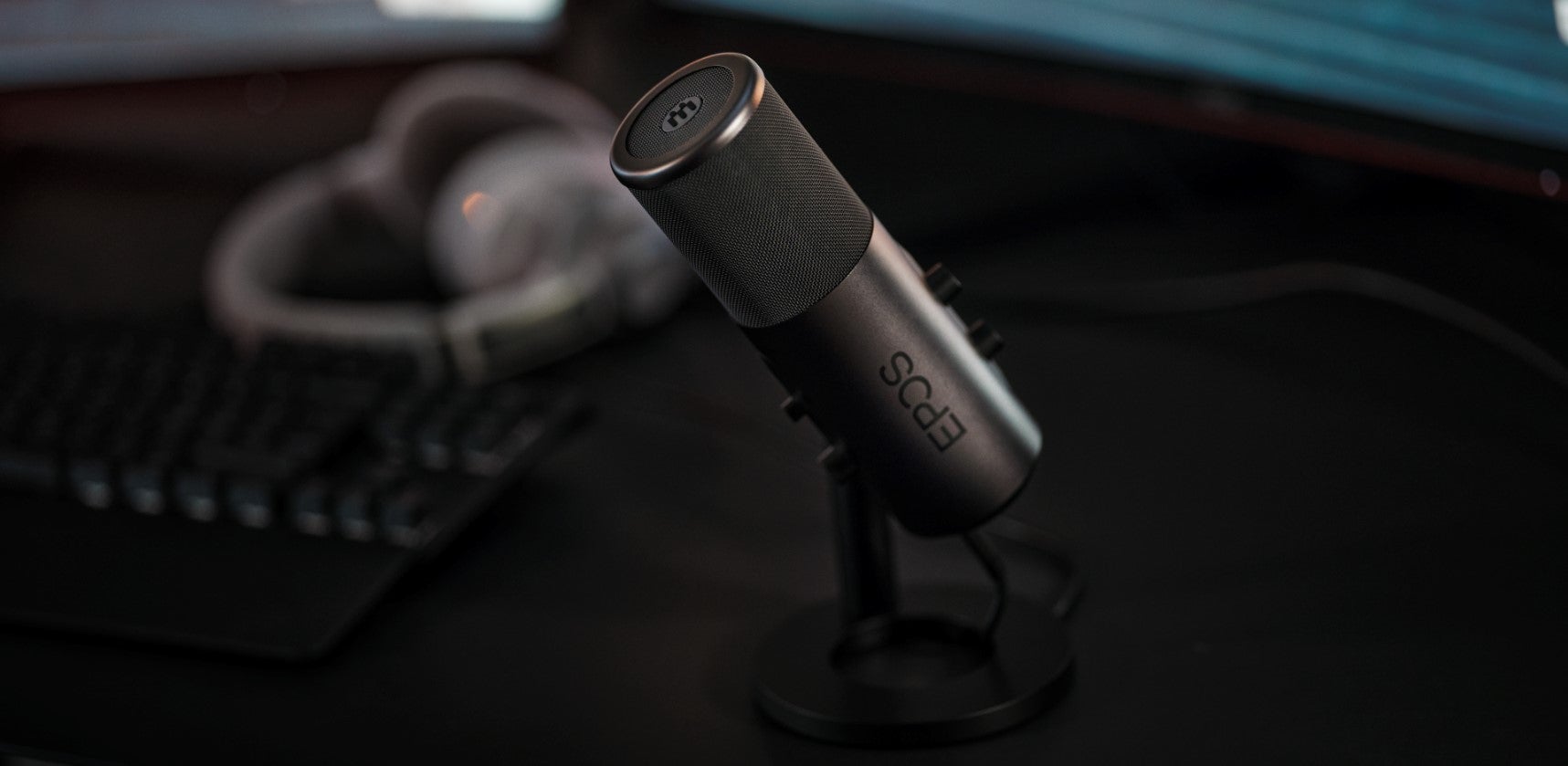 With so many awesome creators streaming these days, it can feel like you're shouting into the void - at least with the EPOS B20 you can sound good doing it.
Previously branded as Sennheiser Gaming, EPOS is trying to muscle in on the upper-middle of the premium microphone market with a new, USB-connected, device specifically billed as a "streaming microphone".
While you can (and probably should) pay heaps more for truly professional equipment if you're trying to be a voice actor or a real big-time streamer on YouTube or Twitch, the B20 is aimed more at the serious enthusiast looking to invest in a more luxuriously snazzy-looking setup.
With an RRP of £179/$199 for the EPOS, the abominable snowman in the room is the ubiquitous Blue Yeti, the different skews of which occupy pretty much exactly the same space the B20 is looking to grab a foothold in.
So really, the question is why would you want to buy the B20 over anything else?
The short answer is that with its slick look and good feature set, the B20 is an interesting package if you're looking for something sophisticated and different from the norm. However, there isn't one really cool headline gimmick or feature to set it out from the crowd.
EPOS B20 Review - Sound and Software
The whole point of a USB microphone is that you swap the hardcore granularity of an XLR connection for something easier to use.
Nothing is ever really 'plug-in-and-play', but the B20 is relatively simple in that regard. Once you've dialled down the gain to stop your desktop from sounding like the starship Enterprise in the background, the quality of your voice is high.
I have found that the B20 is quite sensitive to background noise though, so, if you want things to be absolutely dead silent, it might not be the best if you've got air con, a PC fan, or other ambiance very close to where you'll be speaking.
If you're on PC, this is someway rectified by the included EPOS Gaming Suite software, which, once you've realised it opens in the System Tray and not on the desktop, allows you to adjust the gain, tone, and apply enhancements to your voice without moving the physical dials.
It also includes noise cancellation features, and an adjustable noise gate - which with a bit of tinkering further improves the clarity. Although, you have to set the B20 to be your primary audio output device on your computer, which isn't ideal if you have an atypical audio setup.
I've found the noise gate also takes a few seconds to close again once you finish speaking, which I think makes it better suited - as the "streaming microphone" labelling suggests - to a continuous streaming scenario, rather than using the B20 to make pre-recorded audio.
And it's also worth considering that the Gaming Suite is also less all-encompassing than the Blue Vo!ce software you get with the similarly priced Yeti X, with fewer parameters to mess around with.
This definitely means it's simpler to use in that sense, but does mean that there aren't as many levers to pull to deal with any quibbles you might have.
Design
Another strength of the B20 is the way it looks.
One of EPOS's stated aims with the mic is for it to look good as well as sound good on your stream. And the aluminum frame looks neat, slick, and has that cold metal feeling that you want from a premium product.
The B20 has a smaller and lighter form factor than the larger Blue Yetis, so would work well on a desk where you've got less space to work with. Plus the sturdy base is the same solid metal as the rest of the mic, so there are no cheap plastic pieces there to ruin the feel.
This minimal design does come at the expense of clarity though, as the unmarked gain and volume dials aren't very intuitive when you're not hooked up to the Gaming Suite.
You do get the four standard microphone pickup patterns you'd expect though, and they're easy to switch between. While the mute function isn't any more complicated than it needs to be.
The B20 works with the in-built streaming functionality of the PS4, with a patch incoming to add official PS5 support too. Again, the B20 will easily outshine any comparable headphone mic you might've been using, but you'll lose the Suite software to tune your sound.
Summing Up
All-in-all, the EPOS B20 is a strong all-round USB microphone that gives you good vocal quality in a plush case with an easy-to-use feature set.
If you're using it in a relatively quiet environment that lets its best features shine, then you'll probably be happy with how it performs.
However, at its relatively high price, it does feel like it lacks a real USP - this is the first microphone from EPOS after all, and sometimes it feels like it.
The sound quality isn't as top-tier as XLR solutions, you get more granular software elsewhere, and the sleek design is more sophisticated, but doesn't have the striking RGB silliness of gamer brands.
Despite those shortcomings compared to more specialized options, everything the B20 does do, it does well, and it's definitely a professional-looking and quality-sounding addition to the slew of streaming mics on the market.
The EPOS B20 is available from the EPOS official site and other retailers. Review unit supplied by manufacturer.