DiRT Rally PS4 Review: Hardcore Racer
Codemasters' DiRT Rally is a true test of your racing mettle.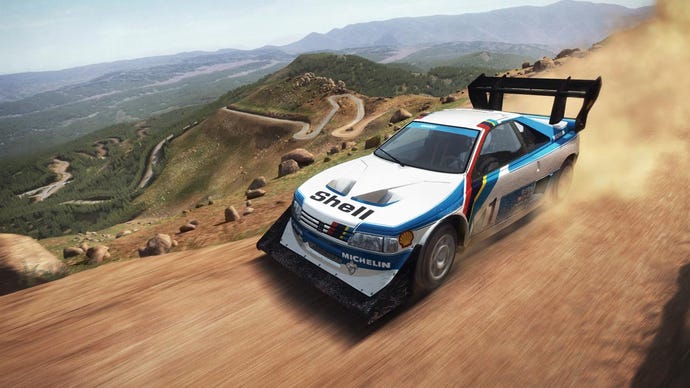 This article first appeared on USgamer, a partner publication of VG247. Some content, such as this article, has been migrated to VG247 for posterity after USgamer's closure - but it has not been edited or further vetted by the VG247 team.
It's not the most auspicious of starts to my DiRT Rally career. On the first stage of my first race, I overcook a particularly tight corner, and my 1960's rally Mini ends up tumbling down a cliff. There's no rewind, the normally-helpful recovery button doesn't work in this particular situation because my car is too damaged to drive, and I don't get to automatically move on to the next leg of the four-stage race. I am officially retired – it's all over.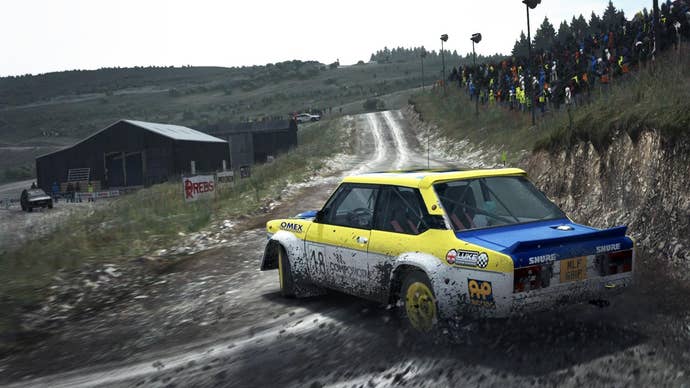 It's tough, but then again, I'm not exactly surprised. In my interview with DiRT Rally lead designer Paul Coleman last week, he said that the game is a hardcore rally simulation that doesn't pull its punches, and based on what I've just experienced, I have to agree. DiRT Rally definitely doesn't suffer fools gladly. It sets out to be the most realistic rally racing game yet seen, and having put many hours into the game since that first race-ending crash, I believe that it delivers on that promise. This is a game where you have to really concentrate while driving, listen intently to your co-driver's instructions, and drive within your limits. If you don't, you'll end up like I did in my first race – at the bottom of a cliff.
Well, that's not entirely true. Fortunately, not all of DiRT Rally's tracks are hazardous mountainous courses with no barriers to protect you from a precipitous, race-ending drop. It just happens that the first race I entered was based in Greece, whose winding stages are particularly dangerous to a novice driver. Most courses are a little more forgiving, although you still have to drive them carefully to ensure you don't slide off the road, crash into a tree or rock, or indeed roll your car.
When you first start the game, you're given a budget of 50,000 credits, which is enough to buy one of three different 1960's rally cars. I chose a Mini Cooper S over a Lancia Fulvia HF and a Renault Alpine A110, because I've always had a soft spot for the classic compact car. Choice made, I tackled my first race, which ended in the aforementioned slide into oblivion. My second went a lot better, however. It was set in the snowy climes of Monte Carlo, and the four-stage road-based course was a lot easier to tackle than Greece. While I did crash a couple of times, it wasn't enough to completely damage my car beyond repair, and I made it to the end of the race in second place – which awarded me a hefty amount of credits in prize money.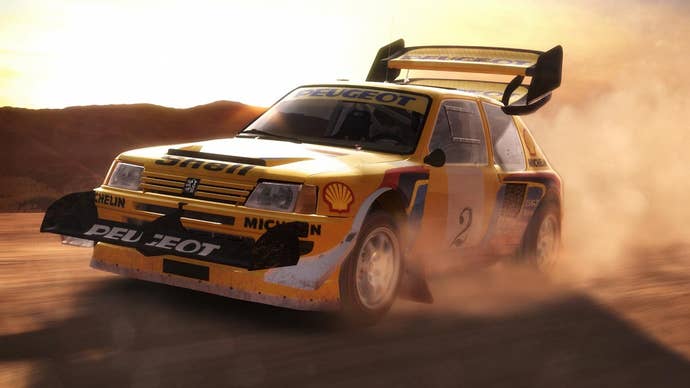 As you might expect, cash is used to buy new, higher-performance cars, which enable you to enter more advanced races. There are 43 vehicles in all, and while that doesn't sound like a lot compared to the hundreds of cars available in games like Forza and Gran Turismo, it's actually a really impressive selection that includes rally cars from every period of the sport's history, from the 60's onwards. Whether you want to drive a classic 70's RWD car like the Lancia Stratos, blast down dirt tracks in an iconic 80's Group B car, take Colin McRae's 90's Subaru for a spin, or see what it's like to get behind the wheel of the very latest 2016 rally car, DiRT Rally has you covered.
The vehicles are all very nicely rendered, and I'm particularly impressed with their interior modeling, which is very lifelike. While you can play the game from a variety of viewpoints, I found the inside-the-cockpit view works particularly well to deliver white-knuckle driving that will test your skills to their limit. It just feels exceptionally authentic. Indeed, the overall game does a great job in capturing the trials and tribulations of rallying. The excellent feel of the controls also help in this respect: The cars have an uncannily realistic sense of weight and momentum as they drive down the uneven rally courses.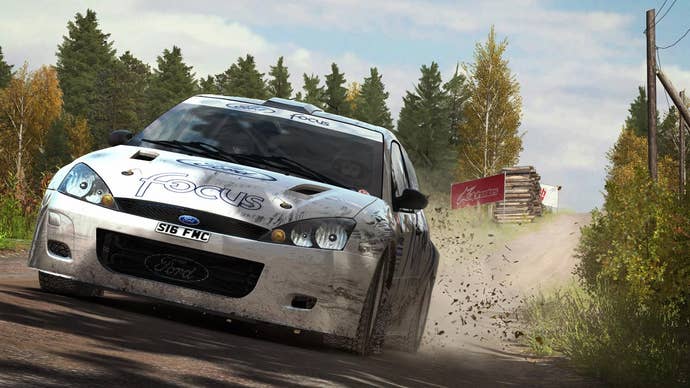 What's immediately apparent when you start racing, beyond how stunningly realistic DiRT Rally's absolutely beautifully-crafted stages look, is just how narrow the roads feel. This is because they're a replica of real rally courses, and haven't been widened in any way like some of the tracks were in previous DiRT games. As a consequence, they're very challenging to tackle at speed. When I first started playing, even with a relatively slow and nimble Mini, I was clipping the sides of the roads and frequently crashing. However, this was mostly because I wasn't in the right mindset to play the game properly. While the objective of the game is to post the fastest possible time on a course, I'd maintain the real goal is to get to the finish line intact. This initially means driving quite conservatively, and getting used to the co-driver's pace notes, which are truly excellent. Not only do they sound very realistic, they're highly detailed, and if you listen to what's being said and react accordingly, you can slowly, but surely start to improve your times.
It's this aspect of the game that makes it both rewarding and frustrating. It's frustrating in that it holds no quarter when it comes to mistakes. You have to play DiRT Rally knowing that it's unforgiving. You will make errors, and you will be punished for them. Whether it's cutting a corner and hitting a rock, racing too quickly and sliding off the road, or simply having your car break down due to it taking too much damage, there is little room for error. However, if you stick at it, learn from your mistakes, and really think about what you're doing, you do get better over time – and it's that aspect that feels really rewarding: When you finally do win a championship, it feels like a real achievement.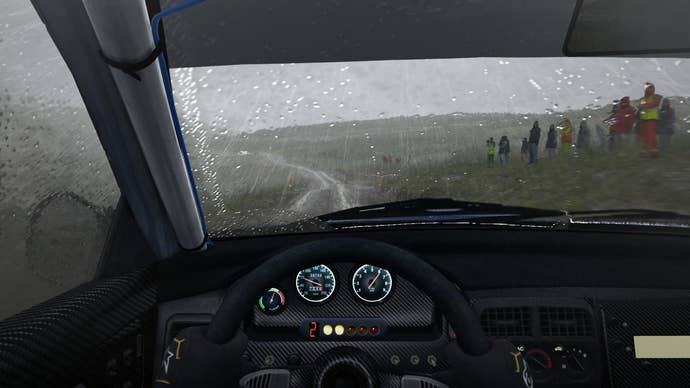 What I particularly enjoyed about the game is that because the driving is so high-stakes, it just feels incredibly intense. Towards the end of a race where I was doing well, I'd start getting nervous. Should I back off and finish the race and take a lower spot, or should I risk it all and go for a win? It's been a long time since a racing game has made me think like that, and I loved it.
DiRT Rally's gameplay also promotes an important element of rallying, which is carrying on regardless of what happens. In one particular night race, I crashed and broke my lights. Undaunted, I carried on at slower speeds using the moonlight to navigate. I could barely see anything, but I still managed to finish the race, and was able to make repairs to my car and continue in the championship. I could have retired, but I actually really enjoyed the challenge of driving in the dark, and felt great when I finally got to the finish post. I can't imagine doing that in any racing game other than this one. This is a rally game in the truest sense of the word.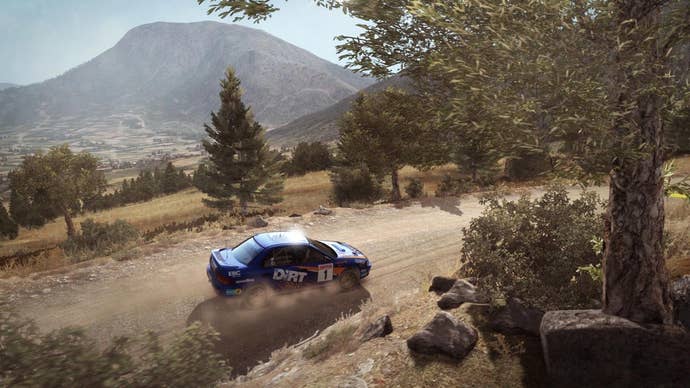 Having said that, while DiRT Rally is mostly about rallying, it does feature some elements of hillclimbing and rallycross. They're not particularly comprehensive, but are neat additions nevertheless. For hillclimbing the game packs the famous Pike's Peak course, and sports four different cars to drive on that long and winding road, and for rallycross there are ten cars and three different licensed FIA circuits to race. I actually enjoyed the rallycross championships a lot, and while they are very challenging – it took me quite some time before I finally won my first race – they're also very exciting. I just wish there were more rallycross tracks than just three.
Still, as an overall package, DiRT Rally delivers some incredibly intense and gripping racing. Sure, it's not for everyone. Its unforgiving nature and high level of difficulty means it won't appeal to those who enjoy winning every race, and who like the luxuries of a rewind button. However, if you're up for the challenge, enjoy blasting cars down narrow dirt tracks where danger potentially lurks around every corner, and can deal with the disappointment of not winning every race – but want to feel like you've really achieved something when you do – DiRT Rally is a truly great racer.
InterfaceSimple and straightforward presentation makes navigating around the game quick and easy.
Lasting AppealThe game's high level of challenge will truly test your driving skills.
SoundThe car engines all sound raucously authentic, and the co-driver narration is top-notch.
VisualsFrom the interior of the cars to the stages themselves, DiRT Rally is a stunning, very realistic-looking game.
ConclusionDiRT Rally is a realistic, beautiful-looking off-road racing simulation that's really exciting to drive. Its high level of challenge and unforgiving nature means it won't appeal to everyone, but for those who want to experience the trials and tribulations of rallying, it's an absolutely brilliant game.