AMD Creates New Radeon Technologies Group for Graphics Tech
Time runs in reverse as AMD create a distinct group to handle Radeon graphics technology.

This article first appeared on USgamer, a partner publication of VG247. Some content, such as this article, has been migrated to VG247 for posterity after USgamer's closure - but it has not been edited or further vetted by the VG247 team.
AMD has announced that it will be creating the Radeon Technologies Group to handle everything related to the company's graphics business. This includes its classic discrete GPU business, APU, GPU compute, and semi-custom chips, like those found in the Xbox One and PlayStation 4. This move creates a new division to handle all graphics work within AMD, run by newly-promoted senior vice president and chief architect Raja Koduri. Koduri returned to AMD in 2013, after 4 years working for Apple on products like the Retina MacBook Pro. Koduri will still report directly to AMD CEO Dr. Lisa Su.
"With the creation of the Radeon Technologies Group we are putting in place a more agile, vertically-integrated graphics organization focused on solidifying our position as the graphics industry leader, recapturing profitable share across traditional graphics markets, and staking leadership positions in new markets such as virtual and augmented reality," said Dr. Su.
"AMD is one of the few companies with the engineering talent and IP to make emerging immersive computing opportunities a reality," said Koduri. "Now, with the Radeon Technologies Group, we have a dedicated team focused on growing our business as we create a unique environment for the best and brightest minds in graphics to be a part of the team re-defining the industry."
The shift is interesting because AMD actually purchased the graphics side of the company, then called ATI, back in 2006 for $5.4 billion. That purchase was made on the strength of AMD CPUs at the time, which were cheaper than rival Intel's processors but still technically competitive. AMD was once on the forefront with its dual-core processors or products like the Athlon 64, but the company's CPU side has since fallen behind when it comes to performance. To long-time PC gamers, this feels like a reversion to an earlier time.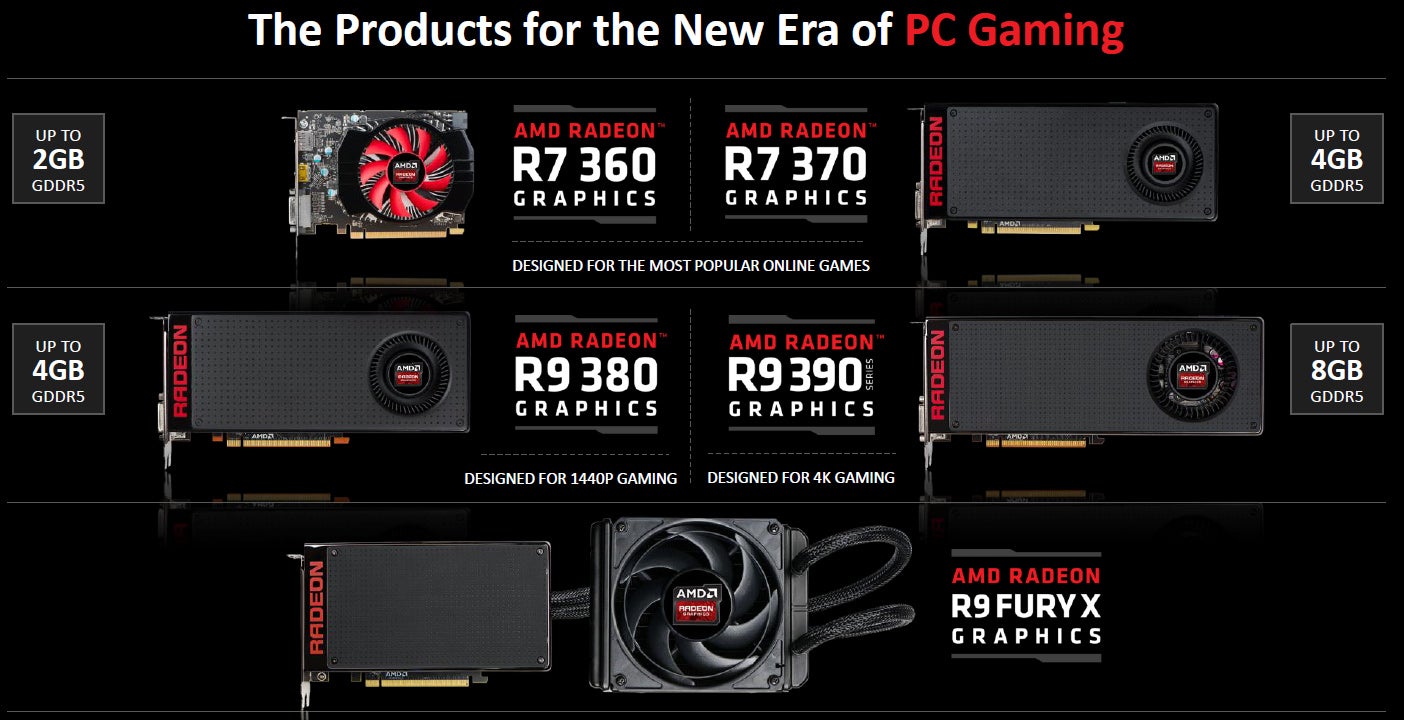 The reorganization comes after a bad first quarter 2015 for AMD. Revenue was down 26 percent year-over-year and the company suffered a net loss of $180 million. The company has already bid farewell to its server system business in an effort to streamline operations. AMD latest discrete graphics products have been good, but plagued by driver issues in leading titles. That said, the company is bouncing back, reporting great performance in Direct X12 benchmarks compared to rival Nvidia.
Radeon Technologies Group is in a good place right now. The Xbox One and PlayStation 4 use the company's semi-custom chip and the rumor is Nintendo has tapped the company for the upcoming NX. The Radeon R9 300 series of graphics cards are solid, even if the performance lags a bit in certain major titles due to drivers. The Fury and Fury X cards look to take the bleeding-edge crown back from Nvidia's Titan cards. And perhaps with the split, the CPU division can get back to being competitive.
When I built my current PC a few months ago, I couldn't even entertain an AMD CPU as my processor and getting an AMD graphics card was a spotty endeavor. With a bit of focus though, I think AMD can get back to the point where it's competitive against Intel and Nvidia. As an old Red Team fan, I'd like a real rivalry again.