Pro Evolution Soccer 2017 PS4 Review: The Best Soccer Game... With Caveats
Fantastic gameplay helps PES overcome its numerous disadvantages.

This article first appeared on USgamer, a partner publication of VG247. Some content, such as this article, has been migrated to VG247 for posterity after USgamer's closure - but it has not been edited or further vetted by the VG247 team.
What do you do when you don't have the resources to keep pace with your competitors? In Pro Evolution Soccer 2017's case, you go big on gameplay.
PES has been the have-not in its rivalry with EA's FIFA for quite a few years now. Where FIFA gets all the licenses, PES scrapes by where it can. But since its shift to the Fox Engine—the same engine that powers Metal Gear Solid V—PES has made great strides, and this year's version continues that upward trend.
As always, PES 2017's strength is on the field, where it showcases the often hypnotic display of passing that defines the world's most popular game. Players move intelligently on the pitch as they run to make interceptions and break to goal, and the action feels fast and fluid. When the ball finally settles in the back of the net, it's typically not because of a long through ball and a breakaway, but the result of smart buildup and teamwork. When you score in PES 2017, you earn it.
PES's intelligence is especially apparent when you draw the camera back to the Fan View and watch as the attacking shape expands and contracts. It feels right—like the game that I watch on television. The spell is only broken when the players awkwardly come into contact one another while jostling for the ball; and even then, the animation is still very good. More importantly, there's a weight to everything that helps to ground the action in reality.
The AI, for its part, does a great job of moving around in space and getting in front of dangerous through passes, in turn forcing you to be intelligent about how you advance the ball. It makes scoring feel like a team effort, particularly with how good the AI is at getting forward at the right time. As in the actual sport, support is incredibly important in PES.
Taken together, PES 2017 is less forgiving than its competition, but ultimately more satisfying. It's a game where skill is allowed to flourish and there are few easy or exploitive ways to score. It's not an easy game to pick up and master, but the effort is worth it.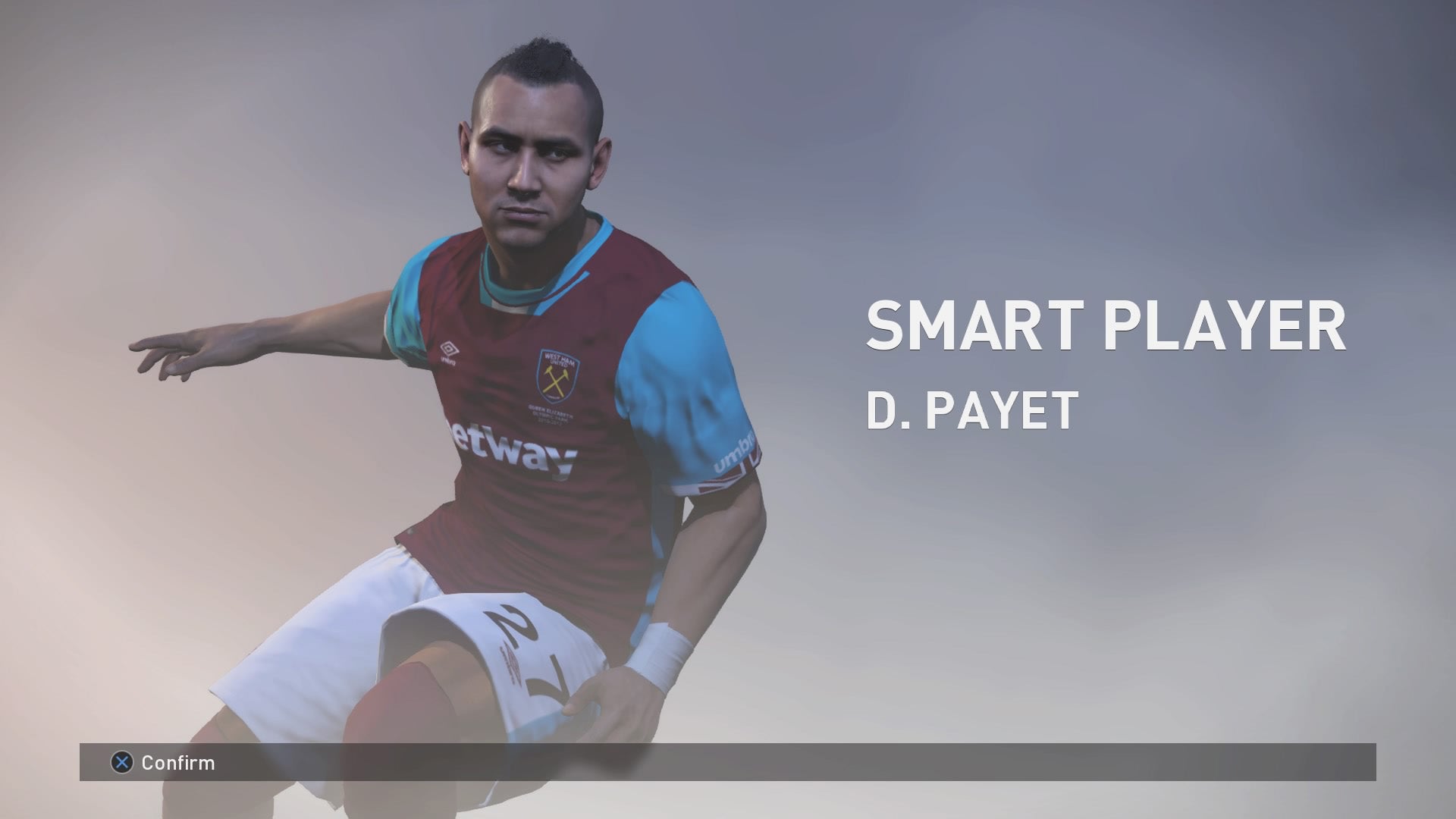 But what about the modes?
Like all sports sims, PES 2017 is underpinned by three major modes—the player-focused Become a Legend, the Master League franchise mode, and the Ultimate Team-like MyClub. It's here that PES 2017 struggles a bit to live up to the high standards set by its gameplay, though it does bring some interesting ideas to the table.
Of the three modes, my favorite was Master League, which impressed me the more I played. As with most franchise modes, Master League tasks you with taking control of a team and building it into a dynasty, and PES 2017 resembles its peers in the day-to-day of playing matches and advancing through the season. But it differs in the way that it handles progression, which feels more organic than in many sports sims.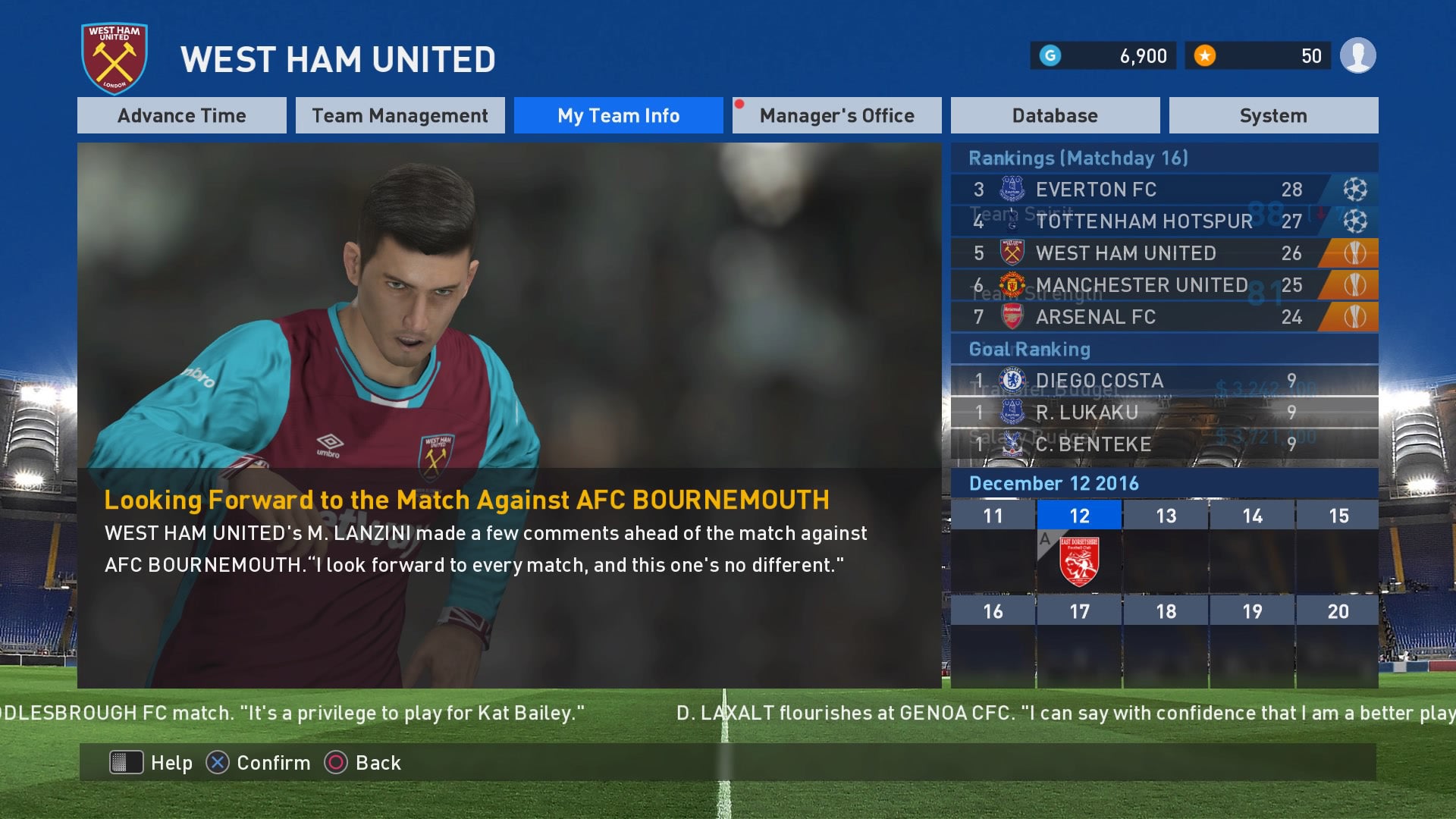 PES 2017's players develop based on where they're playing, how much playing time they get, and their roles on the team. Give a young player a lot of successive matches on the pitch, and their development will increase exponentially. As they develop, they also pick up traits like "Leader" or "Superstar," which impacts the entire team's performance on the field. Master League constantly reminds you of your roster's development with breathless pop-ups after each match, further adding to its sense of team growth.
Another way in which Master League manages to feel organic is the way it handles positions. If you try to play a player out of position, you will see an immediate and substantial hit to their overall rating. This encourages you to find a formation and attacking strategy that best fits your overall roster. But if you're pressed and need to play someone out of position, they will gradually become more comfortable and grow into that role. It's a cool way to approach player roles that really forces you to think hard about your roster construction.
Beyond the nitty gritty of roster management, PES 2017 does a passable job of infusing Master League with a sense of narrative. The news feed will note when you're playing a major rival; a news crawl will showcase top-performing players, and brief cutscenes will highlight major events like the award ceremony for best player in Europe. Its overall presentation can be generously called "workmanlike," saddled as it is with menus straight out of the PS2 era (particularly the formation screen), but I found myself enjoying it much more than I expected.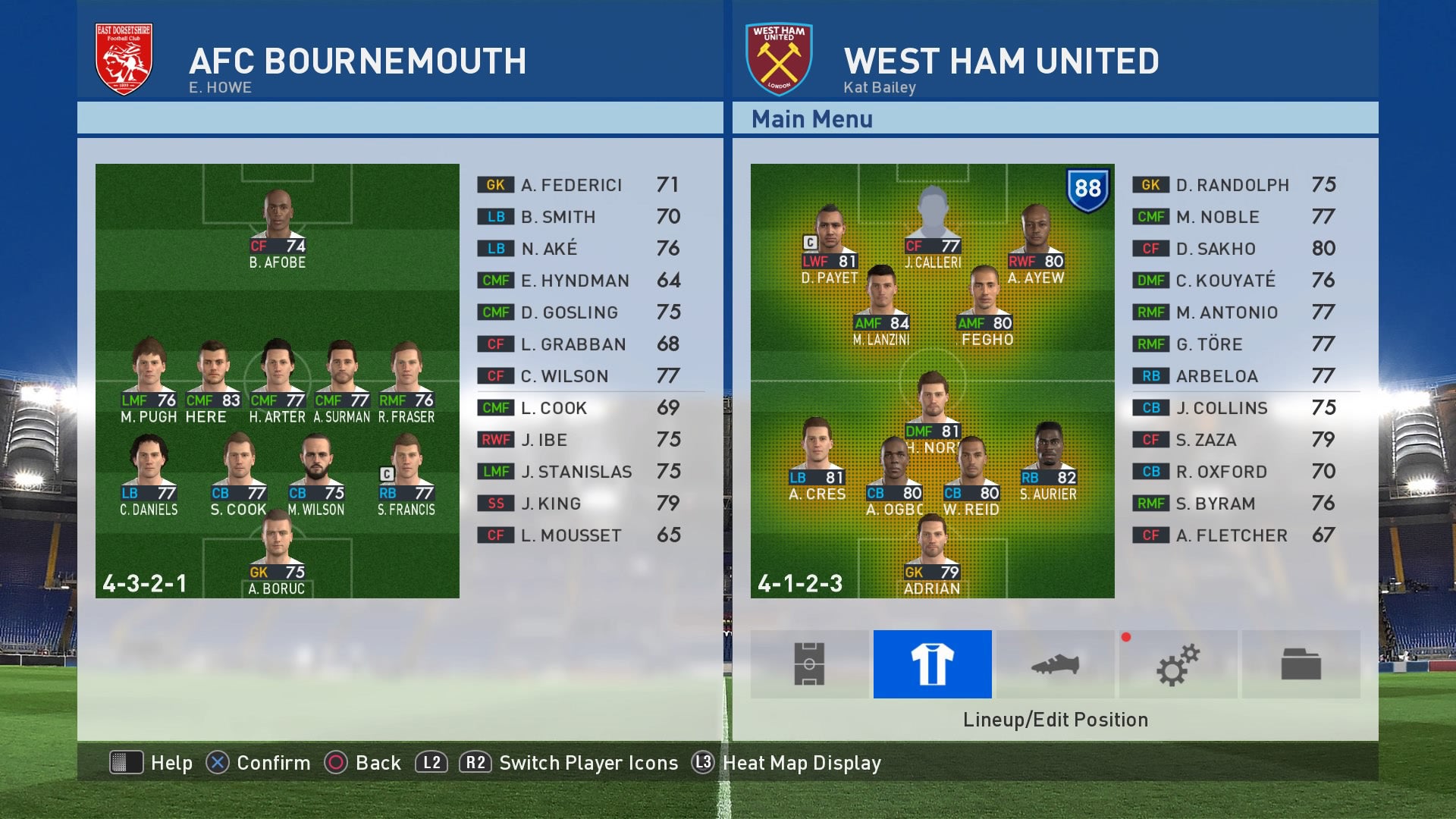 Alas, the same cannot be said for the other two modes. Where Master League is refreshing in the way that it approaches roster construction, MyClub is... strange. It has an auction house, but it has you bid on scouts rather than players. Scouts are a roulette wheel of sorts, with some granting you a better chance than others to obtain a high value card. It's charming in its own weird way, but also annoying in that you can't just go out and buy a player that you want. What's more, the challenges are limited, with no sets to complete and a basic offline seasons mode standing in for true solo challenges. In that, MyClub is okay for adding some more meaning to the online play, but fails to be as advanced or interesting as more traditional Ultimate Team modes.
As for Be a Legend, I'm sorry to say that it fails to match even the modest expectations of other sports sims. It lacks goals or any sort of narrative, doesn't let you choose the team you want to join, and forces you to sit through whole matches while waiting to be subbed on to the field (albeit with a fast-forward button, though it doesn't really help). With that, it's fair to say that Be a Legend is easily the worst career mode of any sports sim.
A few more caveats
So let's address the elephant in the room: Licenses.
Team licenses are the lifeblood of any major sports sim, and Pro Evolution Soccer has notably suffered on that front in comparison to its competition. It has the players, but it lacks most major clubs, including superpowers like Real Madrid and Bayern Munich. In an effort to make up for this, Konami has focused more heavily on Barcelona, snatching away the rights to Camp Nou and showcasing a handful of past stars like Ronaldinho in MyClub. That's great for Barca fans, but the rest of its clubs read like the generic brands at the Ogdenville Outlet Mall: Man Red, Man Blue, East London, and the rest.
If you want real clubs in PES 2017, you have to turn to the Internet, which thankfully has a robust array of downloadable mods for the PlayStation 4 and PC (but not Xbox One). These mods are both easy to install and relatively seamless, even translating to online play, and they go a long way toward making PES enjoyable. Still, they aren't perfect: There's a limit to the number of images you can load into the PS4 version, so you have to pick and choose which leagues you want to replace, which makes competitions like the FA Cup (or the English Super Cup in PES) a little less exciting.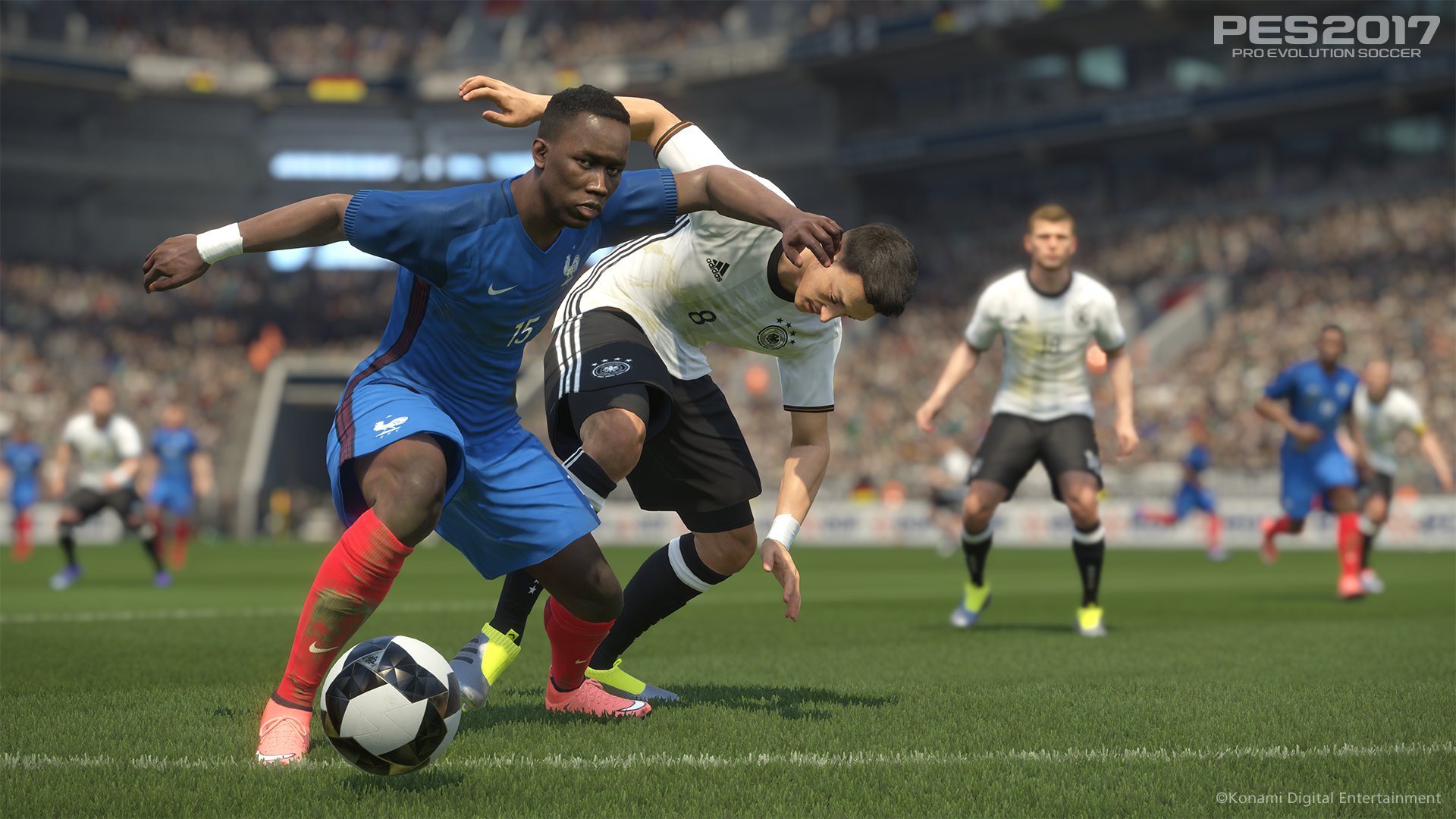 It goes without saying that licenses will always be a weakness with PES—a consequence of FIFA's outsized popularity. It's not a deal breaker, but it is a caveat worth noting. Another caveat: PES's niche nature makes online play kind of unfriendly. Its small online population makes it hard to find a match; and when you do find a match, they are usually playing as Barcelona. They also tend to be really, really good: Just today I faced off against a highly-ranked player who absolutely dismantled me with Arsenal. It didn't feel cheap, just completely overpowering. If you're a new player looking to play online, you might want to consider building up your skills through MyClub, where the bulk of the online community play tends to play.
But even with all these caveats, I still really like PES this year. Once I got the club mods installed, I had a great time playing through Master League with West Ham, with even the offline matches being varied and intense. And if you get matched up with someone of a similar skill level, PES's online matches can be extremely rewarding. It lacks the polish of other sports sims, but as Han Solo would say, "She's got it where it counts." And in this case, where it counts is the pitch, where PES is equal to the best sports sims on the market.
In many respects PES is the polar opposite of FIFA, which prizes polish and accessibility above all else. PES can be unforgiving, and its simplistic presentation can be off-putting. But with all due respect to FIFA, which is pretty good this year, I'm pretty sure I know where I'm going for my video game soccer fix. This year, my heart belongs to PES.
InterfacePES's interface is quite ugly, particularly the lineup selection menu. But once you get used to it, it becomes less of an annoyance. In general, PES is functional, if not particularly pretty.
SoundPES's commentary is simplistic but otherwise passable. I like that they highlight when a player I don't normally play is in the starting lineup.
VisualsAt first blush, PES's models aren't as attractive or details as its competitors. But when in motion, its animation in particular really stands out. It makes a lot of other games look choppy by comparison.
ConclusionPES 2017 is a remarkably good soccer sim on the pitch—so good that it makes up for the bulk of its shortcomings elsewhere. There's no denying that it's a niche sim with a high barrier to entry; but if realistic gameplay is your number one priority, then PES 2017 comes highly recommended.