Forza Motorsport 5 Xbox One Review: Flat-Out Fantastic
Turn 10 delivers a tremendous racing game - that also just happens to be a stunning demonstration of the Xbox One's capabilities.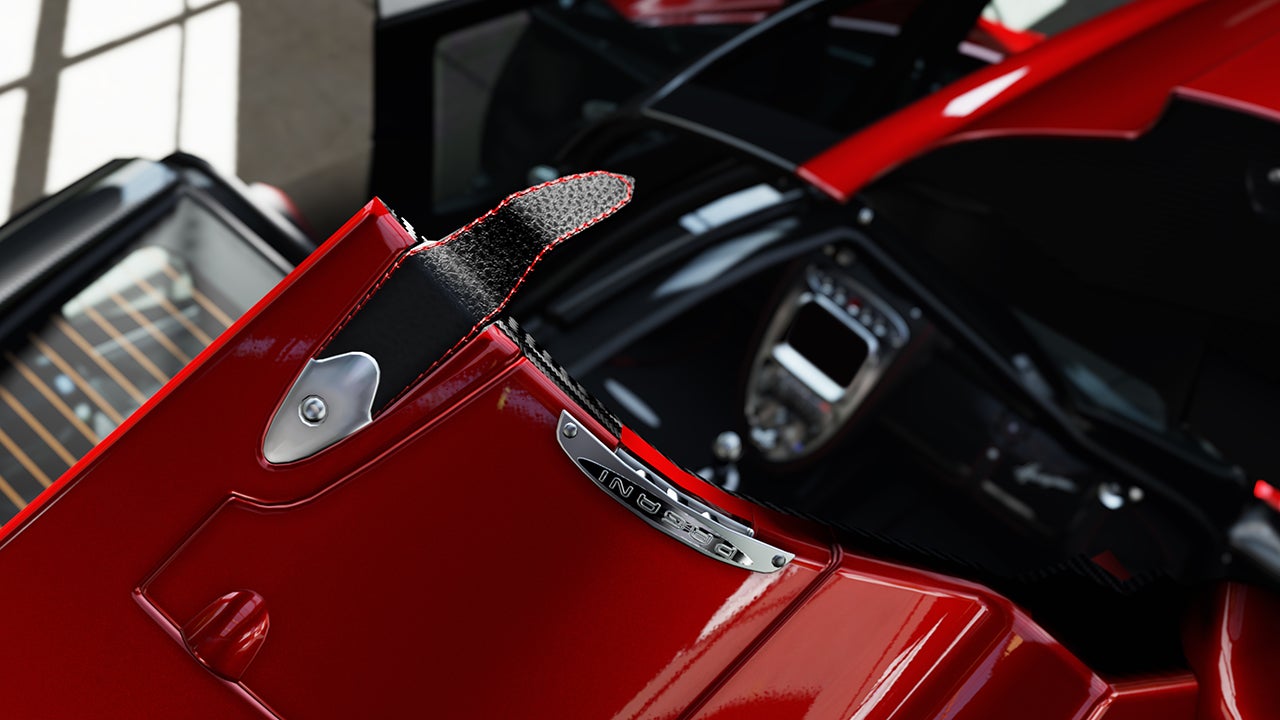 This article first appeared on USgamer, a partner publication of VG247. Some content, such as this article, has been migrated to VG247 for posterity after USgamer's closure - but it has not been edited or further vetted by the VG247 team.
Most racing games start with a sizzle reel montage of quick-cut scenes and ear-rattling music designed to get you psyched for the upcoming feast of speed. Look at those cars, check out that horsepower… listen to that techno!
Forza Motorsport 5 starts differently. Scenes from racetracks around the world are interspersed with luxurious shots of some of the world's finest vehicles. A swell of strings accompanies the scenery while the familiar voice of Jeremy Clarkson intones with a dramatic monologue, lauding cars as man's final art form. It borders on hyperbole, saved by the fact it is delivered with the panache that only Top Gear's most notable host could muster.
The introduction ends with a first person point of view from the cockpit of a supercar, and in the reflection looking back at you is a child, donned in a racer's helmet, casting a focused gaze that, if Turn 10 has its way, will be shared by millions of Xbox One racing fans as they play the latest edition of Forza.
I have to admit, by the end of that introduction I was more pumped than any drum and bass blitzkrieg would get me.
Forza Motorsport 5 is indeed different from the rest of the racing pack, and it's also the most impressive achievement in the Xbox One's launch lineup. Microsoft's new black box has plenty to enjoy (Dead Rising 3, Need for Speed: Rivals, Killer Instinct) and plenty to be disappointed by (Lococycle, Crimson Dragon), but inevitably after spending $500, gamers will want the game that best shows off their new gear. Forza Motorsport is the one.
The game quickly gets you into the action, placing you in the driver's seat of a C-class car for several races that are designed to give you a handle on Forza's driving ethos (and mask the fact that the game is still installing itself onto your hard drive for at least the next fifteen minutes).
If you're unfamiliar with Forza, it is not as serious a racing simulator as Gran Turismo, but it is nowhere near an arcade racer. Occupying the middle ground could be dangerous, but Turn 10 executes it beautifully. Rather than handle itself so seriously that it becomes plodding (a criticism I easily level at Polyphony's PlayStation classics), Forza starts you off with its training wheels switched on, but gives you the chance to remove them as you become more comfortable with the controls. Initially, you start with brake assists, turn assists, a guide superimposed on the road to give you an idea of when to hit the gas and when to slow for a turn. As you get more experienced, you can remove these helpers to offer yourself more of a challenge and earn more credits as a result.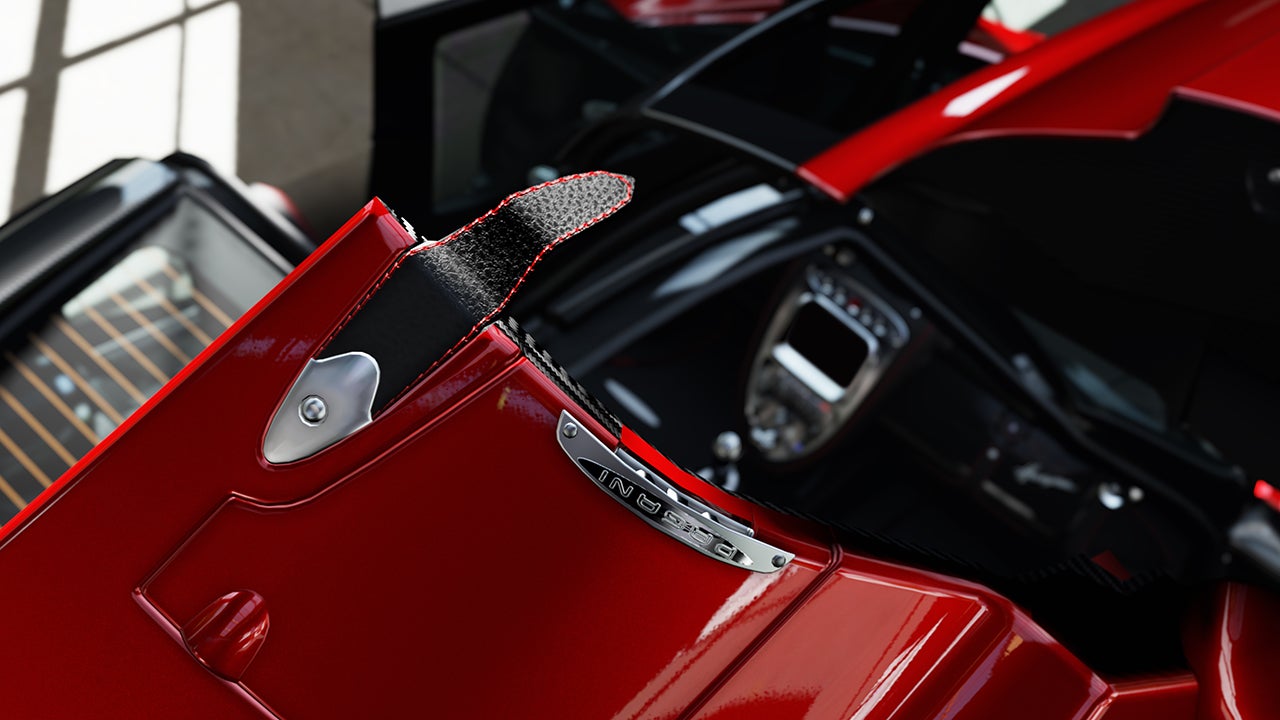 I found removing all of the assists very challenging, but I understand why that could be a lot of fun for those who are into simulators. Instead, I went for a couple of steps above the initial setup. Staying with automatic shift, I removed the superimposed road guide except for the turns and lowered the turn and brake assists. The cars that I used (mainly VW and Audi) has the same tight handling that I'm used to, and trying to venture off from my comfort zone gave me a different feel for each car.
I had to stick with the GTI R32 at first before trading up to a Scirocco, with my eyes gazing at my dream car: an Audi R8 W12. As you race on different circuits, you earn more credits that can be used to purchase these cars, or upgrades to bring your C-class car to the next level. Though you'll inevitably find yourself hoarding these credits for your dream car.
Forza's circuits are split into types of cars rather than world circuits. You have race events centered on vintage cars, hot hatches, supercars, and more. This is a creative way of displaying the options before you, allowing you to stay with a category you feel comfortable with so you can build enough equity to venture into the other circuits with more powerful cars. It certainly beats the generic continental tours found on most other racing games.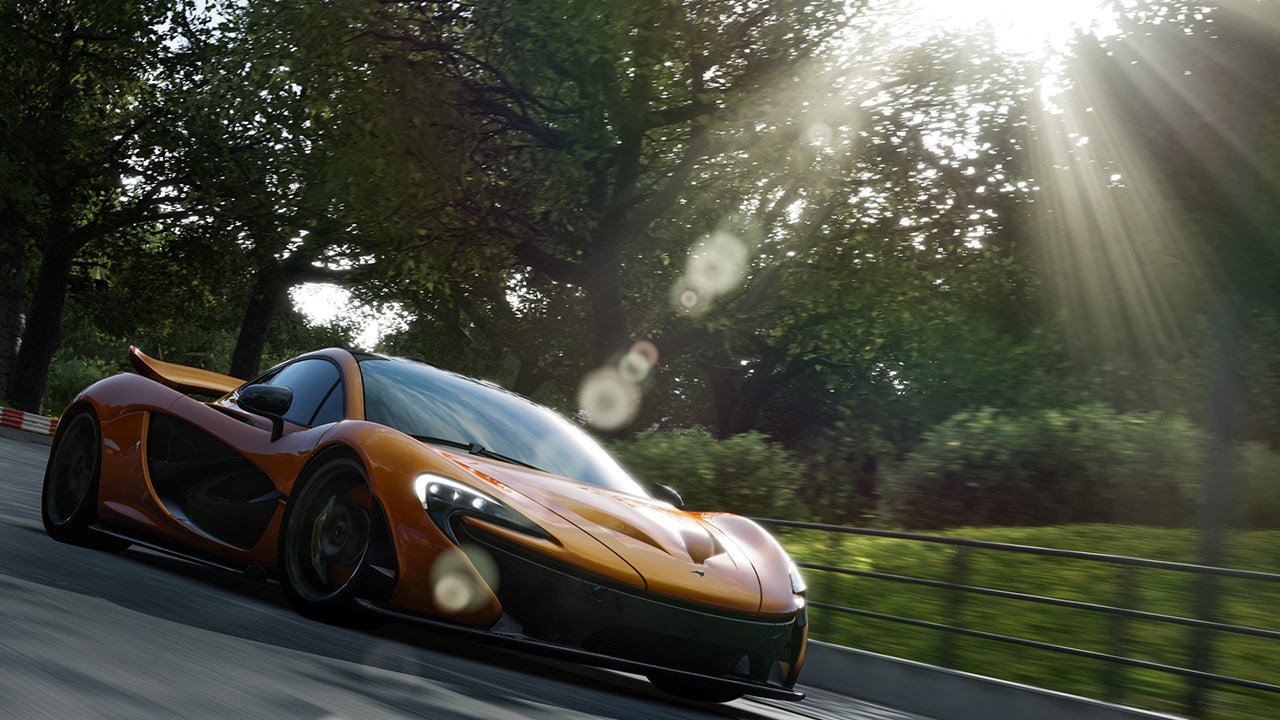 Multiplayer is a feature that needs much more testing, and I look forward to joining up with different car clubs to run wild in the countryside with our favorite cars. The multiplayer features tick the appropriate boxes, though, and I look forward to making Forza nights a regular occurrence.
I haven't even talked about the graphics. If you're looking for an answer to the question, "What makes this different than 360?," that answer is Forzavista. Forzavista is the clumsy word that defines the most gorgeous graphics I have ever seen on a console. Period. Simply beautiful. (Another period).
Forzavista allows you to take a closer look at the cars you own in a showroom setting that is anyone's dream garage. You are able to open your car doors, trunk, hood, etc., and contextual icons pop up to allow for a closer look at the vehicle. This isn't a matter of "ooh, shiny reflections" (although those are there in spades), but hop in your favorite car in this mode. Now take a closer look at the stitching on the leather and you can almost feel your grip on the wheel. There is something about the realistic look of the matte textures used in the interiors, or the brushed aluminum on the rims and brakes, that triggers a visceral reaction that you are watching something special.
Of course, race time continues to wow, but this time your attention is piqued by stone-cobbled streets, leaves being blown into the air as you drive past, and hot air balloons taking off in the distance. While racing, much of the visual impact is lost, but moments like being blinded by the sun, or catching the reflection of the car's interior on the windshield remind you of the difference between this and the previous generation of consoles.
Some of the downsides of this Xbox One racer are the reduced amount of cars from previous games in the series, and I would have liked more integration with the Top Gear license given its affinity with the racing community. It was a bit of a disappointment to hear Jeremy Clarkson being replaced with a generic voice actor during segments where he could have lent his own dickish gravitas (hey, it works).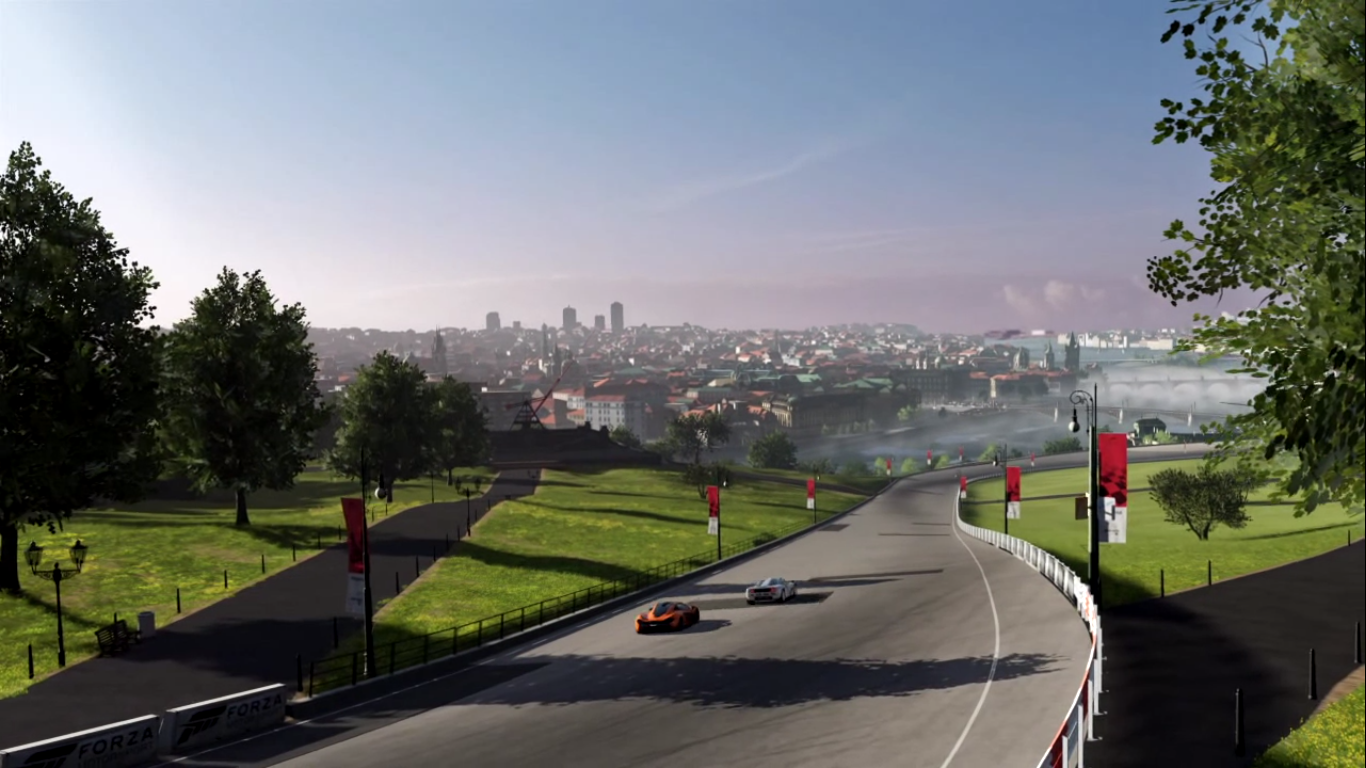 An alarming trend in Xbox One launch games is the inclusion of microtransactions. In this case, you can spend tokens to boost the amount of experience you earn during races. Also, even though the store was down at the time of my review, my assumption is cars unlocks and paint jobs are also available when you spend a bit more cash. Makes you long for the days of unlocking new cars with up, up, down, down…
But the pros vastly outweigh the cons, and if you're a racing fan, Forza Motorsport 5 may be a system seller. Even if you're unfamiliar with racers, the gameplay holds your hand for long enough to get you into the action without being condescending, and if you're just a graphics tart, you have to check out Forzavista at least once. It may not hammer you over the head with an over-the-top presentation, but Forza Motorsport 5 is confident enough to allow its gameplay and visuals to do the talking, and it all results in the must-have game on Xbox One.
ConclusionForza Motorsport makes its next-gen debut in stunning style, with great gameplay and superb visuals that show off the Xbox One's capabilities in impressive fashion.