Xbox Live activity for week of July 20 - 1 vs. 100 enters the charts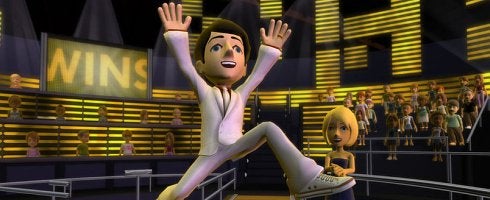 The only newness to the Xbox Live charts this week was the addition of 1 vs. 100 and the lack of Fallout 3 in the top 10.
Otherwise, it's the same list as last week, and the week before, ad nauseum.
Live Titles
Halo 3
Call of Duty 4
Call of Duty: WaW
Gears of War 2
Battlefield 1943
GTA IV
1 vs 100
FIFA 09
Left 4 Dead
UFC 2009 Undisputed
Arcade Titles
Battlefield 1943
Splosion Man
The Secret of Monkey Island: Special Edition
Castle Crashers
Worms 2: Armageddon
Magic: The Gathering - Duels of the Planeswalkers
UNO
Hasbro Family Game Night
Teenage Mutant Ninja Turtles 1989 Classic Arcade
Sonic The Hedgehog 3
Community and Original stuff is after the break courtesy of the Major.
Original Titles
Halo 2
Star Wars: Battlfrnt 2
Counter-Strike
Fable
Splinter Cell Chaos
Conker: Live Reloaded
Doom 3
Star Wars: Battlefront
SW: Republic Commando
SW: KOTOR
Community Games
RC-AirSim
Fireworks HD
myFishtank
Kodu Game Lab
Gamerbots:Third-Robot Shooting
A Perfect Massage
Physics Sandbox
3D Magic Images
Cyborg Mice Arena
A Morons Challenge