Xbox E3 2017 Briefing: Xbox One X, BioWare's Anthem, Assassin's Creed Origins - all news and trailers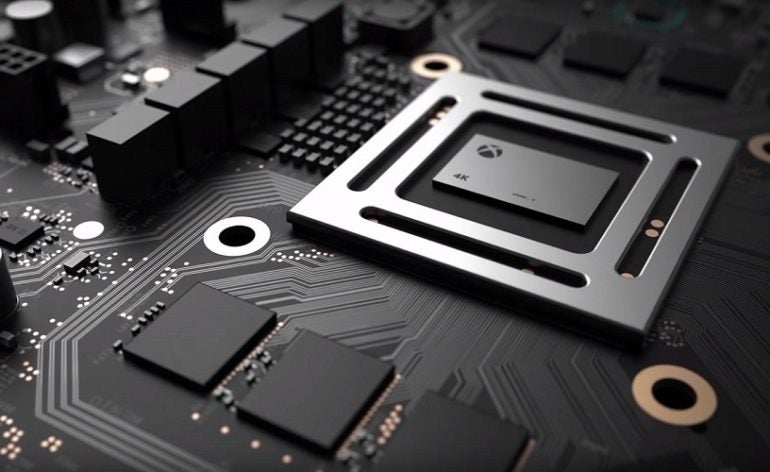 Microsoft rocked E3 2017 with a great show full of games. Oh and it has some little hardware thing happening or something, no big deal.
Let's get this out of the way: whatever the "little thing" 343 Industries promised to bring to E3 2017 was, it was so little we missed it entirely. If Microsoft cleverly teased Halo 6 for Xbox One X, it was too subtle for us. We're disappointed.
That little bit of depression aside, Microsoft had a great show - and it wasn't all about Xbox One X. You can watch the whole thing above, but be warned: Microsoft wasn't kidding when it said the Xbox E3 2017 show was over 90 minutes long. The Xbox E3 2017 was 90 minutes long.
The biggest news was the formal unveiling of the newly-named Xbox One X, which launches in November. As reported earlier today, the Xbox One X costs $499. Microsoft showed off a sizzle reel of all the games getting 4K support on Xbox One X, if you want a quick rundown.
The second major bit of non-games news was that the Microsoft is extending backwards Xbox One compatibility to original Xbox games. This follows on from Microsoft's adamant insistence that the feature is used much more than recent reports suggest.
As leaked prior to the show, Forza 7 was shown running on Xbox One X at 4K 60fps. It looked as spectacular as you'd expect, and will release in October.
Minecraft took its place as a major Microsoft first-party title with a huge new update that's not coming to PS4. Dropping the Pocket, Windows 10, VR and Console Edition monikers, the new Minecraft will have cross-play, identical features and fancy new graphics. It's free to everyone who owns Minecraft for Android, iOS, Windows 10, Switch and Xbox One.
Rare turned up to deliver some new Sea of Thieves gameplay. It still looks great, and it's still a ways off - early 2018, according to this new video. We'll believe it when we see it, frankly.
Specking of things we'll believe when we see them, Crackdown 3 fronted up with a new trailer and November release date. A likely story. We'll see. (Please come true.)
Third-parties
Beyond first-party, Microsoft had a bit of a coup in that it secured the worldwide premiere of Assassin's Creed Origins. As if that weren't enough, it also presented an Xbox One X Assassin's Creed Origins gameplay demo. It looked pretty spectacular for the franchise's years of rest, and matched up with all those glorious rumours.
The other big scoop for Microsoft was the first full trailer for BioWare's new IP, Anthem. We expect to hear more about this throughout E3 2017, but we now know that yes, it's a shared-worlds shooter, like Destiny or The Division. Players take on the role of "freelancers" and explore an open world, participating in dynamic events, collecting loot, and generally ticking all the gameplay feature boxes you'd expect from the nascent genre.
Warner Bros. partnered with Microsoft to debut Middle Earth: Shadow of War's expanded Nemesis system. Nemesis is that thing where an orc kills you and gets promoted and becomes your rival and you end up writing all these weird stories about you and your worst enemies, and it's what made the original Shadow of Mordor so compelling - so we were pretty excited to see how it's been built upon. Why hasn't anyone copied this system>?
Deep Silver surprised us with the announce of Metro: Exoodus, the biggest game in the series to date. It's going open-world, and features a story spanning an entire year. No word yet on whether it's coming to other platforms.
Still with third-parties, Bandai Namco fronted to give us a new trailer for Dragon Ball FighterZ and also Code Vein, although in the latter case it didn't seem to be new footage.
Indies
Microsoft's indie showcase had one heck of a kicker: PlayerUnknowns Battlegrounds will be Xbox One console exclusive. The battle royale game has become a phenomenon during its PC early access period so we expect Xbox fans to be pretty pleased with it, too.
State of Decay 2 was also shown which just goes to show that Microsoft knows its fanbase even when it comes to indie - you gotta have some zombie shooters in there to balance out the cute and arty stuff, right? This one will be three times the siuze of the first State of Decay.
The most anticipated Microsoft-published indie of them all showed up, and yes: Cuphead has a release date. Look for it in September.
Confirming a late leak, Ori and the Will of the Wisps was announced. No release window was attached to the indie, which is a sequel to a much-loved Xbox exclusive.
Microsoft also took the time to announce the Life is Strange prequel, Before the Storm. This was a rumour we didn't believe, since Life is Strange really doesn't need further expansion, but oh well - it's happening. No word on Life is Strange 2 - maybe at Sony's show?
One of the more interesting indie announces was Super Luckey's Tale, which was an Oculus Rift exclusive. Huh!
We got a new look at Tacoma, the new game from Gone Home developer Fullbright, too. We're expecting the sci-fi story in August.
We're putting together a rundown of all the amazing Xbox One indies Microsoft showed, including Xbox One X launch exclusives.
That's it for now but we're still scrabbling around bringing together all the intel - back in a mo!