World of Tanks 1.0 is the best looking game you can run on a potato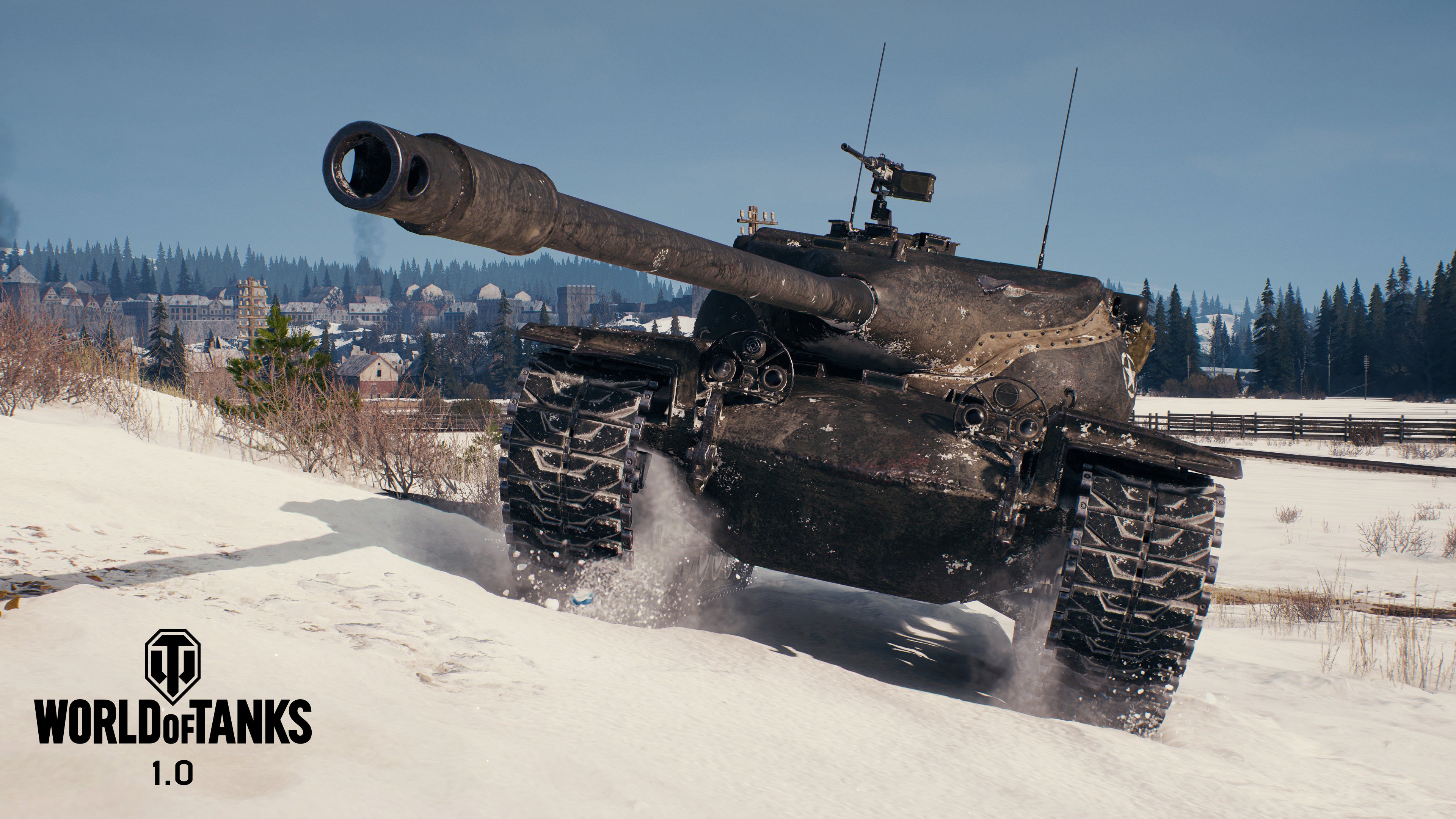 "This game will run until the end of time," Wargaming CEO Victor Kislyi says, gesticulating wildly at the foot of a giant screen emblazoned with his flagship game's stock in trade – big fucking tanks.

With the level of support Wargaming has given World of Tanks in the nearly eight years since it first rolled out, it's hard not to believe him.
When it finally hits version 1.0 in today's patch, World of Tanks will launch with a completely overhauled graphics engine called Core, pulling it firmly into this gen with dynamic environmental effects, new lighting, and a massively expanded backdrop.
"We had lots of teams and lots of outsourcing that work together to rework all of the 3D models from scratch," graphics engineer Denis Ishmukhametov explains.
"With the new engine and new technology, we work from scratch on the 29 maps that were already in the game. On top of that, we added a completely new map - Glacier - and also a brand-new garage.
"Each map not only has all of the 3D objects that were reworked, but at the same time has a lot more detail and fidelity. Each map has roughly five times more objects than before."
World of Tanks has a reputation of being most popular in Eastern Europe and the Russian Federation. While it has attracted a massive 120 million players worldwide, it's struggled to have the same penetration in Northern Europe, the UK, and the US. With this new update, Wargaming hopes it can appeal to a wider audience who expect something more visually accomplished from their powerful hardware.
With that said, through some technical wizardry, the system requirements for World of Tanks remain at the same low bar, with – despite the laundry list of improvements – minimum settings only needing a Geforce 6800: a card you might've chucked in your rig in 2004 to play games like Half-Life 2 and vanilla WoW.
"It is part of our business because we started in the former Soviet Union," Kislyi explains. "Russia and China is one of our biggest markets – these are historically countries where PCs are the main playing machines. But it's not like a firefighter or school teacher can go to buy a $3,000 computer every year, right? Usually it's the computer he uses for his taxes or documents or emails – and he can play World of Tanks. That's something I think we did really well.
"With 1.0 we did not want to shoot ourselves in the foot. We had this big problem with 0.9 a couple of years ago – because of some mistake, performance on 20% of machines dropped. We had a huge problem and had to face it and learn that lesson.
"You won't have to upgrade your machine for 1.0. You will have a very similar and better experience, that's how we spent two years and the best geniuses in the world. It's not only our Minsk people, but our Sydney people, our American people, plus a bunch of outsourcing resources we tapped to make this happen."
You'll need a more contemporary 1050ti, as well as an i5 equivalent and 8GB of RAM, for the new 'ultra' preset, but the results are genuinely great. The integrated Havok destruction and physics systems lend your rumbling war machines a weighty feel when they tear tracks out of the turf or send waves crashing outwards when you barrel through a ford. It really feels like you are driving a rolling lump of metal that weighs 200 tonnes. And there's plenty of driving to do.
The outside map space has been increased from around 1.5 x 1.5 kilometers to 32 x 32 kilometers, so these warzones appear expansive. Remastered sound recorded by the Prague Symphony Orchestra – along with the greater diversity of colour – give the maps a more distinct identity. This allowed the team move away from the fudge of flat brown buildings that still littered World of Tanks 0.9's warzones.
"When developing the new terrain system, we had several goals," Ishmukhametov says. "We wanted to give players the details in the close-up view in terms of texture, so when you look at the terrain from, for example, the zoom mode or the sniper mode, you can see lots of textures – you can see individual leaves, stones and soil.
"At the same time, we wanted to give the player the illusion that the terrain is endless - so you can see until the horizon. The new water system can simulate lots of realistic types water surfaces, [such as] seas, lakes and rivers.
"The dynamic water deformation is basically the deformation of waves, so when the tank moves through the water, or when the tank shoots in the water, it creates three dimensional waves that are simulated correctly with all of the laws of physics."
What the remodelling work doesn't touch, however, is the core experience of World of Tanks. Wargaming was careful to make sure that players can't gain an advantage by turning off specific features, or be disadvantaged if their computer isn't up to scratch – depressions and craters in the terrain are cosmetic only, for instance - so you're not going to get left behind with a weaker computer.
Still, if World of Tanks has never been your thing, that's probably still the case. It remains a game about careful positioning, managing reticle bloom and your tank's glacial rate of fire. Wargaming is bullish about the quality of gameplay and balance changes the studio has made over the last few years, though, and is quick to point out that if you want to give World of Tanks another shot, it's free-to-start.
"If you are a player that stopped playing three years ago, or two years ago, or even one year ago – that's still quite a lot of changes apart from 1.0. So you may want to just redownload it, you don't have to have a new computer," Kislyi says.
"You might want to check over the last one, two, or three years – what else did we do? Balance, artillery, new maps, new gameplay modes like 30-on-30.
"Now this is the king of the crown of all updates in the last two or three years. Graphics, Hollywood, but also, please, log in again, see what's changed in the gameplay itself."