Wolfenstein 2 hands-on: the ultimate stress-relieving, fascist-smashing power trip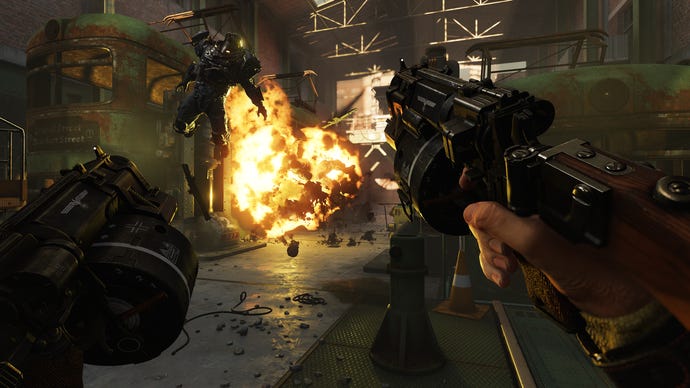 Burning up nazis crispy-like with a giant, fire-breathing robot animal is fun. Who knew?
Look, we've said it before pretty definitively: Wolfenstein 2 is looking pretty tasty. Every time I've played it so far there's been some sort of new thing to toy with - and that's making me very excited for this campaign-driven FPS.
The first time I played, at E3, nazi-stomping hero BJ Blazkowicz was in a wheelchair, leading to a very unique manner of movement for the game's first level. The second time I got access to his more complete move set, from the Wolfenstein staple of dual-wielding even the most unlikely of weapons to a neat gun that could explode nazis into particles of blood and guts in an instant once charged and the general abilities of a super suit - being able to run fast, jump high, and fall from a distance. It was a damn good demo.
This latest one is my favourite, however - and the majority of it is just straight-up, old-fashioned shooting.
"This is a game deeply comfortable in its own skin and all the better for it, even though that skin is a pulpy power fantasy that's vaguely ridiculous even by video game standards."
There is still new stuff, of course. One particularly new satisfying feature are the 'Battle Walker' stilts - additions to BJ's legs that let you extend your height to several times your natural height with a simple double-tap of the jump button.
This is a really cool little addition, as double-tapping has a few purposes. The sudden boost in height can throw enemies off, but it can also be used to reach ledges that'd otherwise be far out of reach, allowing you to clamber up onto them or lower the stilts back to ground level to duck underneath them. It's a little clunky to use at first, but one can see how when you get used to this add-on you'll be able to make slick use of it.
Perhaps a little more satisfying but far simpler are the Ram Shackles, an upgrade for BJ that powers up his sprint. This means you can smash through walls, something necessary for level progression in places or leading to optional extra areas in others. You can also run straight into a Nazi, and you can imagine exactly what happens when you do that - if it's enough to make a wall implode, the cloud of gory dust that poofs up when you slam into a soldier is even more satisfying.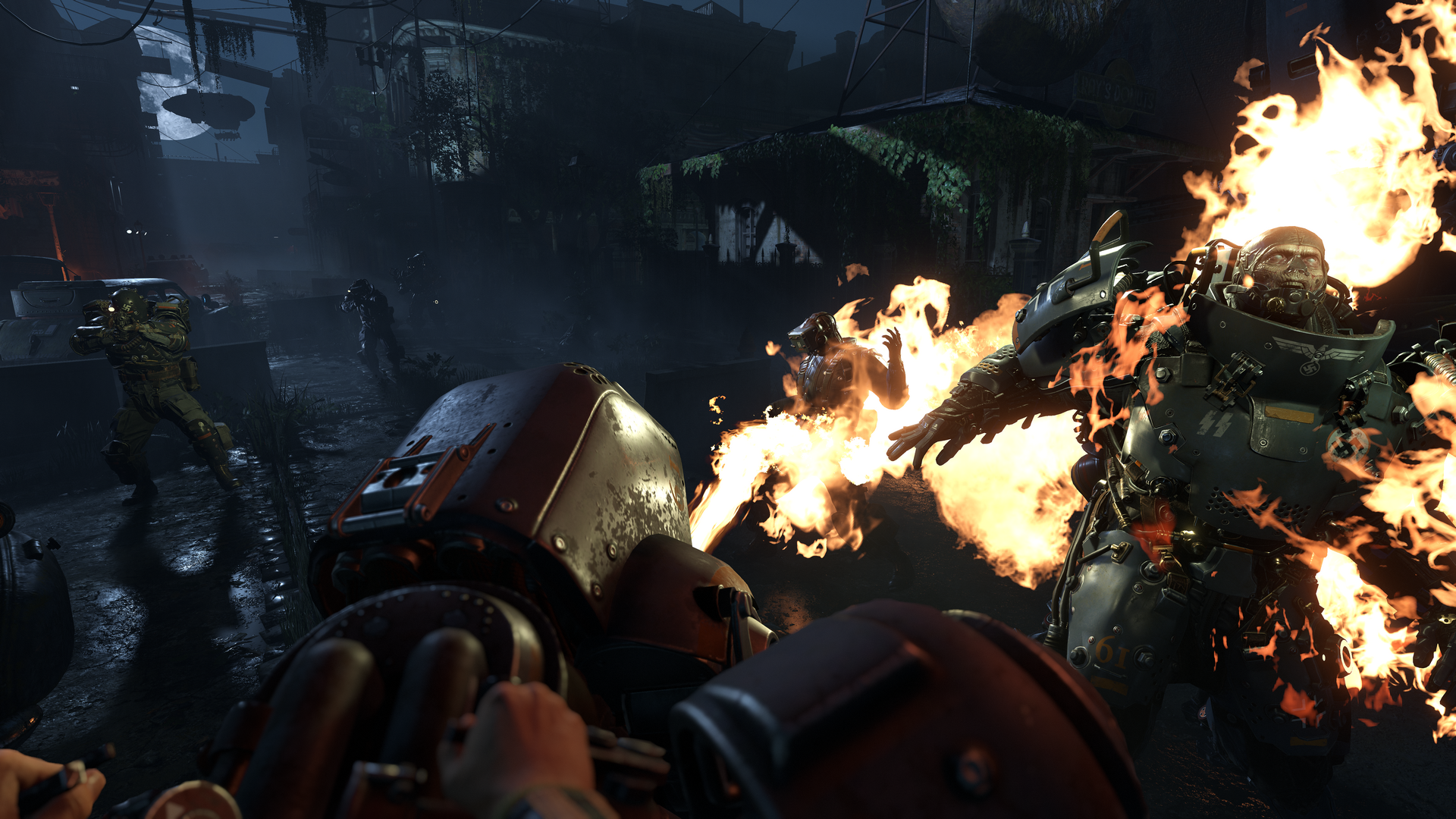 The single-level demo brings more and more good stuff along these lines, too. Blazkowicz is charged with heading into New Orleans, a city long since turned into a slum since the Nazis first occupied the US. It's all about building the resistance: there are people trapped inside the slum who'll be useful to the cause and so you've got to recruit them - but the city, effectively a prison, is filled with Nazi soldiers who are slowly slaying its population. Drop BJ inside those walls and suddenly the Nazis are trapped in there with him - a recipe for a great level.
The cutscene beforehand explaining all of this is charming, with its laugh-out-loud moment abroad the boat shown in a recent trailer and a general triumph in its pulpy Tarantino-like tone both impressing. This is a game deeply comfortable in its own skin and all the better for it, even though that skin is a pulpy power fantasy that's vaguely ridiculous even by video game standards. Modern Wolfenstein continues to hit the mark in this sense in a way that other 90s relics like Duke Nukem have spectacularly failed to.
Combat is fast and furious, but each of the abilities and new wrinkles layered atop it actually goes quite a way to make Wolfenstein 2 really feel like something new and exciting. The first game and its short stand-alone expansion were both good, but what this sequel has is an absolute, proven confidence in its vision which appears to be shining through brilliantly. That confidence and swagger makes Wolfenstein 2 work.
All that comes to a head in the finale of the level - after completing his main objective Blazkowicz jumps on board the Panzerhund - a sort of tank replacement that takes the form of a giant robotic beast that breathes fire. You trample through the streets of the New Orleans slums blasting the Nazis who've come to 'cleanse' the city of its population with a flamethrower.
It's obviously not meant to be a difficult moment, at least not on this middle-of-the-road difficulty setting. It's the pay off to a level full of fare more frantic and challenging combat - a chance to breeze through even super soldiers in a scenario that's meant to empower before your next true combat challenge. Importantly, it feels great.
I was already sold on Wolfenstein 2 before this hands-on, but it's good to be further reassured. The game's out soon for PC, PS4 and Xbox One, so we'll find out how well this formula holds up over an extended period of time. Switch fans will be able to get in on the action next year.