Win a Dawn of War II Space Marine statue from GameStation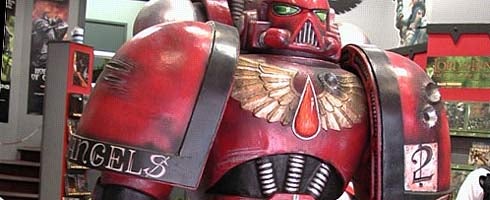 Fancy the thought of a life-size Blood Raven Space Marine guarding your living room? UK residents should head on over to the official Dawn of War II Facebook page and sign up to be a fan: you may just win one of your very own.
Standing over 2 meters (6.5 feet) high, statues are now on-site at five different GameStation stores across the UK. All you have to do is walk up to the thing, take your picture with it, and upload your photo to Facebook page. Then you need to tag yourself and the Space Marine in the photo with the location of the store.
Pretty simple really.
On February 26, the GameStation store that received the most tags will form a panel and choose the winner deemed to be the "most entertaining". The five participating GameStation stores are:
Hull - 59-60 Prospect Centre, Hull, HU2 8PW
Orpington - 79 - 81 The Walnuts, Orpington, BR6 0TW
Edinburgh - 134A Princes Street, EDINBURGH, EH2 4AH
Blackburn - 59-61 King William Street, Blackburn, BB1 7DJ
Stratford Upon Avon - 13 Town Square Shopping Centre, Stratford upon Avon, CV37 6AU
More here.