WET gets a firm September release date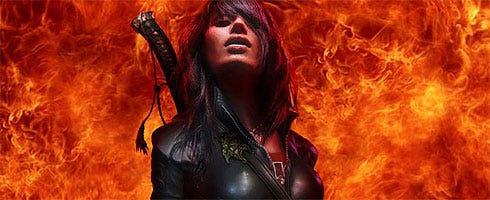 Bethesda has announced that A2M's action title WET will land on shelves in the US and UK September 15 and 18 respectively.
That's much better than "Fall 2009".
Soon, you will be able to load the game into your 360 or PS3 and take on the role of problem fixer Rubi Malone as you take down enemies with your dual pistols or samurai sword.
Neato.
Full thing through the break.
Bethesda Softworks®, a ZeniMax® Media company, announced today that WET will hit European retail shelves on September 18th for Xbox 360® video game and entertainment system from Microsoft and PLAYSTATION®3 computer entertainment system. The game's highly-stylized mix of action and acrobatics is showcased on the newly revamped web site that can be found at http://wetthegame.com.
"We are extremely excited to bring WET to gamers on September 18th," said Vlatko Andonov, president of Bethesda Softworks. "A2M has created an explosive gaming experience and the action is non-stop from start to finish."
Developed at Artificial Mind and Movement, WET throws players into a heart-pounding, adrenaline-pumping adventure of double crosses and paybacks in which they'll take on the role of problem fixer, Rubi Malone. Use Rubi's dual pistols or samurai sword during any acrobatic move as you take on countless enemies in a number of exotic locations around the globe.
"We've worked really hard to make WET different from any other action game available", said Patrick Fortier, Creative Director at A2M. "When players experience the game's unique blend of gunplay, sword combat and acrobatics, they won't want to put the controller down."
On a mission to find the man that left you for dead, you'll master the controls that will allow you to create the most incredible fight sequences - limited only by your own imagination. Once you are able to chain together a number of moves, including sliding down ladders, running on walls, jumping and flipping, you will be rewarded with auto-lock and slow motion advantages. Featuring the perfect mix of humor and violence, WET is a third-person shooter experience unlike any other.
For more information about Bethesda Softworks, please visit www.bethsoft.com. For more information about WET please visit http://wetthegame.com.