This week's best gaming deals: NES Classic Edition, Yakuza, Hitman, and more
THat's right, it's that time again - we're going to take a look at this week's best gaming deals from all the way around the internet.
As usual, we've got deals that'll work in the UK, deals that'll work in the US and some deals that will work in both the UK and US, as well as presumably many other places. Let's get started.
UK & US Deals
Remember when PUBG seemed like the king of all video games? While it may have been slightly usurped by a more colourful competitor, PUBG is still making moves to expand and evolve, recently adding a new, third map to the mix. Use the code 43OFFPUBG at checkout to get a PC copy of the game for, appropriately, 43% off.
PlayerUnknown's Battlegrounds on PC for £15.28 / $16.98 with code 43OFFPUBG from Fanatical
Batman, Mad Max, Mortal Kombat, Hitman and LEGO are all involved in this week's Warner Bros Games sale over at Fanatical. Use the code RED10 to get an extra 10% off the already-discounted titles, too.
Warner Bros Games Sale using code RED10 from Fanatical
Of course, the main event of a Konami sale over at the Humble Store is going to be the half-price copy of Metal Gear Solid 5: The Phantom Pain. Of course, it is. That said, you probably owe it to yourself to try out Metal Gear Rising: Revengeance for while it's 75% off and boy Castlevania Lords of Shadow is a strange couple of games - those are 80% off each.
This month, signing up for a Humble Monthly account will get you instant access to three titles - Hearts of Iron 4, Blackwake and Portal Knights, alongside a stack of additional games at the end of the month.
Hearts of Iron 4, Blackwake and Portal Knights for £10 / $12 from Humble Monthly
UK Deals
The latest Tekken game was a bit of a surprise when it arrived. A huge return to form and a genuinely exhilarating fighting game with an absolutely insane storyline. It's down to £17.99 on PS4 at the moment, too.
Tekken 7 on PS4 for £17.99 from Amazon UK
This set of five Nintendo figurines is £5.99 and that's lovely, but the important part of this whole thing is that Shy Guy is one of those five figures. Look at his little mask.
World of Nintendo figure five-pack for £5.99 from Argos via eBay
4K blu-rays are lovely and all, but they're still a new enough bit of tech that they're normally just a little bit too pricey to be realistic, at least for the most part. Thankfully, you can pick up two UHD Blu-rays for £30 right now via The Entertainment Store's eBay outlet.
Two 4K UHD Blu-rays for £30 from eBay
If you're still out there, somehow getting by with using the same old set of Dell-branded speakers or something equally ancient rattling out music from your PC, you might want to grab this set of Logitech speakers while they are discounted down to £85.
Logitech Z623 2.1 200W speakers for £84.99 from Ebuyer
Marshall, the company behind all those iconic guitar monitors, cabinets and speakers that you've almost definitely seen at countless gigs, concerts and movies, also apparently makes headphones. Not only that, but the company is discounting this set of Major 2 headphones from £79 to £45 for a limited time.
Marshall Major 2 headphones for £45 from Marshall
US Deals
Hey, look at that - Nintendo's promise that there would be more Nintendo Classic Edition stock headed onto store shelves is a real, live thing. ThinkGeek can finally now sell you one of these teeny tiny consoles for $60.
NES Classic Edition for $59.99 from ThinkGeek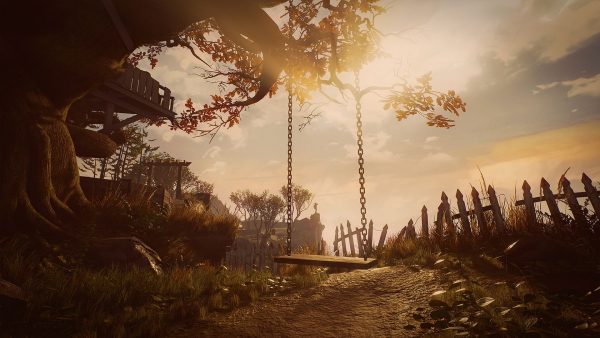 One of the best narrative adventures of 2017, at least in my own opinion, and you can grab yourself a Steam copy of it right now on Amazon US for under $10, which you probably should.
What Remains of Edith Finch on PC (Steam) for $9.99 from Amazon US
FrostPunk - a grim, thought-provoking and weirdly addictive game from the creators of This War of Mine - is available in its fancy, boxed, Victorian Edition at Amazon right now for $24, which is less than the game costs on Steam normally. Incidentally, you'll get a Steam key with this edition, too.
Frost Punk Victorian Edition on PC for $23.43 from Amazon US
If you're unfortunate enough to have not had the chance to play Yakuza 0 and all of its insanity by now, you can go ahead and grab a PS4 copy of the game for just under $20 over at GameStop.
Yakuza 0 on PS4 for $19.99 from GameStop
Now that Final Fantasy is not only on PC but also supports mods, there's presumably never been a better time to get into JRPGs - especially when you can change the character models of you and your buddies into Battletoads, Power Rangers or Donald Duck in a mech suit. You can pick up a Steam key for the game for $25 at Amazon this week.
Final Fantasy 15 Windows Edition (Steam) for $24.99 from Amazon US
With that, we're done for another week. Keep in mind that deals, prices and availability can change at the drop of a hat, so apologies if you miss out on something you wanted. I'll be over at Jelly Deals, scouring the world wide web for more deals. Feel free to visit, or follow us on Twitter and give us a like on Facebook.
Did you know that Jelly Deals has a newsletter? It lets us bring the best deals directly to you each day. Subscribe here, if that seems like your kind of thing.