"We Played It Very Safe Last Time:" Doom Eternal Co-Director Reflects on Doom (2016)'s Multiplayer Mistakes
On why Doom Eternal is putting an emphasis on single-player, not multiplayer, this time around.
This article first appeared on USgamer, a partner publication of VG247. Some content, such as this article, has been migrated to VG247 for posterity after USgamer's closure - but it has not been edited or further vetted by the VG247 team.
In the run up to Doom's soft-reboot in 2016, players were apprehensive. A multiplayer-only beta had earned a negative reaction. For a time, it was Bethesda's "second most hated" game on Steam. It was also one of the first entries in Bethesda's new "no early copies for press and YouTubers" strategy. No one knew what to expect until it was out on store shelves. Luckily, Doom ended up being a delightful surprise.
Except for the multiplayer.
"I think fans of id were disappointed by the last multiplayer because it did not innovate enough," Doom Eternal Co-Director Hugo Martin tells USgamer. "[W]hat we learned was being safe, taking a little bit of column A and B of a bunch of things that people know and mashing them together, is not good enough. We played it very safe last time. It was very kind of formulaic, and that's a fair and objective view of that product."
That's why for Doom Eternal, id Software is rethinking its multiplayer, and in a sense, reprioritizing it too. Rather than a core pillar, it's being pitched as an experience that will complement Doom Eternal's lengthy campaign. The campaign is the star, as it was on accident for Doom (2016), and it feels like the marketing knows where the game's true appeal lies this time. Judging from just Doom Eternal's first three hours, it's glorious. And it's exciting knowing there's a fresh "invasion" mechanic en route as well, in which other players will be able to invade each other's single-player games as demons, Dark Souls-style.
Unfortunately, we didn't get hands-on with the Invasion mechanic, nor Doom Eternal's prominent new Battlemode multiplayer that's replacing the standard arena deathmatch. (We did see it on the main menu screen, however. And how tempting it was to just click away.) In Battlemode, one player is the Doom Slayer, while two others control demons that can summon AI-controlled demons, and even lay traps. Victory is determined by whether the Slayer can kill both player-controlled demons before one of them respawns, or if the demons successfully kill the Slayer.
"There are a million good Team Deathmatch experiences and arena shooters out there," says Martin, "and we have some of them out there—Doom 2016 is still available, Quake Champions. We really wanted to make sure that we offered up something new for people to master, new metas to learn, new strategies to perfect."
Doom Eternal's multiplayer is now being built internally, rather than externally like Doom (2016)'s, which was developed in collaboration with Certain Affinity. Hence, the creation of Battlemode.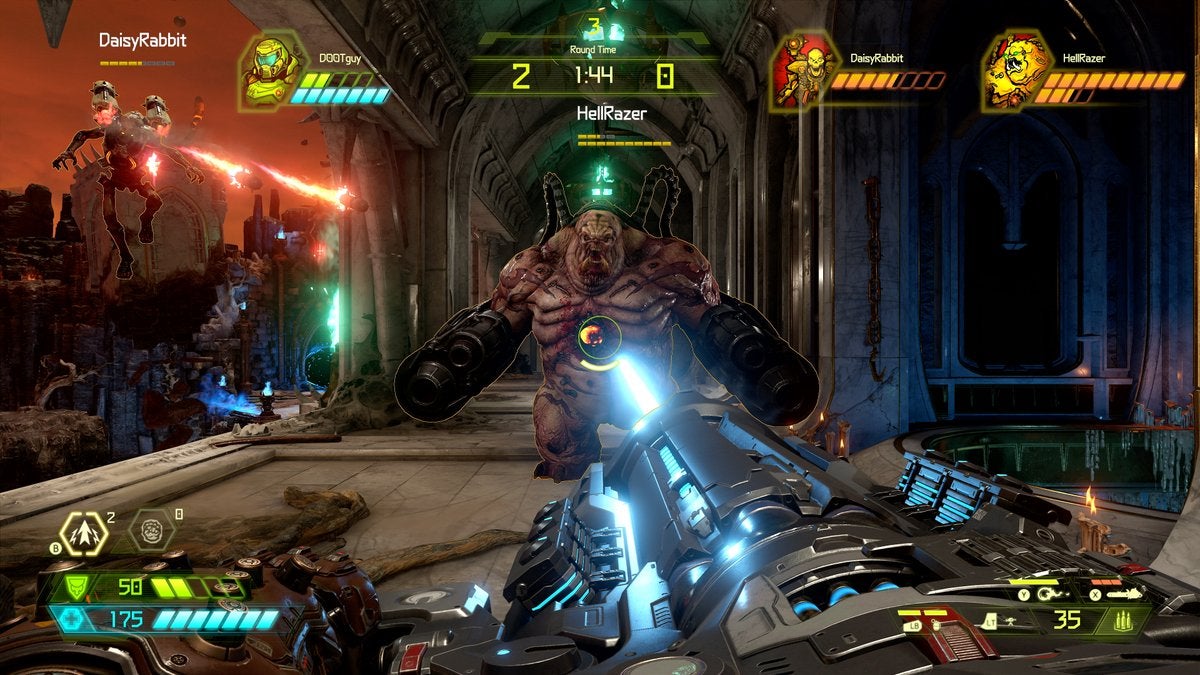 Id Software was able to look back critically at Doom (2016)'s tepidly-received multiplayer after some distance. Martin recounts some of the lessons learned from the experience, "Don't buy too much into your worst press. Don't buy too much into your best press. You just kind of objectively look at it and see, well, where did we go wrong? What can we do better? We followed, we didn't lead. And I think fans of id want us to lead and not follow, especially with our multiplayer component."
Battlemode isn't a primary pillar for Doom Eternal. While still a big complementary mode, the promotion of it has been more laidback than Doom (2016)'s multiplayer. The goal, Martin says, is that players come to Battlemode only after dabbling with the campaign, rather than it being a one-or-the-other sorta thing. "It really relies on an understanding of the Doom dance that's in the single-player in order [for someone] to be successful in the Battlemode," says Martin. "It's not to say you can't dive right into the Battlemode, but we suspect that most people will buy Doom for single-player, of course, and [...] and then maybe they'll move into the Battlemode. That's kind of the ideal way to do it."
According to Martin, Battlemode in Doom Eternal is a lot more complex than it may seem on the surface, and even from the lengthy trailers outlining how it all works. He compares the mode to chess, rather than checkers. Much like Doom Eternal's single-player, players will have to learn how to counter attacks and use strategy to overcome the Slayer (and likewise, with it flipped).
Part of that additional strategy is thanks to Doom Eternal being brought up on the new id Tech 7 engine, which rewards more thoughtful strategy than before—strategy that will carry over to multiplayer. For instance, with a big Mancubus demon, you can shoot off their gun-arms. For a Cacodemon, you can toss a grenade into its giant mouth before it chomps down, whether from the Slayer's own grenade, or with the easier-to-aim shotgun attachment. (In my single-player demo, I found myself leaning on the latter.)
Most of all, Martin hopes players are surprised by Battlemode, much in the same way players were surprised by Doom (2016)'s campaign nearly four years ago. Multiplayer is by no means the star of this year's Doom, but hopefully, it ends up being just as chess-like as it's been described. For more on Doom Eternal, we talked with Martin about how the studio has rethought how it's scaling difficulty this time around.