"We Had to Make the Chicken and the Egg at the Same Time:" A We Happy Few Postmortem
How Compulsion Games found itself in stormy weather.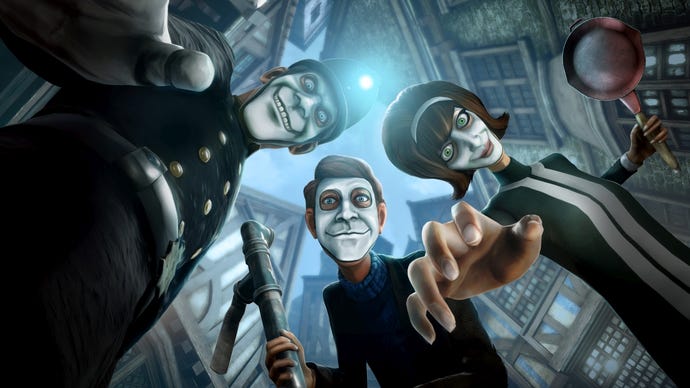 This article first appeared on USgamer, a partner publication of VG247. Some content, such as this article, has been migrated to VG247 for posterity after USgamer's closure - but it has not been edited or further vetted by the VG247 team.
When We Happy Few's E3 2016 trailer opens, there's already a sense of unease setting in. Eerie Orwellian devices dot the frame. The player-character is contentedly working his way through newspaper clippings, censoring aberrant text with a sheet of black ink. But then an upsetting image shakes the protagonist out of his stupor, and rather than take a pill to stifle it, he decides to take it all in and watch as the sheen wears thin.
In just under five minutes, Compulsion Games reveals the twisted world of We Happy Few: the city of Wellington Wells has fallen to ruin, and its citizens are kept in line with a psychotropic drug called Joy. As a "downer" who's off their Joy, the player slowly begins to realize the horrors that are taking place, all while being hunted by the state and its drug-filled denizens.
"Do you think the canister wonders what life's like outside the tube?" the trailer's protagonist wonders aloud. "Of course, he'd have to break the tube to get out. And that'll break it for everybody."
Showing the trailer for We Happy Few on Microsoft's stage at E3 2016 was a pivotal moment for Compulsion Games.The studio, founded by ex-Arkane developer Guillame Provost in 2009, had worked on a few external projects and made its own puzzle-platformer, Contrast. But this major debut for We Happy Few was on a scale it hadn't seen before.
We Happy Few was like a counter to Compulsion's work on Contrast. Provost jokingly tells me over a video call that he'd shoot himself before making another puzzle-platformer. The world of We Happy Few would be about survival and procedurally generated; he compared it to indie hit Don't Starve, only set in a 3D dystopia.
But with its compelling premiere came a world of expectations. The bits of story ended up being what players sought, early previews set aspirations high, and the five-person studio from Montreal, Quebec was suddenly in a situation where it didn't just have to make We Happy Few, but become the kind of studio that could produce We Happy Few in the process.
"That's really the story of We Happy Few, is making the chicken and the egg at the same time," Provost says.
---
While E3 2016 was the inflection point, We Happy Few's journey started earlier at PAX East in 2015. After a debut in February, first impressions started to roll in from PAX. Though the plan for We Happy Few was the aforementioned survival game, the iris of press quickly honed in on its engaging world and narrative. Due to the nature of the game-how a drug called Joy masked the downfall of the seemingly utopian Wellington Wells-comparisons were quickly drawn to another video game tale of an idealistic society in ruins.
"Everybody said, 'BioShock, BioShock, BioShock,'" Provost tells me. "And I went, 'Whoa, wait a minute.' BioShock is [Irrational Games], that's $80 million that's a budget. That's way more people than we have. And it's also expertise that we didn't have to fulfill those expectations."
That also kindled something within Compulsion Games. Provost says there was strong internal desire to do more narrative work, but that meant scaling up. In June 2015, it launched a Kickstarter campaign that surpassed its goal of $200,000 to create We Happy Few. It was an impressive start, one that gave Compulsion the tools it needed to do what it wanted to do.
But the crowdfunding campaign also had an unseen side-effect: it defined We Happy Few and set expectations for the kind of experience it would be. As E3 2016 came around and We Happy Few went further into development, it seemed almost at odds with itself. It was both a narrative experience in the vein of BioShock, and a procedurally generated roguelike with survival mechanics. There are decisions that Provost says, initially, the team would have reconsidered.
"It makes absolutely no sense for this game to be procedurally generated today," he says. "We're definitely the only people who made a narratively driven, procedurally generated game. I hope for the sake of whoever might do this next that we are the last game that ever does that, because it doesn't make any sense."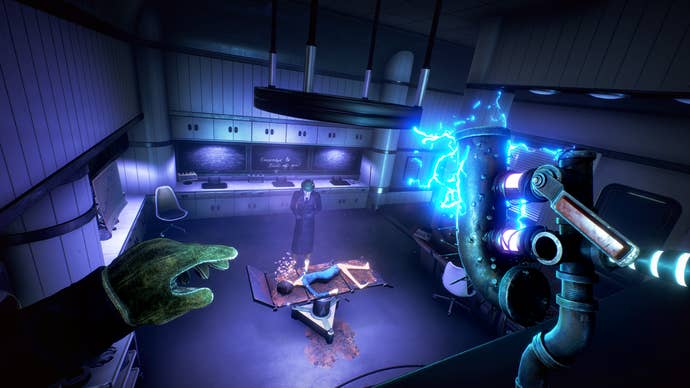 Compulsion felt a responsibility to its backers: to stay true to the initial Kickstarter pitch, even as the profile of We Happy Few escalated. The friction came in the early access period, where We Happy Few's narrative ambitions started to grind up against the reality of what early access entailed. While it might have clicked into place for other roguelikes, it wasn't ideal for what Compulsion was creating.
"You can't early access a story," Provost says. "You're not going to play a half-assed version of the story, and then a slightly less half-assed version of the story 18 times until you get to the release version of the game."
As the team grew, goals for We Happy Few started shifting as well. For each new person that came aboard Compulsion Games, there were new ideas and concepts. It was almost a double-edged sword.
"Each time we onboarded a new person who would be one of the kind-of directors of the game, there was a bit of a gravity shift of what the game became," Provost says. "Because that person came in with their expertise, their baggage and experience, which would ultimately help us craft a better game but also create some instability in terms of the direction of the game when you're onboarding them."
Provost calls the leap from where it was before We Happy Few to where it is now a quadruple jump. In 2017, it partnered with Gearbox Software as a publisher for a full launch of the game. At E3 2018, it was announced that Compulsion Games had been bought by Microsoft, and would become part of a growing pantheon of Xbox Games Studios.
Despite years of early access and work on the project, We Happy Few's launch in 2018 received poor critical reception. It was buggy, poorly optimized, and several critics felt the story and world were diluted by its tedious survival elements. In our own review, Senior Editor Caty McCarthy acutely pointed out how the combat, stealth, and survival get in the way of an absorbing world.
"So-so survival elements, the lack of mission variety, frame rate issues, prolific bugs, and tedious stealth and combat will make you want to cook up some Joy for yourself, so that maybe you too can forget the bad stuff and remember only the bright side of things," Caty wrote.
Provost seems aware of where We Happy Few fell short, as he describes of all its development issues. To credit, community manager Naila Hadjas tells USG that neither Microsoft nor Gearbox ever stepped in to direct the studio where to go. "There's only one voice that we listen to, and that was the public, the community," Hadjas says.
But there seems to be a lot of 20-20 hindsight with We Happy Few. In an upcoming documentary about the development of We Happy Few called "The Cost of Joy," narrative director Alex Epstein puts it plainly. "Every game teaches you how to make that game, so by the time you're done with the game, you know how you should have done it," Epstein says.
"We Happy Few isn't a perfect game," Hadjas says in the trailer. "It has a lot of flaws. But we did what we could with what we had."
The journey of We Happy Few has been about Compulsion Games, through years of sometimes painful development, finding its identity as a studio. Provost refers to those early days as Compulsion's teenage years. After discussing all the issues Compulsion Games dealt with throughout the development of We Happy Few, Provost jumps back to his earlier statement about fixing things in hindsight.
"If I was going to wrap back to the beginning of We Happy Few, I don't know if there's a lot of decisions that I would change," Provost says. "Because the game that we ultimately ended up making was definitely not a game that was possible for us to make when we started."
This generation has had its fair share of rocky starts that later become success stories. No Man's Sky and Sea of Thieves, the latter game produced by a fellow Xbox Games Studio, have weathered the storm of tough launches to reach the place they are today. Hadjas relays a familiar sentiment of fans who stuck with We Happy Few throughout the years, and are now feeling bittersweet with its conclusion in last month's final piece of standalone content, We All Fall Down. Streamers and long-time fans are sad that the weekly and monthly updates are, for the time being, finished.
"Most of these people are those who have been with us since the game started," Hadjas tells USG. "It's been five years, you know?"
In developing We Happy Few, Compulsion Games learned a lot about itself. Provost says there is a clear direction for the studio now, and with the backing of a company like Microsoft, the team is open to explore new horizons without financial uncertainty lingering overhead. When development started on We Happy Few, Compulsion Games was being drawn in multiple directions; now, it knows where its strengths lie, even if it took years of wrestling with We Happy Few to truly understand them.
"Things feel like they're gonna get a lot easier for us to succeed," Provost says. "If we don't make something much better than the last game, then something is uber-wrong with my direction for the studio."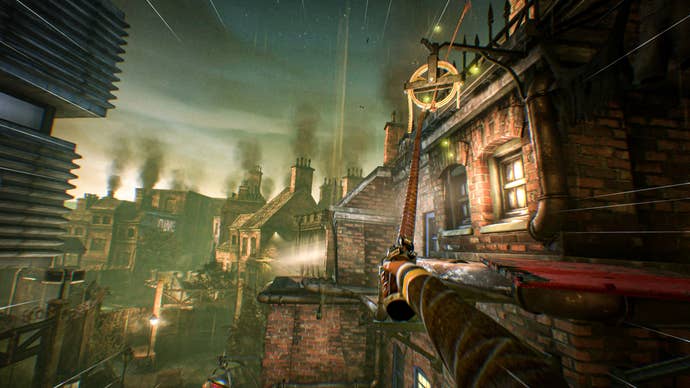 Being a Microsoft studio now has other benefits besides stability. Compulsion Games is now part of a larger subset that includes Ninja Theory, Rare, and Obsidian Entertainment. Where its once-small team struggled in terms of expertise, the now 40-person studio can benefit from a free flow of information between studios.
"Our animation director, our technical director, our game designers are all kind of starting to plug into all the game directors and their peers at all the other studios," Provost says. "We're not going to all start making games that look like each other as a result, but we're going to be able to leverage each other's knowledge and experiences better."
Provost says there's a mandate for Compulsion Games to create games that will attract more players to the Xbox ecosystem. It sounds like it's been given freedom to create prestige games, the kind that will bring new players to Microsoft. And this golden ticket lacks any games-as-service or microtransaction connotations.
Compulsion Games just started work last month on what its next project will be, after wrapping the final piece of DLC for We Happy Few. Provost tells me it'll be something new, not a part of Wellington Wells or the Joy-infused world of We Happy Few. "There's a hunger in the studio to apply all the knowledge that we've acquired to a new universe," Provost says.
It's stirring to think that years ago, that first big showing at E3 2016 ended up starting a long journey that ultimately led Compulsion Games to where it is now. It wasn't an easy journey, but We Happy Few has shaped the way forward for Compulsion Games. What it does next may be set far, far away from that world, but it couldn't have happened without it.