Watch over 20 minutes of Call of Duty: Infinite Warfare Zombies in Spaceland mode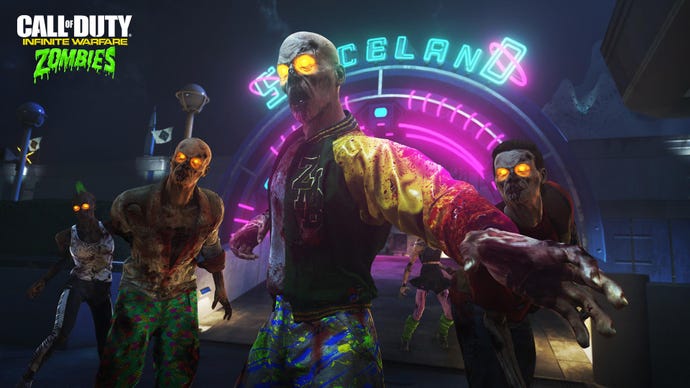 One of the less talked-about aspects of Infinite Warfare, Zombies in Spaceland, gets a new livestream.
Call of Duty: Infinite Warfare comes with co-op Zombies mod, a first for developer Infinity Ward. It's called Zombies in Spaceland and it starts four heroes who get transformed into a zombie-filled nightmare as characters they were auditioning for.
The mode represents Infinity Ward's take on very popular Zombies mode, and the studio hosted a livestream yesterday to show it off one more time. The show kicked off with the opening cut-scene you'll be watching in the game, explaining the backstory.
The rest of the stream, which you can see an archive of above via GamersPrey HD, goes on to show gameplay for about 20 minutes. The developers talk about the ATM system, which allows you to bank your earnings so you don't lose them after death.
The afterlife feature is also discussed, and Infinity Ward says the goal was to make it entertaining so you're not just spectating other players. There's more details in there about traps, and some of the enemy types you'll be facing.
Infinite Warfare is out November 4 on PC, PS4, and Xbox One.