VG247 presents The Alternate Game Awards 2019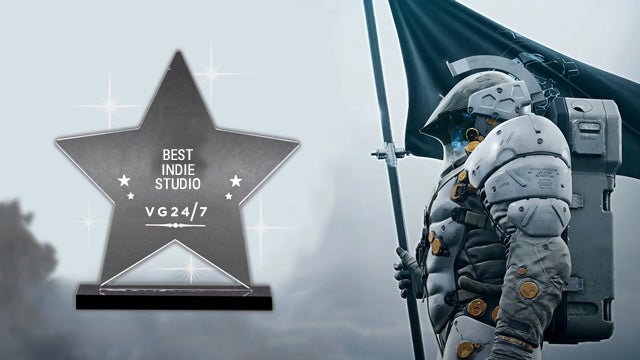 It's that time again, where we look back over the year, contemplate our existence and the finality of our lives as we cascade towards our maggot-ridden graves.
The end of the year is always about self-reflection, and since we chose a job where we write about childrens' toys on the internet, we decided to reflect on the games industry itself.
We'll have our picks of the 50 best games of the decade coming soon, but while we wait, we're here with another Alternate Game Awards. Check out our picks for 2018 at that link.
Best use of clothes to boil virgin piss - Mortal Kombat 11
In April this year, 10,000 virgins cried out in unison. It wasn't because their mum threw out their gunked-up porn mags from under their beds, though; it was because some women in a fighting game were wearing too many clothes.
Developer NetherRealm said it took a more "respectful" approach when designing its fighters for Mortal Kombat 11, which elicited backlash from the more idiotic corners of the internet.
The best part of it is that some of the dudes in Mortal Kombat 11 have their manly pecs out, only furthering the frothing rage from the undateables. If you close off your mind and really listen, you can still hear a distant wah wah.
Good work, NetherRealm. Good work.
Worst excuse for a character being a man - Star Wars Jedi: Fallen Order
Do you know why we ended up with Cal "Mannequin Skywalker" Kestis in Star Wars Jedi: Fallen Order? Because you can only have one female hero in Star Wars at any one time - them's the rules, according to game director Stig Asmussen.
"We talked about different gender," he said. "We arrived where we were because at the time, Rey was the thing for Star Wars, and so it made a lot more sense for us to have a male protagonist."
Honestly, it makes a lot of sense, and I think we should retroactively go back and scrub all men from games until we're left with only one. And if we can only have one, let's leave Geralt alone and bin off everyone else, eh?
Best propaganda - Call of Duty: Modern Warfare
There's a scene in Modern Warfare that cribs off the movie Zero Dark Thirty almost shot for shot. In the film about Osama bin Laden's capture, an unarmed man is murdered by US operatives. In the Modern Warfare version, the same man is a combatant who calls out for your death.
Likewise, the Highway of Death featured in Modern Warfare is a real place. It's where the US bombed fleeing combatants on a busy road, killing innocents and children in the process. In Modern Warfare, it was the Russians who did it.
The Modern Warfare developers feel comfortable ripping off real world conflict, but they shy away from criticising the US. The Americans are the good guys - it's that simple. Now, get out of your house, sign up, and join the army to fight for your country, in another country. Fuck yeah! Hoorah! Etc!
Dumbest comment - Bobby Kotick
Activision/Blizzard's chief executive says video games are no place for political views, mere weeks after releasing pro-US military propaganda.
"We're not the operator of the world's town halls," he said. "We're the operator of the communities that allow you to have fun through the lens of a video game."
Games are just fun! Especially if you're American! Probably not if your family was killed by a drone strike, but hey-ho! Nice one, Bobby. Good chat.
Best embargo - Shenmue 3
Shenmue 3, unbelievably, is actually out. We got it on a Saturday, it came in the post, and then we got an email shortly after:
"If you're receiving this email it's because yesterday I sent you a copy of Shenmue 3 in the post - it may even have arrived today!
"The EMBARGO for all reviews/streaming/content lifts on Thursday 21 November at 00:01 GMT. I appreciate this is a couple of days after launch, but thanks in advance for your patience and cooperation."
The game was due for launch on November 19, and we were being asked to hold our coverage until two days afterwards. This decision was backtracked once word got out, but you have to admire the sheer gall of it.
You made that game again - Ghost Recon Breakpoint
This year Ubisoft made some big strides towards making sure all of its major games are essentially the same thing. Open world? Check. Guns? Check. Loot? Check. Damage numbers? Check. RPG systems? Check.
Not content on making Assassin's Creed an RPG, Ubisoft decided that it was Ghost Recon's turn, transforming its tactical shooting series into a game where you make numbers appear from a man until he drops a +1 hat.
Reception to this homogeneity was so bad that Ubisoft has vowed to make its games different in the future. Imagine that!
Worst launch - Anthem
Anthem almost won two awards this year, but we didn't think it would be fair to all the other games deserving of some recognition. Just know that it was also a shoe-in for the 'I can't believe that came out in 2019' award. But it did. It did come out this year. It was a game and everything - a game where you fly around in power armour and occasionally shoot some bugs.
Not only was the core premise uninspired, but it launched with barely any game in it. The missions all played out the same and it hits you with a progression block near the endpoint, asking you to shoot 50 bugs with an SMG, shoot 50 bugs with a shotgun, shoot 50 bugs with a pistol, open 10 chests, revive another player, log off, throw your copy in the sea, pray to Cthulhu that it never darkens your door again.
Biggest clusterfuck - ESA leaks
I love E3, but fuck you, the ESA. You still haven't apologised or made anything right for the thousands of journalists and content creators whose details you leaked on your website. Fuck. You.
Best indie studio - Kojima Productions
"Gentleman, when I first started Reynholm Industries, I had just two things in my possession: a simple dream, and six million pounds."
On 2015/12/16 I became independent. No office, just a tiny room, no staff, no machines nothing. All I had was this KJP logo, notepad & pen and my own PC. I started to work on the concept while recruiting staffs, finding office & game engine. Had dream and connection that's all.? pic.twitter.com/tf6TNStiVI

— HIDEO_KOJIMA (@HIDEO_KOJIMA_EN) September 13, 2019
Hideo Kojima was out on his arse when he split from Konami, but he built up his own studio, got a team to make a game, and got to travel the world promoting that game while they crunched on it. He really pulled himself up by his deteriorating bootstraps.
The only help he had was from his army of celebrity friends, his loyal team of developers, his many contacts in the gaming industry, and his $30 million net worth. An inspirational startup.
Biggest PR disaster - Blizzard
When your company values, displayed outside your office for everyone to see, are "think globally" and "every voice matters", the best way to show that is to ban someone and relinquish their tournament winnings for saying something about another country.
A Hearthstone pro called Ng "blitzchung" Wai Chung used his winner's interview to call for democracy in Hong Kong, following a spate of protests and police brutality in the former British colony. Blizzard's response prompted major criticism and even protests during BlizzCon, which itself prompted the company to address the issue during the opening ceremony.
Following the apology, Blizzard has since doubled down, admitting that reaching the Chinese market is more important than its own values.
Biggest bigots - Ion Fury devs
In an industry where people are constantly shitting their pants in public, how do you outshit the shitters? That's easy for the developers of Ion Fury, a forgetabble retro FPS - just put some homophobic jokes in your game.
Once people caught wind of the "jokes", the developer promised to patch them out. Then those lads who call people SJWs got offended at people getting offended, shouted at the developers some more, and they decided they were going to keep their homphobic jokes in their shit game.
Best website - VG247
I know this is the VG247 Alternate Game Awards presented by VG247, but we honestly don't know how this even got here.