Vampires are finally getting some love in The Sims 4 later this month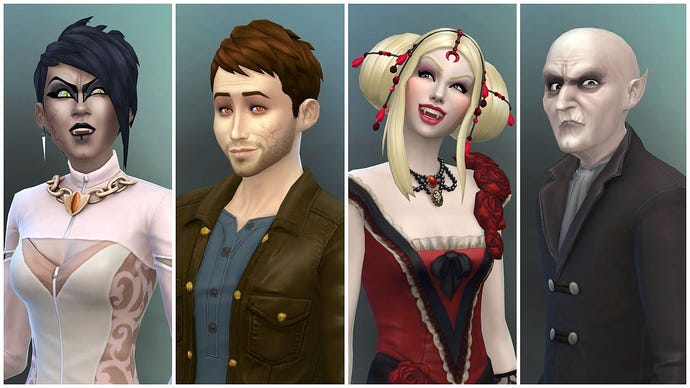 The Sims 4 is about to become even more supernatural. And no, we don't mean supernatural in the Sam and Dean sense.
Today, EA announced The Sims 4 Vampires Game Pack, coming later this month.
In the pack, vampires have been built-out more than ever, with each harboring motives along with the all important need for Plasma, which is what vampires drink. Vampire Sims can find different varieties of Plasma along with packs for a quick fix, or through Plasma Fruit which can be grown.
Players can also go the traditional route by feeding upon other Sims as they sleep, or just ask them.
Vampires also can have two forms: regular and dark. If the player has both, the Sim will turn into the Dark Form to perform vampire actions - even their own walk style. And of course, staying too long in the sunlight is detrimental, unless the player wants their Plasma sucker to catch fire.
Both forms can be fully customized, and outfits can be shared between both vampire forms via a button which allows the player to copy it for either form.
In the new pack, vampires now have powers which can be used to turn other Sims undead. And of course, what use would it be being a vampire without the ability to move around in different forms? EA said it will release more information on that end in the coming weeks. Hopefully, a wolf and a bat will be just two options, but we'll have to wait and see.
Also, both powers and weaknesses will affect the player's story and how the vampire is played. Again, more will be revealed on that soon.
Of course players will want to maker their vampire look like a vampire, and the pack comes with everything the player needs to accomplish the right look. Glowing eyes, sunken eye sockets, washed out skin tones, dramatic brow options and more.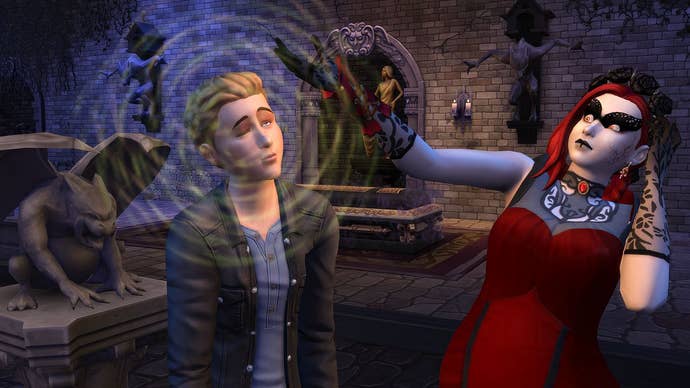 Sims can now also be born as vampires, but their powers won't start until they become teenagers. So, yes, your vampires can age - unlike poor Claudia in Interview with the Vampire.
One of the cool things about these young vampires, is the player won't know until they enter the teen years if inherited vampire genetics or not, as the Plumbob style won't change until then too. At that point, they'll also stop naturally aging up, but they can be aged up using the Birthday Cake.
Along with the new vampire traits and features in the Vampires Game Pack is the new world Forgotten Hollow. Here, the night lasts longer than other worlds, making it the perfect place to build a vampire domicile.
It includes one block with five lots centered around a plaza-area dedicated to Vlad, the founding Vampire of Forgotten Hollow. It's a rather foggy area with old, withered foliage and resembles a centuries old neighborhood with history and secrets.
Build and Buy Mode objects will be available to help the player build a home perfectly suited to the creepy area. Decorations for the home include new coffin beds, and a pipe organ which has its own skill which can be leveled up.
There's also a lot trait that'll which will encourage Vampires to stop the player's Sims home. Vampires will show up from time to time in other Worlds, just not as often as they do in Forgotten Hollow.
Here's a breakdown of what you read above:
Vampires Game Pack
Includes special Vampire motives, need and power
New Create-a-Sim options including glowing eyes, unsettling eye sockets, new skin tones, more
New world Forgotten Hollow with longer night-time, fog, withered foliage.
Trait which encourages Vampires to stop by a Sim household.
New Vampire objects to create a goth Vampire home.
More information along with pricing will be released over the next two weeks.
Vampires were first introduced in The Sims 2: Nightlife, and added to The Sims 3 via the Late Night pack. Vampires were further enhanced when the Supernatural pack was released.
In late 2016, players perusing game files found in the December update found references to upcoming pack.
The Sims 4 Vampires Game Pack will be available on January 24.