Valve Index officially revealed, pre-orders kick off May 1 and ships between June 28-July 1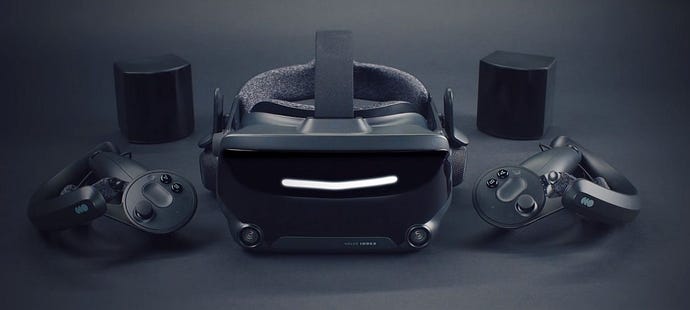 Valve Index has been officially unveiled and the VR headset will be available for pre-order tomorrow, May 1.
After the first tease surfaced in March, Valve announced its new VR headset along with specs and a July 1 release date.
The devices revealed today include the Index HMD headset, Controller, and 2.0 Base Stations.
Information on each piece of hardware can be found below along with pricing.
https://steamcdn-a.akamaihd.net/valvesoftware/images/index/videos/Main_v2.webm
Valve Index HMD headset, Controllers, Base Station features
Index HMD Features
Optimized pixel layout: Dual 1440x1600 RGB LCDs provide 50% more subpixels than OLED, resulting in greater sharpness for the same rendering cost.Fill-factor is three times better than OLED, greatly reducing "screen door" effect.
Higher frame rates: Runs at 120Hz with full back-compatibility to 90Hz and features an experimental 144Hz mode.
Extremely low persistence: Displays have a reduced illumination period of 0.330ms to 0.530ms (framerate dependent), allowing imagery to remain sharp when your head is in motion or when standing still. This is a 5x improvement over first-generation PC VR HMDs.
General: Optimized for FOV (20° more FOV than the HTC Vive); dual-element lens; canted optics.
Audio: Ultra-nearfield flat panel speakers (full-frequency 180-degree dispersion pattern); off-ear immersion; long-session comfort with adjustable speaker position.
System Requirements
OS Windows 10, SteamOS, Linux
RAM 8 GB+
GPU NVIDIA GeForce GTX 970+ or AMD RX480+Available DisplayPort required, HDMI not supported
CPU Dual Corewith hyperthreading, or better
USB 3.0+for headset cameras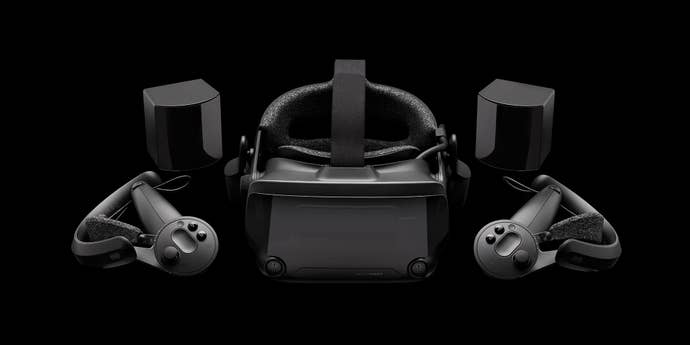 Tech/Specs
Displays
Dual 1440 x 1600
LCDs Full RGB per pixel
Ultra-low persistence global backlight illumination (0.330ms at 144Hz)
Framerate
Optics
Double element, canted lens design
Field of View (FOV)
Optimized eye relief adjustment allows a typical user experience 20º more than the HTC Vive
Inter-pupillary Distance (IPD)
58mm - 70mm range physical adjustment
Ergonomic Adjustments
Head size
Eye relief (FOV)
IPD
Speaker positions
Rear cradle adapter included
Connections
5m tether
1m breakaway trident connector
USB 3.0
DisplayPort 1.2
12V power
Tracking
SteamVR 2.0 sensors
Compatible with SteamVR 1.0 and 2.0 base stations
Speakers
Built-in Audio

37.5mm off-ear Balanced Mode Radiators (BMR)

Frequency response
Impedance
SPL
Aux Headphone Out
Microphone
Dual Microphone Array
Frequency response: 20Hz – 24kHz,
Sensitivity: -25dBFS/Pa @ 1kHz
Cameras
Stereo 960 x 960 pixel
Global shutter
RGB (Bayer)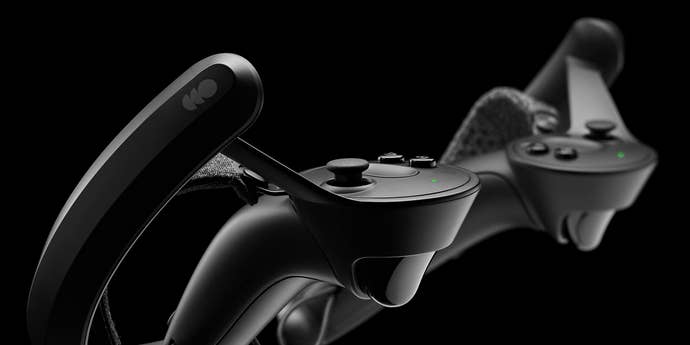 Valve Index Controllers
The controllers use 87 sensors to track hand position, finger position, motion, and pressure to determine user intent. A quick breakdown follows alongside the sepcs.
Features
Sensor fusion
Throwing
Low-latency finger tracking
Open-hand interactions
Long-term comfort
Standard gaming inputs
Squeeze-ability
Track button
Tech/Specs
Inputs
A Button
B Button
System Button
Trigger
Thumbstick
Track Button with Force Sensor
Grip Force Sensor
Finger Tracking, IMU
General
Ergonomics
Connections - USB-C, 2.4GHz Wireless
Haptics - HD LRA
Battery Life - 7+ hours
Charging - 900mA fast charging, 1100mAh capacity Li-Ion polymer battery
Tracking - SteamVR 2.0 sensors, compatible with SteamVR 1.0 and 2.0 Base Stations
Valve Index 2.0 Base Stations
Features
Increased range and FOV - Now with two base stations allowing a 400% larger play space.
Expandable - Add a third base station to cover a tricky spot in your room. Or add a fourth to expand play area up to 10x10 meters.
Sub-millimeter resolution - To capture every gesture.
Laser tracking - Fixed lasers sweep 100 times a second to track photonic sensors on the headset and controllers.
More compatible - Now with a single coded laser sweep and no omnidirectional blinker. Stations co-exist with other IR devices.
Compatibility Note: Index Base Stations are only compatible with 2.0 tracking capable hardware. This currently includes Valve Index and HTC Vive Pro hardware.
Tech/specs
Range - 7m
FOV - 160º x 115º
Expandability - Up to four base stations, up 10m x 10m playspace
Power - 12V, compatible with existing HTC Vive power supply
Pricing and Packages
Valve Index VR kit ($999)
Ships by June 28
Includes: Headset, Controllers, and two Base Stations
Requires a PC.
Valve Index Headset and Controllers ($749)
For those who already have a Base Station
Ships by Jun 28
Includes: Headset and Controllers
Requires PC (and base station)
Valve Index Headset - standalone ($499)
Ships by Jun 28
Includes: Headset
Requires Controllers, Base Stations, and PC
Valve Index Controllers ($279)
Ships by Jun 28
Includes: two Controllers
Requires Vive, Vive Pro, or Valve Index Headset, Base Stations, and PC
Valve Index 2.0 Base Station ($149)
Ships by Jun 28
Includes: one Base Station
Requires Vive Pro or Valve Index Headset, Controllers, and PC
Valve said the headset and controllers are compatible with all Steam VR games, and offered individually as well as in various combinations.
Pre-orders begin tomorrow, May 1, for the initial, limited-quantity launch within the US and Europe. These units are targeted to begin shipping no later than July 1, according to the press release. But, June 28 is the target date.