Valkyria Chronicles DLC dated and priced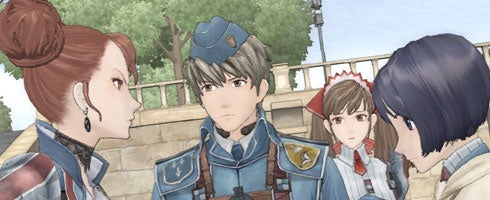 Sega's to release its European Valkyria Chronicles DLC on April 16, the firm said today.
There's three parts to it - as previously announced - and it's going to cost £3.19 or €3.99 "each".
The press release doesn't make it particularly clear if it's all coming in one lump or it's going to cost you £10 for the lot.
Decipher it yourself after the break.
VALKYRIA CHRONICLES DLC DETAILS REVEALED
Pricing and Release Date Made Public
LONDON (8th April, 2008) – SEGA Europe Ltd. today announced that the downloadable content for Valkyria Chronicles™ will be available on PSN for download for £3.19 or €3.99 each on 16th April.
Details on the new downloadable content:
• Hard EX Mode – fight your way through the entire Imperial army, where the enemies are more lethal and your main tank Edelweiss is unavailable. You'll have to be more strategic in order to overcome your opponents.
• Edy's Mission "Enter the Edy Detachment" – six members have been separated from Squad 7 and on their journey to reunite with their squad, they stumble upon a tiny village under attack by the Imperial Army. Play as Edy and command your outnumbered team to defend the small village from annihilation.
• Selvaria's Mission "Behind Her Blue Flame"– Taking place right after the outbreak of Gallian battle lines, you play as Johann, a young and meek engineer assigned to Selvaria's troop. See the action as it unfolds behind enemy lines and experience the war play out through the eyes of the enemy.
Valkyria Chronicles is set in a fictitious continent reminiscent of 1930s Europe. Divided in two and ruled by the Empire and the Federation, the Empire has set its sights on invading a small neutral country called Gallia, which is situated in the middle of the two great empires. The game follows a hero named Welkin and his fellow soldiers of Gallian civilian militia's 7th Platoon who are fighting against the Empire. The Empire is intent on unifying the continent under its power, but Gallia discovers that the Empire possesses a secret weapon, known as the "Valkyria"- an ancient race with special powers thought to exist only in legends. With this new discovery, the fate of Gallia's ability to win the war and a hope for a better future hangs in the balance.
The Valkyria Chronicles downloadable content will be available for the PLAYSTATION® 3 computer entertainment system on April 16th.
For more information on Valkyria Chronicles please visit www.valkyriachronicles.com. For screenshots and assets please visit www.sega-press.com.