USgamer's Best Games of 2016: Best Single-Player Campaign
We kick off our annual awards with a look at the best in this year's single-player campaigns.

This article first appeared on USgamer, a partner publication of VG247. Some content, such as this article, has been migrated to VG247 for posterity after USgamer's closure - but it has not been edited or further vetted by the VG247 team.
Welcome to USgamer's annual game awards!
Like last year, everyone at USG put their heads together and voted on nine individual categories as a group, and each team member has nominated their own pick for the category. Rather than argue long and loud about personal opinions, however, we've taken a scientific approach: We voted on each category through an anonymous survey in which we weighted each nominee from "most" to "least."
This means, in theory at least, that a game that gets nominated by more than one person won't necessarily sweep the category—it's entirely possible for a dark horse to take the prize if it receives enough second- or third-place points from everyone. We'll see!
We'll be publishing a different category each day through the end of the year, leading up to our final vote for best game of 2016. Join as we countdown to our Game of the Year!
Best Single-Player Campaign: The Nominees
Games are meant to be "platforms" these days, but a great single-player campaign can still elevate a game from "memorable" to "legendary." Here are some of our favorites from 2016.

Kat: Witcher 3 (Blood and Wine)
Only CD Projekt Red could put out an expansion pack that's better than many of the year's full releases. Blood and Wine feels in many ways like a sequel of sorts: a brand new adventure that shifts the setting to the vibrant country of Toussaint. In addition to a number of fantastic sidequests, Blood and Wine also introduces new features like a private winery, which can be steadily customized and built up over the course of the campaign. It's one of the best expansions ever, and a perfect finale for the Witcher 3.

Mike: Titanfall 2
I would've given the shot to Witcher 3: Blood and Wine like Kat did, but I wanted to stress how absolutely amazing Titanfall 2's single player campaign is. It's everything that a campaign should be. There's enough story to keep you moving forward. Every level features a new look and new mechanic, for the time-shifting antics of Effect and Cause to the high-flying level that is Trial By Fire. Titanfall 2 remains exciting for its entire 6-7 hour running time.
The best part is it doesn't overstay its welcome. It doesn't have levels just to pad out the campaign or keep mechanics around long past their due date. Titanfall 2's single-player just does what it does well, in a decent amount of time. That's all we want developers. Not every game has to be an epic.

Jaz: Titanfall 2
The original Titanfall didn't feature a single-player mode—something that it was almost universally criticized for—but fortunately this year's sequel more than made up for that glaring omission with a fantastic, brilliantly-designed bespoke campaign. It's the story of a grunt's ascension to fully-fledged pilot, which plays out in a thrilling action adventure that's a surprising mix of top-notch first-person shooting, excellent parkour-like platforming, and a little bit of puzzle-solving. Star of the show is your Vanguard class Titan companion, BT-7274, a mech with a very dry sense of humor, whose droll lines provide some of the game's most memorable moments during its short, but oh-so-sweet six-odd hours running time.

Nadia: Dragon Quest VII
Boy howdy, Dragon Quest VII ate up most of my September, but did I ever have a good time. I clocked in well over 100 hours, a number I don't often get to touch in RPGs (adulthood and video games just don't always mix well, alas). Some of Dragon Quest VII's critics say the campaign just goes on too long, even with the streamlining offered by the new Nintendo 3DS release. Maybe -- the story is definitely a hefty one. Still, I put in tons of extra hours exploring bonus dungeons and collecting monster-friends. I never did manage to beat God under twenty turns, though. Sigh. Who knew slaying the Master of the Universe could be so difficult? And who knew his secret weapon is the Underpants Dance and bad puns?

Jeremy: Shiren the Wanderer: The Tower of Fortune and the Dice of Fate
Roguelike games have gone from niche interest to mainstream phenomenon… largely due to hybrid titles like F.T.L. and Spelunky that combine the underpinnings of Rogue with more accessible genres. For my money, though, true roguelikes ultimately offer the greatest substance and life… and you won't find a better console adaptation of the genre than the original: Spike Chunsoft's Shiren the Wanderer series. The latest entry in the franchise to reach America actually began life as a Japan-only DS game, which likely accounts for its technological simplicity. It's all 16-bit-style sprites on 2D backgrounds. And it's all quite lovely, but it's terribly dated-looking.
Then again, most roguelikes are content to exist as ASCII text, so relatively speaking Shiren is quite posh! But the game's the thing, and this fifth proper Shiren epic offers an incredible amount of content — and while it starts out to be seemingly quite easy, once you reach the main dungeon and its terrifying day/night transitions, this game will teach you the meaning of true pain. On the plus side, Shiren fudges the rules of roguelikes just a smidgen by allowing you to effect permanent change within the game world or sneakily retain the weapons you've been honing over the course of your journey. And even if you can't finish the main quest (I'm still struggling with it, months later), there's a ridiculous amount to do outside of it. You can play through a host of dungeons operating under special rules or restrictions, complete self-contained challenges that allow you to explore every possible permutation of Shiren's mechanics, or take on a vast array of Soukoban puzzles that mix up the box-pushing genre's standards by incorporating a host of special Shiren wrinkles. It's so, so good.
The Winner: Titanfall 2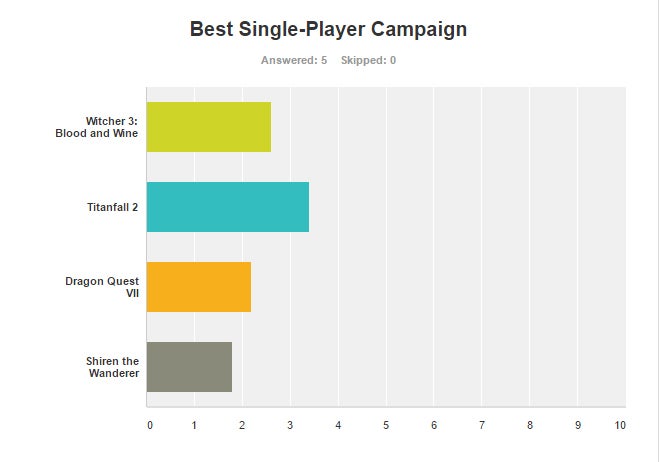 Titanfall 2 was a critical darling that really picked up steam as the holiday season went on. A lot of that was down to its outstanding single-player campaign, so it's no surprise to see it get the nod here. Hopefully sales will pick up in the new year, because Respawn's gem deserves monetary recognition as well.
Runner-up (Weighted Average): Witcher 3: Blood and Wine (2.6)
Tomorrow: 2016's Best Multiplayer