US PS Store update, March 18 - Dragon Age, LBP, AvP, Gaga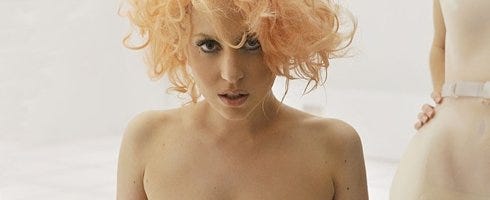 Sony updated the US end of PSN late on Thursday, and we were a bit busy with BAFTA stuff yesterday, so this update is a bit late. Sorry for that.
However, there's a bit to be pleased with, what with Dragon Age: Origins -Awakening landing, the AvP Swarm Map Pack, LBP add-ons for PSP and a little Poker Face for those who like the female fashion-equivalent of Elton John circa 1972.
The full list of games are below, with wallpapers and videos posted over on the US PS Blog.

Price Updates and Special Offers
1942 Joint Strike Sale (now $4.99, original price $9.99)
Trine Permanent Price Drop (now $14.99, original price $19.99)
echoshift: Download echoshift today and receive an exclusive add-on pack with seven extra levels free.Offer available for a limited time, only until April 1, 2010.
Downloadable Games
Groovin' Blocks ($9.99)
Sam & Max: The Devil's Playhouse Pre-order ($29.99)
PSone Classics: One ($5.99)
Game Demos: Brain Challenge Demo
Add-on Content
Aliens Vs. Predator Multiplayer Swarm Map Pack ($6.99)
Dragon Age: Origins Awakening ($39.99)
Dragon Ball: Raging Blast Ultimate Warriors Pack 2 (free)
Dynasty Warriors: Strikeforce Quest Pack #2 (free)
Need for Speed SHIFT Exotic Racing Series ($9.99)
Guitar Hero 5: Flogging Molly Track Pack
Rock Band: 3 Doors Down, Mute Math, "Lady Gaga's 'Poker Face' (South Park Version)"— Eric Cartman, The Subways, The Who, Lady Gaga Track Pack
Music: Heavy Rain Soundtrack ($9.99)
PS3 Themes
Heavy Rain Mars ARI Dynamic Theme ($2.99)
Acid Trip Theme ($1.49)
World of Outlaws Sprint Cars Theme ($0.99)
PlayStation Store for PSP
Patchwork Heroes ($9.99)
The Red Star ($14.99)
LUXOR Bundle – LUXOR Wrath of Set & LUXOR Pharaoh's Challenge ($9.99)
PSP minis: BreakQuest ($3.99)
Add-on Content
LittleBigPlanet PSP Metropolis Costumes (free)
LittleBigPlanet PSP Metropolis Theme Pack ($2.99)
BUZZ! Quiz World Rock Idols Quiz Pack ($3.99)