Untitled Goose Game nails the cold war of English neighbour relations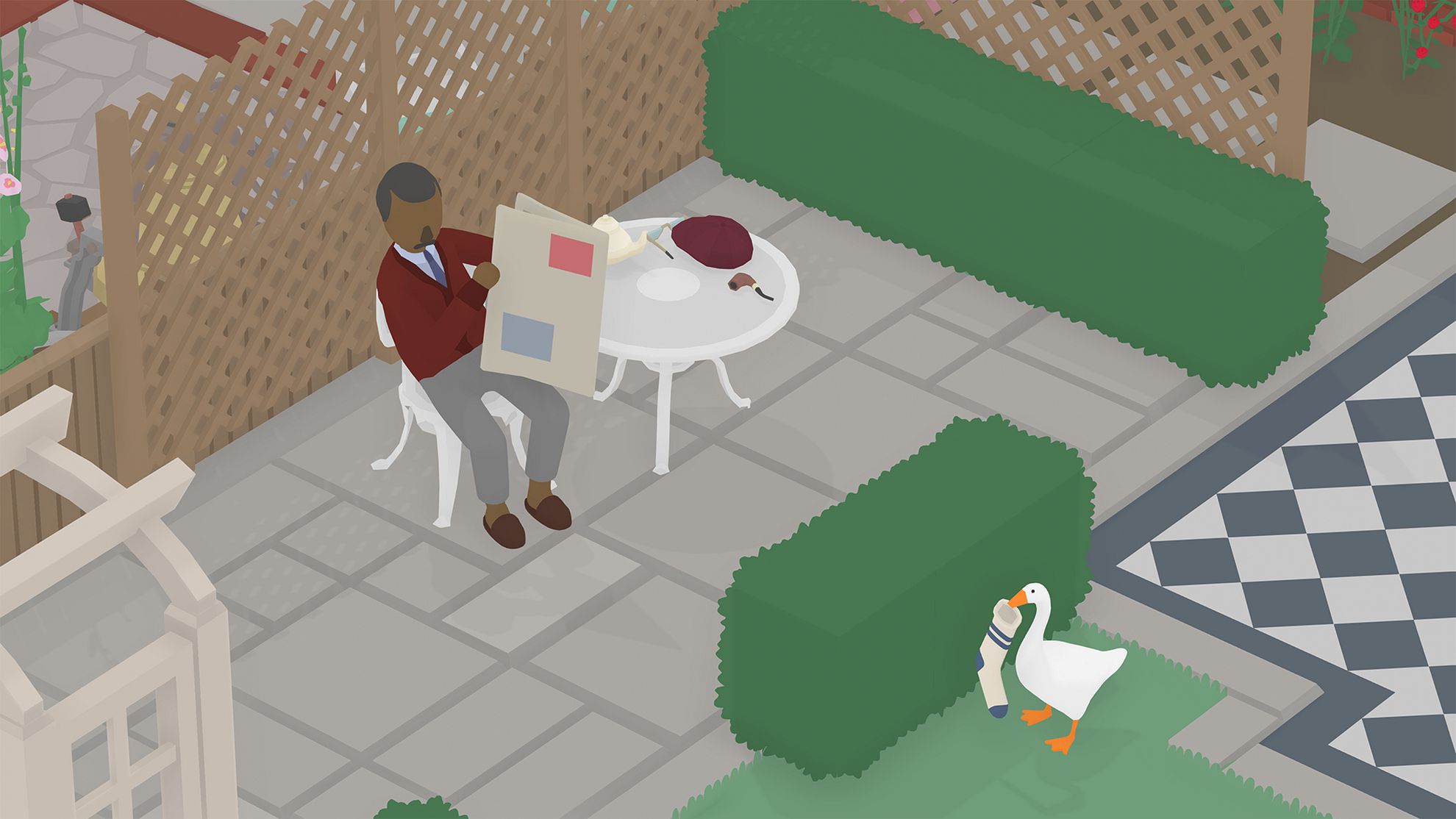 It happens as we're getting out of the car. It's late, by the standards of my street, but there he is: my neighbour, walking quickly up the drive, as if compelled by a force that isn't his own. His face is haggard and fearful. Clearly, a furtive conversation has taken place next door and he has been designated to take the desperate step of talking to us.
"Do you know," he puffs, punctuation thrown off by nerves and anger. "Every night. You go out your dog barks the whole time you're away?"
In fact we didn't know, but recording later confirms it: our new puppy makes a horrendous racket every time we leave her. I thank the neighbour, make apologetic noises, and he retreats back across the line into home territory. Equilibrium is restored.
English readers will know how rare and significant encounters like these are - the Cuban Missile Crises of a perpetual cold war. I'm not saying it's impossible for English neighbours to get along, exchange phone numbers, attend each others' barbecues - just that the default is distance. There may be perennials in the borders, but they're just that: borders.
We managed to keep this way of being to ourselves until September 20 2019, the release date of Untitled Goose Game. The goose game is a phenomenon - a genuine viral success that has reached, somehow, Blink 182. Set in an idyllic village that seems trapped in the late '80s, it has brought the world not just wholesome stealth, but a true picture of what it's like to have neighbours in England.
Credited simply as the Tidy Neighbor and the Messy Neighbor, two of Untitled Goose Game's NPCs live side by side, but at arm's length.
The Tidy Neighbour's patio is tiled like a chessboard, a monument to order. For him, the back garden is a place of comforting routine: broadsheet paper, tobacco pipe, tea pot, all laid out neatly on a cast iron table, the paraphernalia of a quiet life. The Messy Neighbour, by contrast, is your auntie who's a bit arty, inclined to repurpose what others would throw away. A column of spare tyres becomes a plant pot, an old bath a flower bed. Wind chimes, to her, are not an offence against God.
These two people are ideologically opposed, but they are dedicated to civility. The fence that separates them is latticed, filled with holes, yet they do not make eye contact. Their non-communication is carefully maintained, like a privet hedge. It takes only one chaotic element, though, to disrupt the status quo. Like a puppy. Or a goose.
How do you push English people to breaking point? You take away their sense that there are rules. For instance: every English person knows that if you find a ball from next door in your garden, you're entitled to lob it back. In this respect, the Tidy Neighbour's AI routine is true-to-life - he'll chuck bras, socks, and garden tools over the fence if they don't belong. But he's overzealous. If the goose manages to tug a fancy vase into his path, he'll fling that over too, where it'll land with a harrowing crack, splitting into two.
Similarly: every English person knows that you can prune plants up to but not beyond the edge of your garden. The Messy Neighbour understands this, pruning her topiary until the point it meets the fence, and no further. Yet Untitled Goose Game players soon discover you can pull the Tidy Neighbour's prize rose within reach of her shears.
Moreso than climate change and migrant crises, these are the injustices English people will stand up for. When the Messy Neighbour comes across her broken vase, you'll see her march up to the fence, breaking an invisible barrier years in the making, and yelling in the face of the culprit.
You might argue that the shouting match is not just forgivable, but healthy - the first time two people who live alongside each other have been honest about their feelings, and able to clear the air. But according to the rules of English garden etiquette, it's a failure. We even have a TV show that runs periodically to shame those who overstep - Neighbours from Hell: Caught on Camera.
Ultimately, the two neighbours in Untitled Goose Game are cooled by their shared desire for balance. The Messy Neighbour haphazardly glues the vase back together and places it back on its stand; the Tidy Neighbour, somewhat tragically, tapes his rose to its stem. The fact that these centrepieces are ruined is less important than the need for peace, at any cost. The air might be thick with passive aggression, but so long as it's silent, the English are happy.
Or, if not happy, miserable in precisely the way they want to be.