UFC 4 is "either one or two frames more responsive than" previous games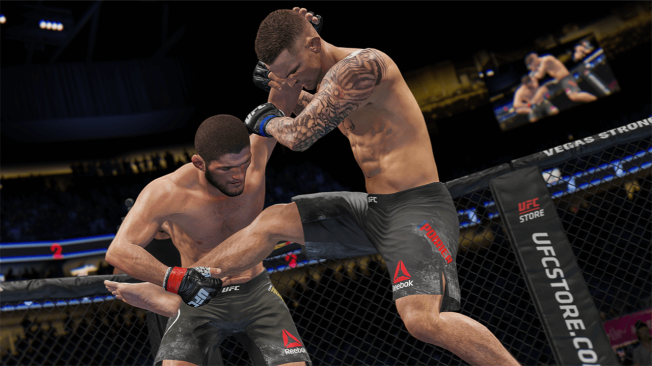 EA Vancouver has reworked the standup to give it more pop in UFC 4.
The UFC games have always been good, but the sense of raw power has always been missing from the standup game - the twist of the hips transferring into an outstretched fist smashing against jawbone isn't easy to capture in a sim. Luckily, the animations and underlying systems have been reworked for this sequel to lend those hands more weight.
"One of the biggest things that we've changed in relation to stand-up is actually a change of the entire control scheme," creative director Brian Hayes explained in our interview. "So, we have dynamic striking inputs now."
Most of the core moveset remains the same - your jab, cross, hooks, leg kicks, etc - but now the more advanced moves don't require you to play finger Twister to pull off.
"The dynamic striking inputs are basically introducing a tap versus hold mechanic," Hayes said. "With the tap versus hold mechanic, we've reduced or eliminated altogether the instances in our game where you have to hold down five and six buttons at the same time to just pull off one strike. And that was obviously very complicated, just ergonomically. It was like, 'Let me hope I get this strike right,' because if you mistime one of the buttons, you're going to get something you weren't intending."
That's not the only thing that will impact the striking game in UFC 4, however.
"As we investigated trying to solve for that, we also updated the animation system so that there's actually less input latency than we've had on previous games," Hayes continued. "So, every single strike in the game is either one or two frames more responsive than it used to be, because we used to have to wait to see, 'Wait, how many buttons are you holding down?' to make sure we tried to give you the strike you were looking for.
"Now, we have the system where a strike initiation starts happening immediately, but then, once we determine that you're holding, not tapping, we branch into the appropriate animation to complete what you were asking for. So, the strikes are actually more responsive from an animation perspective, but ergonomically, less challenging on the hands from the controller."
On top of these tweaks, there's also a new competency system where certain types of bread and butter strikes have different proficiency levels.
"If you are a level one straight punch or leg kick, it looks technically challenged, let's say," Hayes said. "But if you're level five, it starts to come out with some real snap, and nice turn of the hips, etc. So, added some elements like that to expand the striking game, as well. But mostly, the biggest difference is the controls have modified to make throwing a variety of strikes a little bit less ergonomically challenging, and everything should be a little bit more responsive as well."