Total War: Shogun 2 tech specs detailed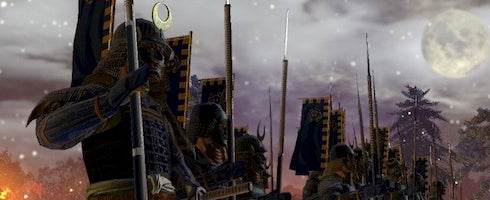 The number of little dudes running around on screen in Total War: Shogun 2 is enough to make your GPU consider installing air conditioning this summer, but the Creative Assembly has just announced its minimum and recommended system requirements and surprisingly, they're reasonably modest.
Big Download supplies the intel sure to comfort fans of the franchise, which generally requires a high-end rig to run at anything above the basic settings.
Notorious for being the first strategy game to show realistic troop numbers on screen (and thereby bringing many contemporary systems wheezing to their virtual knees), the original Shogun sparked an entire subgenre of macro-micro strategies. The sequel is the Total War series' s first return to the feudal Japan setting in almost a decade.
Shogun 2 releases worldwide March 15. The full specifications are below.
Minimum Specs

* 2 GHz Intel Dual Core processor / 2.6 GHz Intel Single Core processor , or AMD equivalent (with SSE2)
* 1GB RAM (XP), 2GB RAM (Vista / Windows7)
* 256 MB DirectX 9.0c compatible graphics card (shader model 3)
* 1024×768 minimum screen resolution
* 20GB free hard disk space
Recommended Specs

* 2nd Generation Intel Core i5 processor (or greater), or AMD equivalent
* 2GB RAM (XP), 4GB RAM (Vista / Windows7)
* AMD Radeon HD 5000 and 6000 series graphics cards or equivalent DirectX 11 compatible graphics card
* 1280×1024 minimum screen resolution
* 20GB free hard disk space