Torment Tides of Numenera: what does one life matter?

Torment: Tides of Numenera is the spiritual successor to Planescape: Torment. VG247's Dave Cook speaks with inXile Entertainment about its highly ambitious RPG revival.

inXile's Torment: Tides of Numenera Kickstarter campaign went live last Tuesday. I wrote a news story announcing the funding drive here. Within two hours it had already amassed $390,361 of its $900,000 goal. By 48 hours it had made $2,077,770.
People clearly want to see this game made. While the numbers validate inXile's project, this enthusiasm places great pressure on the studio.
I decided to speak with project director Kevin Saunders and creative lead Colin McComb to better understand how they plan on meeting such high expectation.
First, McComb wanted to make clear that the project wouldn't exist without Kickstarter, the blessing of Obsidian's Chris Avellone and the support of gamers, "Chris and I have talked over the years about wanting to do this, and it started last year after the success of our Wasteland 2 Kickstarter.
"We said, 'You know what? We could use Kickstarter to make a new Torment', because publishers were not interested in it.
"Other developers might have been interested in it, but it was not - at the time - a hugely best-selling game, so people chose to take their dollars and invest them elsewhere. We thought that because crowd-funding was available, maybe this is something people would actually like to get involved in."
Once the base concept was in place, Avellone and McComb approached Wizards of the Coast and asked them what it would take to get the Planescape license. They didn't get very far, but with Avellone's blessing inXile decided to take an in-house approach instead.
McComb approached his long-time friend and legendary table-top RPG designer Monte Cook, and asked if the studio could adapt his Kickstarter funded pen-and-paper game Numenera. Naturally, he agreed and Torment: Tides of Numenera was born.
Like Cook's tabletop RPG, inXile's game is set billions of years in a future, spanning multiple dimensions and realities. It's a world where ancient ruins hold forgotten technological marvels. In typical fantasy RPGs, ruins would play home to demons or skeletons, here they are guarded by rogue AI and unexplained anomalies.
As epic as it is, everything you see, hear and do in the game is bound by a single question, "What does one life matter?" I asked McComb to explain the relevance of the question, and to give me some insight into how it would play into the plot.
"The main question in Planescape: Torment was 'What could change the nature of a man?' That got people really thinking, so we said 'You know, we should do something similar', in that we want people to have a game experience that will unfold and be engaging, but we wanted to approach that from a different perspective.
"Using Numenara, we can say 'What does one life matter?' You are a person who will be seeking their own answers, but you are surrounded by evidence of people who have done incredible things for the world, incredible things with the universe, and incredible things with reality.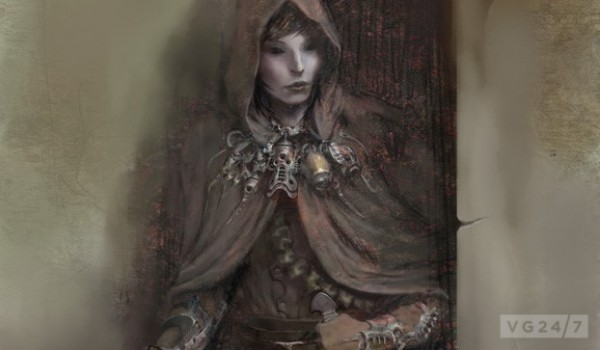 "All of this evidence suggests that these people thought their lives really mattered. So, stacked up against people who could master time, gravity or electro-magnetism, or who could change the very shape of the world, what does your life matter?"
It's a deep and meaningful angle, one that seems foreign in an industry where you - the star - are commonly the most important person in a game's world. Here you will be largely irrelevant in a universe that has seen countless civilizations collapse into obscurity. It's what you do with your fleeting life that matters most.
Torment's plot is just one of several key areas that inXile identified as important to the game's DNA. In keeping with Cook's broad table-top vision, the Numenera setting had to be unique and imaginative, while moral choice had to play a pivotal role in both story and character progression.
In fact, Cook will become an involved member of inXile's team once work on his Numenera RPG cools. It's clear that McComb's team has great love and respect for the world of Torment and its fans. However, this dedication shines brightest when we start talking about the game's moral 'Tides' system. It's utterly mind-boggling.
It's not just an adaptation of D&D's 'law' and 'chaos' mechanics, or even a simple question of wrong versus right. It's a complex system with many layers, each bearing a profound impact on your character's combat skills, NPC dialogue and plot progression.
"When looking at the Tides we looked at what things motivate people," said Saunders, "what the results of their actions are, and what the concept of a legacy is. We realised that weren't really words in English that were quite right for the concepts we were imagining.
"We decided to extract the Tides into colours that would represent various facets of complex forces at work in our world. Unlike an alignment system in D&D – where you have good or evil – the Tides are not directly in competition with each other.
"In a way they're competing for your attention in that we're tracking you favour them, and that will have effects on both gameplay directly, and on how people will respond to you. We don't want to describe to the player what the answer to the question is. We don't have the answer to 'What does one life matter?'
McComb added, "Part of the reason we colour-coded these choices is that they don't have exact analogues in the English language. Something like the gold tide will be similar to empathy, charity or sacrifice, but at the same time if we called it an 'Empathy Tide', people would attach all of their pre-conceived notions about what empathy is to that."
The Tides system completely challenges the pre-conceived notion some gamers may have about morality systems. This is no longer a binary mechanic. It's not a question of ticking boxes or selecting pre-set options with very clear consequences. It has the potential to give new, uncharted depth to the RPG genre.
Not only that, but these actions define what kind of a person you are in combat. But inXile hasn't stopped there, because combat will be completely unavoidable in most, if not all instances, allowing players to overcome issues with words instead of weapons. The scope is incredible.
McComb explained how plot and combat may be linked in the final game, "There will be aspects from the creative side that influence the gamplay. One example of this is what we did for Mask of the Betrayer, with you being the Spirit Eater, and having powers that had effects on combat that changed depending on what you did outside of combat.
"We want to have a focus on the quality of combat encounters over quantity, so this isn't going to be an action RPG where you slay mobs of minions and get lots of treasure. The combat will be relevant to what's going on."
Whether this combat system relies on phase-based turns, a 'pause' system or a third mechanic, the decision will rest with the gamers. InXile is allowing its Kickstarter backers to vote on what form Torment's battle mechanic will take. It's a refreshingly diplomatic answer to a difficult question.
I closed our chat by asking McComb and Saunders if they felt more confident in taking Torment to Kickstarter, given its past success with Wasteland 2. Bear in mind that I asked them this before the game went on to break $1 million in less than 24 hours, so their response is somewhat surprising.
"Yes," Saunders replied. "But at the same time the climate for Kickstarter has changed dramatically. Torment will have a lot more detail in terms of what the game will be, than the Wasteland 2 Kickstarter had when it launched. But the targets are higher too.
"One thing we won't have that people may wish we had is footage where we can say, 'Here's some gameplay'. That would have shown what we are capable of and our ability to realise the vision that we've show to backers. For Torment, that's not where we're at in the process."
It's odd to hear my recording of Saunders express such uncertainty, now that the game is on track to break Kickstarter records. Luckily, thousands of gamers have given inXile their backing, and placed great trust in the studio to deliver an experience that will match, and perhaps surpass Planescape: Torment's shining legacy.
It's the game many people thought would never happen, but once again - thanks to the power of crowd-funded democracy - something wonderful has happened.