Thomas Was Alone dev: PlayStation boosting indies as Steam importance fades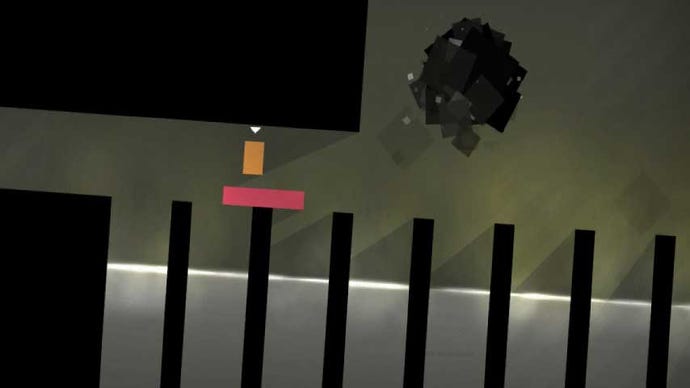 Thomas Was Alone really hit its stride after it made it to PlayStation platforms, developer Mike Bithell has said, with Sony beginning to occupy the curation space once dominated by Valve.
Speaking to Gamasutra, Bithell said that the openness of the PC means games won't have the same credibility as a console release.
"Your average gamer who is not seeking out weird indie stuff - for them, me having a PC game coming out doesn't impress them," he said.
Meanwhile, securing a console launch is "a badge of honour".
"Thomas Was Alone gained an incredible amount of 'mindspace' or whatever pretentious bullshit term a marketer would use, because it was out on console. And I saw a ridiculous sales boost just because, the second people saw it was coming to PlayStation, it became a 'real game for a lot of people," Bithell said.
"It demonstrates that curation is more powerful than getting people to see your game. Discoverability is an issue, but it's not the issue. Being given the badge of honor by whoever is the person handing them out is actually crucial, and makes such a difference to how your game is perceived."
Bithell said that getting a Steam release used to have a similar effect, but no longer.
"Steam meant you were going to be sorted, as long as your game was quite small, you'd be sorted for a year or two, bare minimum," he said,
"I struggle to believe that Thomas Was Alone would have been successful were it to come out now on Steam. It was on the front page of Steam for a week. It was released right before that final moment where being on Steam meant Valve thought you made a great game. That used to be what that meant.
"I guess it's not dissimilar to the Nintendo seal of approval they have on the boxed games," he added.
Now, perhaps thanks to Greenlight, a Steam release doesn't mean as much - but it also makes the platform open to anybody, which is laudable. Bithell expects Valve to make the jump to true, app store-like openness eventually.
"I think that's what's coming - something like the App Store, with very simple checks to make sure you're not uploading a virus, and that's it," he said.
Unfortunately, this makes it harder for developers to draw attention to their games.
"Steam meant something at one point, and being on Steam said something to players that allowed a lot of people with weird, esoteric games to get an audience. That's going to be harder to find now. You'll require more traditional marketing and talking to press," he said.
Bithell agreed that Sony has stepped up to fill this gap in some ways, but said he expects PlayStation to become an open platform, too.
"I think they're working towards making it as easy as possible to make games for their platforms, which is a great plan. Same with Microsoft," he said,
"But for now with those curated shops, you've got people like Shahid [Ahmad, Sony UK] saying 'I like that game, I want it on the console.' Which is going to benefit people in the short-term because it's a badge of honour, and if you're a PlayStation fan who likes the indie games that are out on PlayStation, you're going to say 'If Sony think this new game is good enough for their console, it's good enough for me.' And that's very powerful."
Bithell is currently working on his second release as an independent developer - Volume, a futuristic retelling of Robin Hood, with stealth mechanics focused on sound.
Thanks, Polygon.