This week's best game deals: Attack on Titan, Deus Ex GO, Shadow of Mordor, and more
Here are the week's best gaming deals on the very last day of the month. Wait, where did September go?
We're back for the last deals roundup of September. That's right, somehow we're about to enter October, when game releases start coming thick and fast, starting with next week's Mafia 3. Until then, we've got a good seven-ish days worth of good deals, prices and offers to look at. Let's get to it.
First, we've got some deals that should work in the US as well as the UK (and probably many other places), then we'll check out the US's best before finishing off with some offers for the good old United Kingdom.
US & UK Deals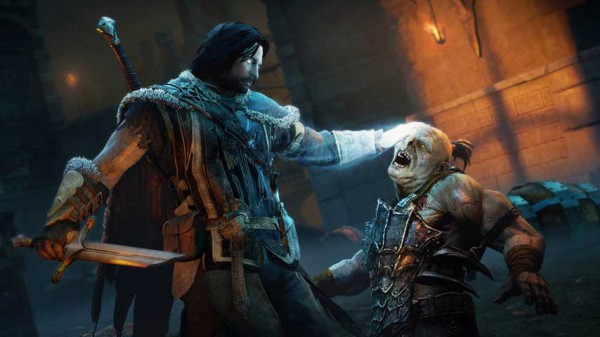 Middle-Earth: Shadow of Mordor was arguably one of 2014's most interesting and most enjoyable games. While there's been no official word of a sequel in the works, considering how well this game was received, albeit somewhat unexpectedly at the time, you have to imagine we'll be seeing this game turn into its own franchise at some point. In the meantime, if you don't yet own a copy, you can grab a PC (Steam) copy of the Game of the Year Edition for £6.25 / $7.50 for a limited time right now.
Middle-Earth: Shadow of Mordor on PC (Steam) for £6.25 / $7.50 from GamersGate
Last week saw the release of Lynchian adventure game Virginia. Although the game will definitely not be for everyone, if you're a fan of detective stories, mysteries, or wonderfully well told stories in games, it may be just the thing you need. If this game piques your interest, you can currently save a little cash by buying it through Green Man Gaming for £5.79 / $7.07.
Virginia on PC (Steam) for £5.79 / $7.07 from Green Man Gaming
The current Humble Jumbo Bundle on offer contains a bunch of fantastic PC games to sink your teeth into. If you're one of the very few people left alive who doesn't know how the Humble Bundle works, the short answer is this - you pay what you want, you'll get more games if you pay more and a portion (of your choosing) of your payment will go to charity. This current Jumbo Bundle includes games such as Devil Daggers, RollerCoaster Tycoon 2, Prison Architect, Punch Club, Agatha Christie - The ABC Murders and more.
Humble Jumbo Bundle 7 from Humble Bundle
If Mankind Divided left you needing just a little bit more Adam Jensen in your life, the beautifully cel-shaded mobile puzzle spin-off from the Deus Ex franchise, Deus Ex GO, is available for cheaper than normal right now for iOS devices. Head over to the app store on your iPhone or iPad and you can pick up Mr. Jensen yourself for £1.49 / $1.99 for a limited time.
Deus Ex GO on iOS for £1.49 / $1.99 from Apple Store
Alternatively, if Adam Jensen doesn't do anything for you but Lara Croft is more your speed, you can pick up the Tomb Raider variant of the GO franchise on iOS and Android for the cheapest it's ever been since it's down to 79p / 99¢ on both formats.
Lara Croft GO on iOS for 79p / 99¢ from Apple Store
Lara Croft GO on Android for 79p / 99¢ from Google Play Store
US Deals
If you're looking to pick up an Xbox One console for a damn good deal but aren't fussy about getting yourself an Xbox One S, you really need to see this. Microsoft itself is selling a bundle consisting of a Special Edition White Xbox One 500GB console with Quantum Break, Alan Wake, The Crew and an extra game of your choice from a selection - all for $229.99, which is an insanely good price for all that stuff. Here's the full list of choices for that fourth game -
ReCore
Madden NFL 17
BioShock: The Collection
Deus Ex: Mankind Divided
Mirror's Edge Catalyst
NHL 17
Plants vs. Zombies: Garden Warfare 2
LEGO Star Wars: The Force Awakens
Homefront: The Revolution
Battleborn
Assetto Corsa
Tom Clancy's: The Division
Forza Motorsports 6
Halo 5: Guardians
Rise of the Tomb Raider
Halo: The Master Chief Collection
Star Wars: Battlefront
Pick one of those games to get for free with this bundle and you're set.
White Xbox One 500GB console with Quantum Break, Alan Wake, The Crew and fourth game from the list above for $229.99 from Microsoft Store
If the above bundle doesn't cut it for you, GameStop US is currently offering up a black Xbox One 500GB console with Gears of War Ultimate Edition, Rise of the Tomb Raider and a game of your choice (as long as it's under $60) for the same price of $229.99.
Xbox One 500GB console with Gears of War Ultimate Edition, Rise of the Tomb Raider and a game of your choice for $229.99 from GameStop US
Right now, Square Enix is offering PC download copies of Final Fantasy XIV: A Realm Reborn for half price, making it $9.99 right now. Plenty of money saved there to spend on other Final Fantasy merch, then.
Final Fantasy XIV: A Realm Reborn on PC from Square Enix Store
Whether you're an avid Razer products advocate or just happen to like getting a decent gaming headset for cheaper than normal, today's your day. Currently, you can head over to Amazon US and check out the Razer Kraken gaming headset in white, where it is available right now for $44.99, which makes it significantly cheaper than the Razer Kraken in any other colour. I guess white just wasn't as popular?
Razer Kraken Gaming Headset in White for $44.99 from Amazon US
Finally, we have one of last year's biggest games. Call of Duty Black Ops 3 is fast approaching the date where it officially becomes the "previous" Call of Duty game. Until then, you can pick up a boxed PC copy of the game for only $22.27, making it cheaper to buy it this way than on Steam directly.
Call of Duty Black Ops 3 on PC (Boxed) for $22.27 from Amazon US
UK Deals
As you've probably seen reported by now, Sony has essentially lowered the price of the old style PS4 consoles, meaning if you can find them, you should be able to pick up a 500GB console for £149.99. Most of the time, the console will come with a copy of FIFA 14 or LEGO Star Wars for no extra cost too. The problem with this, though, is that since that's an insanely good deal, they seemed to have sold out almost everywhere within minutes. Consider this more of a heads up, just in case any of these randomly appear back in stock over the weekend.
PS4 500GB, LEGO Star Wars & Force Awakens Blu-ray for £149.99 from Argos
PS4 500GB with FIFA 17 & 2 Months NOW TV for £149.99 from GAME
PS4 500GB with Lego Star Wars & Force Awakens Bluray for £149.99 from Smyths
By now, you probably will have made up your mind on whether or not No Man's Sky is for you. If it's not for you, move along to the next deal, we're good here. If you're still intrigued to try the game out for yourself, you should probably check out Amazon's current offer of a PS4 boxed copy of the game for £27.85.
No Man's Sky on PS4 for £27.85 from Amazon UK
The indescribably weird Attack on Titan has grown over the past few years to become a bit of an international sensation/curiosity. This year, it got its very own hack-and-slash action game from the makers of Dynasty Warriors, which is available in its PS4 edition for £29.85 (the cheapest price it's been so far) over at ShopTo right now. You know, if giant naked monster people are your thing.
Attack on Titan: Wings of Freedom on PS4 for £29.85 from ShopTo
Look, if you haven't played DOOM by now, you're doing something wrong. It's been consistently falling in price for months now! If, however, you are one of the few people that don't own a copy of this year's DOOM by now, Amazon is currently offering a rather nice bundle featuring a PS4 copy of the game along with the Season Pass, all for under £30. At the time of writing, it's £27.43, though this price has been sliding up and down all week.
DOOM with Season Pass on PS4 for £27.43 from Amazon UK
Over at GamesPlanet, you'll find a whole slew of price reductions on some of Focus Home Interactive's biggest PC releases. They're offering up to 80% off their range which includes - but isn't limited to - Blood Bowl 2 for £10.49, Of Orcs and Men for £3.99, Farming Simulator 17 for £25.79, Cities XXL for £6.24 and relatively new action RPG The Technomancer for £20.99. This sale is due to end on Sunday though, so check it out soon.
Focus Home Interactive PC Download Sale from GamesPlanet
If you really, really like the idea of having a light-bar on your DualShock 4 that you can see, you may quite enjoy the new style (V2) DualShock 4 controller. However, given that GAME are currently taking orders on the new style controller for only £34.99, this one ends up being a good deal even if you just need a spare controller or a replacement. DualShock controllers tend to hold their value around £40-£50 normally, so getting one for £35 ain't bad at all.
New style DualShock 4 (V2) for £34.99 from GAME
---
Alright, we're done for another week. Keep in mind that deals, prices, and availability can change at the drop of a hat, so apologies if you miss out on something you wanted. I'll be over at Jelly Deals, scouring the world wide web for more deals. Feel free to visit, or follow us on Twitter and give us a like on Facebook.