This is possibly why it's harder to land jumps in Crash Bandicoot N Sane Trilogy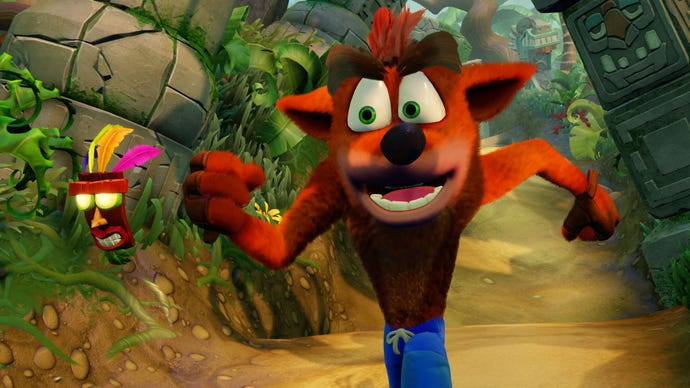 Crash Bandicoot fans may have figured out the reason why platforming is much harder in the N Sane Trilogy.
With the release of Crash Bandicoot N Sane Trilogy, many were reminded of the original games' punishing difficulty. It now sounds like the remasters are a bit harder than you remember for reasons that have nothing to do with your skill level.
There are a couple of possible hypotheses fans have come up with to explain the phenomenon that make jumps harder to land, essentially making platforming more difficult. Reddit user TastyCarcass believes that the 3D models for Crash, and Coco are pill-shaped, which means they're always slightly sliding off the edges of surfaces, even flat ones.
The upside is that you can use this to extend your jump, but the downside is that if you land on the edge of a surface, you're going to slip off, which is what many have been reporting since the game's release.
This is not a bug necessarily, but rather how the game's engine handles player models. The Redditor believes the original games had a box for the 3D model, which wouldn't have allowed for them to slip like this.
This other observation by Dig Dong, points out that the jumping arc for Crash in the remasters means he lands just slightly faster than he did in the originals. This, coupled with the 3D model issue highlighted above, means Crash often slips a bit further outwards every time he lands on the same platform.
the reason jumps feel harder in the n.sane trilogy isn't really due to falling a bit faster but because collisions can be wonky upon landing pic.twitter.com/jxbvijNU6c

— Ding Dong (@DingDongVG) July 3, 2017
The video above demonstrates this phenomenon perfectly, and it definitely looks like the games have been made more frustrating because of it. It's unclear whether something like this could be fixed in a patch.