The Witcher 3: The Sunstone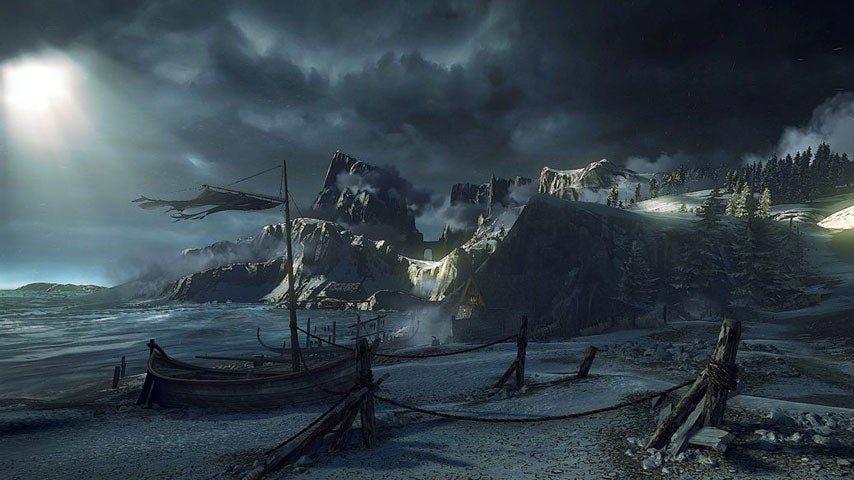 The Sunstone is an ancient elven artefact needed to bring The Witcher 3: Wild Hunt to its conclusion.
The Witcher 3: The Sunstone
This is one of three child quests required for Battle Preparations. I recommend doing it after Veni Vidi Vigo, and completing it before beginning The Child of the Elder Blood.
The first waypoint of this quest is close by – Crach an Craite is standing on the watch platform, staring out to sea. He gives you Ermion's location. There are two possibilities now:
If Cerys or Hjalmar an Craite is ruler of Skellige:
Ermion is at Kaer Muire. Travel there to find him arguing with Madman Lugos, who attacks you regardless of what you say. Battle your way out of the keep and down to the safety of Holmstein to bring Ermion to safety. You can speak to him there.
If Svanrige Bran is ruler of Skellige:
Ermion is at Kaer Trolde. Head up to the keep to be met by jarl Donar, who leads you into the feasting hall. Brina Bran is negotiating Skellige's surrender to Nilfgaard, but it doesn't go as planned, and a brawl breaks out. Fight your way clear so you can speak to Ermion in peace.
In either path, you get the same information. Let's head for Arinbjorn first; for one thing, there's a smith there, so you can offload anything you looted during the battles. Plus, this bit's cute.
Approach Eyvind and offer to watch for the whale with him. You have two limited time choices to make. The first one doesn't matter, but if you tell him you want to write a novel for the second one, he'll give you the information you need.
Otherwise, head overland to where the Fishlung boys hang out. They'll give you the intel you're after, but you'll have to fight a few Drowners who interrupt the conversation.
However you gather the location of the ruins, head back to Yennefer at Kaer Trolde to report your progress and secure some magical aid for the dungeon crawl ahead.
While you're here, you can save yourself a little bit of time by talking to Avallac'h on board the ship, exhausting his dialogue options. When you speak to Yennefer, you'll learn that Ciri wants to investigate Avallac'h's workshop. This triggers The Child of the Elder Blood. Let's get to that after we finish this one, shall we? Switch your quest back to The Sunstone.
Let's go meet Philippa. Unless you've sailed this stretch of coast line, perhaps in pursuit of Crime and Punishment, there are no fast travel signposts close by, so grab a boat. It's a very short trip under the bridge to Kaer Trolde keep (hug the right wall to avoid the Sirens) and around the headland to a little cove, where another boat awaits you. Visiting unlocks the Ancient Crypt signpost for later use.
Approach Philippa and the door, and she'll open it. Before heading in, don't miss the loot chest to the right.
Apply Necrophage Oil and follow Philippa, ignoring the side passages; they don't go anywhere and contain nothing of real note. A short trek in and you'll encounter a Siren protected by a bevy of Drowners. Take them down, and draw from the Place of Power to the west before following Philippa up the stairs.
Philippa repairs the broken stretch so you can proceed. You'll be attacked by a Golem shortly so switch to Elementa Oil if you like. After that you come to a toll gate. Philippa has you covered. Shortly thereafter, enjoy an infuriating chat with Philippa. As opposed to the other kind of chat with Philippa.
Apply Specter Oil. In the next chamber you need to align the mirrors properly, but it's not really a puzzle – just interact with each one once, battling the ghosts of the Wild Hunt which challenge you when you approach them. The trickiest thing in this room is not hurting yourself falling off ledges.
Getting to the south mirror involves looking for a passage a little further along the cavern wall in a clockwise direction. About half way along use Aard on the stalactites and stalagmites to find a loot chest just beyond. There's a loot chest by the mirror itself, too.
The other mirrors can be reached by climbing ledges. There's a chest at the northern mirror, and no ghost to battle.
When the mirrors are aligned Philippa will call out; meet her and have another chat. When the dialogue ends you'll be facing a convenient path out of here via a loot-filled side tunnel. Go through it, but pause when you reach a series of jumps across a broken bridge; drop down to the lower level temporarily to grab two loot chests.
You'll come to a junction where three ghosts await you. After battling them turn left – south – and explore the dead end for two loot chests. Go back to the unexplored path and continue, climbing where necessary, before finally dropping down to battle another ghost. The exit is just to your left, but head right first, and grab the four loot chests. Stagger your overburdened way to the exit and call Roach.
Head downhill to the village of Rogne, where you can use a fast travel signpost - possibly to go offload all your treasure, for starters. Now we're off to The Child of the Elder Blood.
Onwards to The Child of the Elder Blood, or back to The Witcher 3: Act Three.
Back to The Witcher 3 guide and walkthrough.