The Witcher 3: Devil By The Well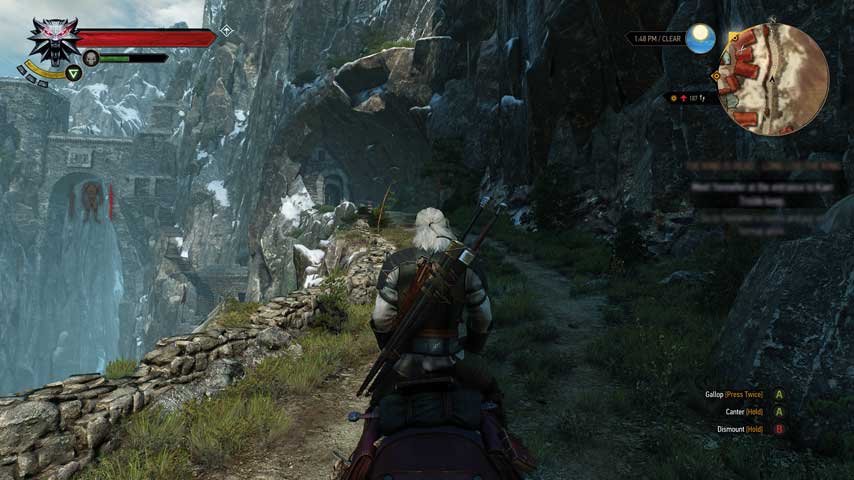 This is your first Witcher Contract and it shouldn't be underestimated. Although being level 2 is recommended, we'd wait until you're a comfortable level three before attempting this one.
The Witcher 3: Devil By The Well
You'll find this contract on the notice board, and from there you should find Odolan who will point you in the direction of a haunted well, to drive off a ghost. Before you leave, collect at least four of the flowers that grow in the field behind his house.
As you ride up to the Abandoned Village may see the wraith at the well in the center; it only appears at midday and few hours either side. If it is alreayd ehre you'll have to smack it a bit to make it go away.
Read the Bestiary notes to find out that a Noonwraith is vulnerable to the Yrden sign, Moon Dust bomb and Specter Oil. Arm Yrden before dismounting and approaching. Cast Yrden to trap her in a circle and you'll be able to strike her a few times before she flees. You're going to have to investigate the area to see what's keeping her here before you can banish her for good.
Investigate the ruined house to find a man's corpse and a journal, which you should read. You're now looking for a bracelet, and a trail of blood will lead you out back to the well.
Down in the well you'll find the bracelet at the bottom of the pool. To get back out of the cave/well, you'll have to swim down and under through the small pool, then up for air at the next cavern, before going back down and up again to come up for air outside. Just follow the map.
Once you're on dry land it's time to face the fight and there are a few things you can do to make the battle a lot easier. One of the most important of these is to brew up some Spectre Oil.
How to find Arenaria and brew Specter Oil
There are three ingredients needed for Specter Oil. The first of these is Arenaria, the flower you ought to have collected at Odolon's house; if not, hoof it back and grab some.
You'll also need ursine (bear) tallow. You can usually find some in the loot chests and sacks scattered around the abandoned village, but if not, look for a nearby point of interest. There's a Place of Power here guarded by a bear. Circle it, attacking its flank, and roll away when it attacks, for an easy victory.
As an added bonus, the Place of Power will grant you a buff to your Yrden sign if you activate it, which is useful in the battle ahead.
How to kill the Devil by the Well easily
The easiest thing to give you the advantage is to wait to set fire to the body until night time, as Noonwraiths are weaker in the dark. If the sun is currently up just meditate until the evening, and you'll also replenish your alchemy stores.
When fighting the Noonwraith it's best to hit her with the Yrden trap so she takes decent damage from your silver sword, and then move in for swift attacks as she moves quickly. She'll kick up dust to blind you temporarily, and also summon two or three mirror images of herself that can be beaten with one easy swipe of the sword - but be quick, as they can drain your vitality. Make sure you have some food equipped in a quickslot. If you're fighting at night she's easy to vanquish and you'll earn 50 EXP.
Next, loot the corpse and go back to see Odolan who'll gift you 20 coins and 50 EXP.
He'll also mention visiting the Herbalist to talk about Claer, and although it's not marked as part of the quest, if you go see her she'll give you 10 EXP, 10 coins, 4 x Saltpeter, 10 x Berbercane Fruit, Hellebore Petals x 8 Cortinarious x 6. Basically, lots of free herbs for alchemy.
Back to The Witcher 3: White Orchard secondary quests, or back to The Witcher 3: Prologue (Kaer Morhen, White Orchard).
Back to The Witcher 3 guide and walkthrough.