The Witcher 3 - How to Get Trophies for Corvo Bianco
Earn trophies to decorate your vineyard.

This guide will help players earn trophies in the Witcher 3 Blood and Wine DLC. These trophies are used to decorate Corvo Bianco vineyard, and are different from trophies taken from defeating monsters.
If you needed help with other areas of the game, then be sure to check out our Witcher 3 guides walkthrough hub, featuring complete quest walkthrough guides, as well as rare item locations.
In the Witcher 3 Blood and Wine expansion, Geralt obtains his own vineyard named Corvo Bianco. The main house can be decorated with trophies and paintings earned by completing certain quests throughout Toussaint.
Witcher 3 Corvo Bianco Trophies
Earned trophies can be placed on shelves and dressers, and should not be confused with monster trophies that hang on Roach. For this guide, we will explain how to get all of the available trophies in the Blood and Wine expansion.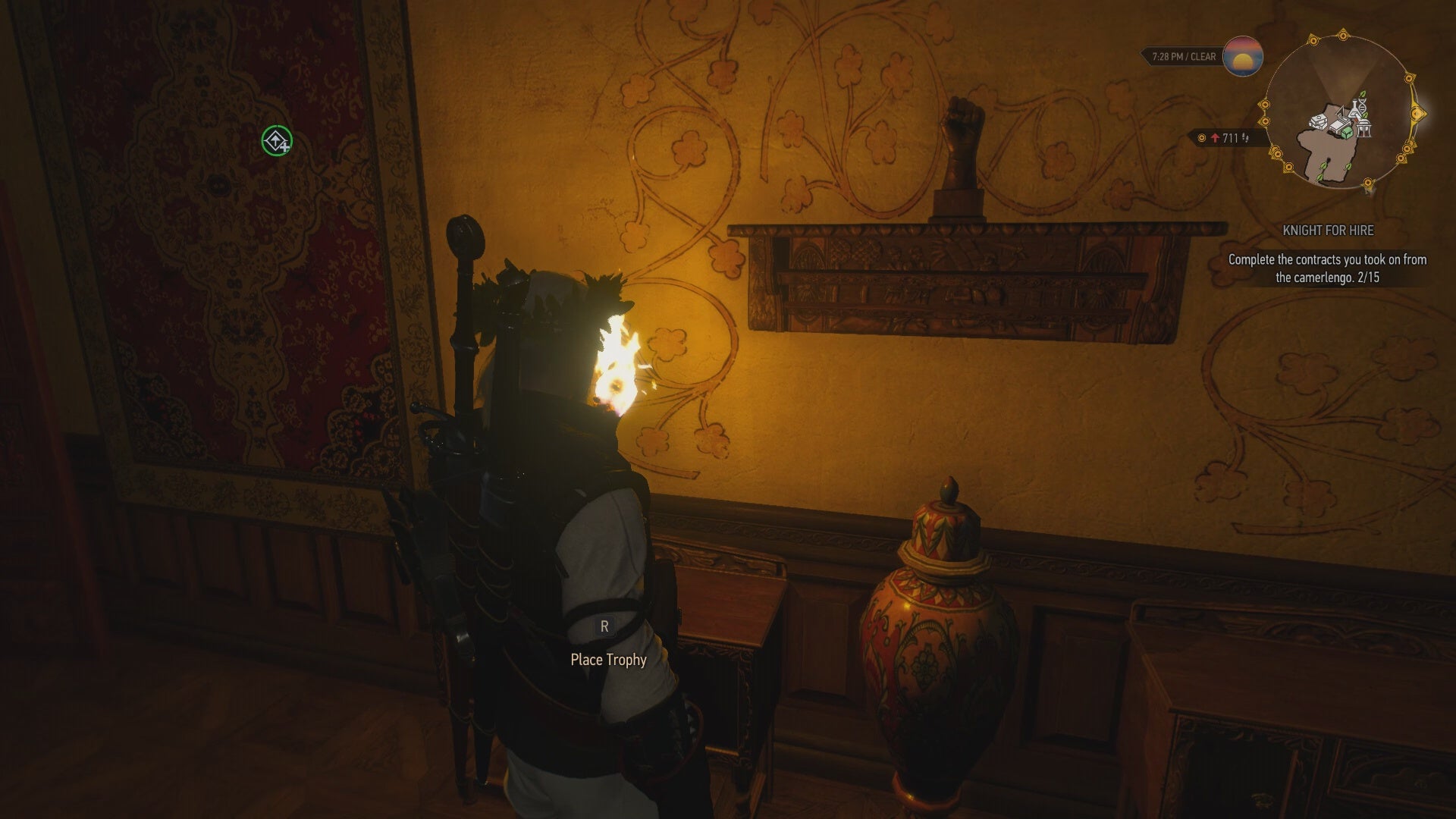 There are three trophies available in Blood and Wine that can be placed as decorations in Geralt's new home. We will explain how to get each of these trophies and use them to decorate Corvo Bianco. The trophies are as follows:
Fist Fighting Championship Trophy
The Gold Stick of Joy Trophy
Victor's Cup Trophy
Corvo Bianco Fist Fighting Championship Trophy
This trophy is rewarded for defeating each opponent in the quest Fists of Fury: Toussaint. Much like the other fist fighting quests throughout the base game, this quest requires players to defeat three different fighting legends in Toussaint, culminating with a final fight against the reigning champion. This quest does put some neat twists on the typical fist fighting concept in the Witcher 3. While all of the opponents can be defeated through traditional fist fighting, some opponents have different options if you want to make things interesting.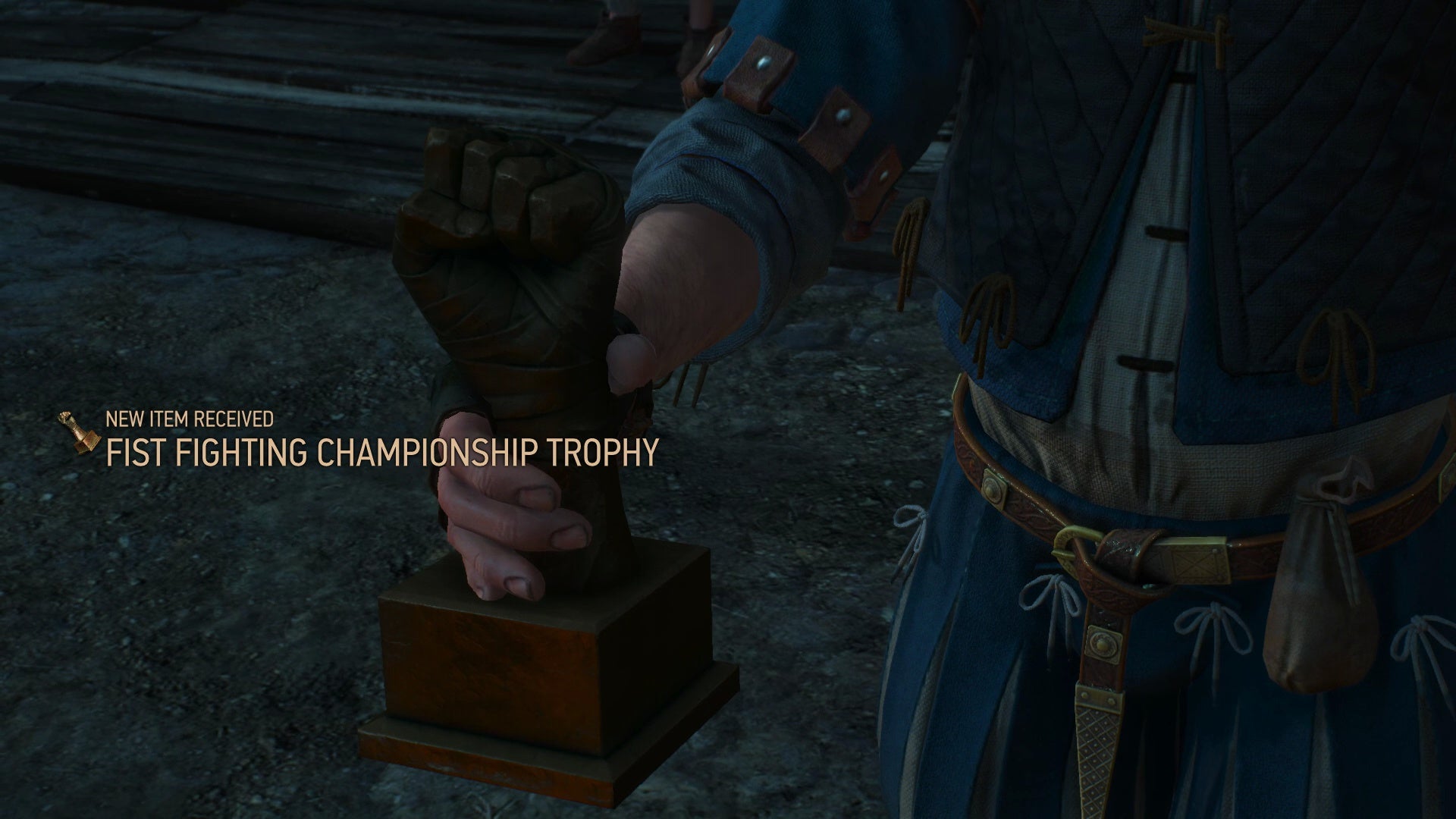 One opponent can be defeated by parrying three consecutive blows, while another opponent challenges you to a battle of wits. Defeat the three contenders, and you'll have to face the champion, a drunkard who only battles while tipsy. Knock back a few drinks before knocking out the champ to secure the Fist Fighting Championship Trophy.
Corvo Bianco The Gold Stick of Joy Trophy
To earn this trophy, players must first cure the cursed creature in the secondary quest La Cage Au Fou. While hiding in the cabinet, select the option to lift the curse instead of attacking when the wight returns. Proceed through the quest and choose to have dinner without spoons. Use your Witcher senses to follow the tracks and find Marlene.
Afterward, return to Corvo Bianco. A new quest called Hunger Game will become available. When Marlene informs you of some hidden treasure, head back to Trastamara Estate and investigate the cellar. Knock on each of the barrels in the cellar until one of them opens up, revealing the Gold Stick of Joy trophy and other hidden goodies.
Corvo Bianco Victor's Cup Trophy
This trophy is obtained as a reward for winning the Gwent tournament in Toussaint. Head over to the Pheasantry Inn in Beauclair to sign up for the Gwent tournament and obtain the initial set of cards for the Skellige Gwent deck. Practice your Gwent skills with Majordomo, and be sure to challenge merchants throughout Toussaint to earn more cards for your deck in preparation for the tournament.
When you're ready to compete, follow the steps in the quest Gwent: To Everything - Turn Turn Tournament! Proceed through the tournament and make your way to the end. There are checkpoints before each Gwent match in case you need to reload and secure a win. Triumph over your opponent in the final round to earn the Victor's Cup Trophy.
Now that you know how to get trophies to decorate your vineyard, be sure to make the necessary upgrades to Corvo Bianco so that you can actually place the trophies in your new estate. Head over to our guide on How to Upgrade Corvo Bianco in the Witcher 3 for details on each upgrade and their costs.