The Witcher 3: Hearts of Stone feels like a true expansion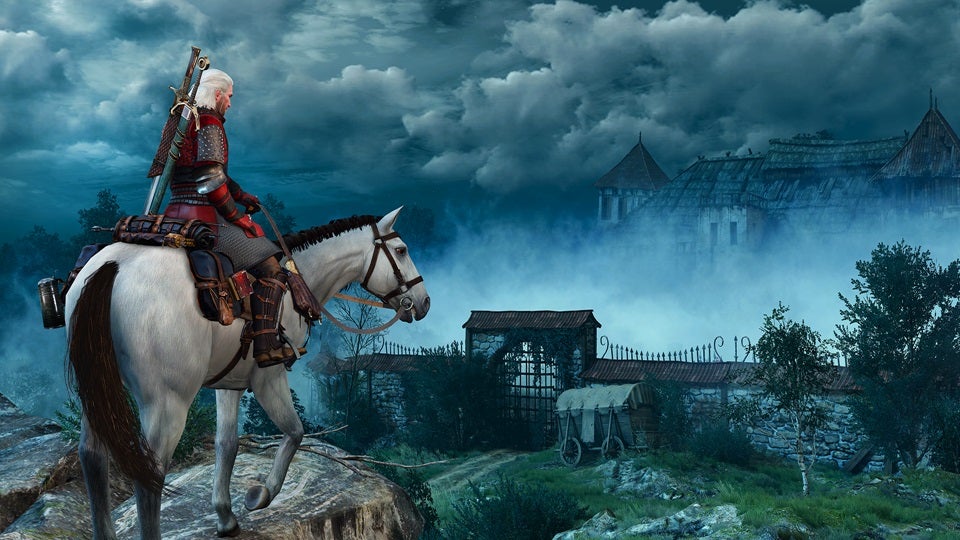 Hearts of Stone is the real deal: a big expansion that changes The Witcher 3 and seems worth the asking price.
"A lot of people mention the Bloody Baron quest. Hearts of Stone is sort of like that" - Jamie Bury, CD Projekt RED
As we creep closer to the ridiculously busy holiday season, one's thoughts have to wander to which titles will be crowned the best of the year - and within that, it's always easy to forget some of the big, brave games that dropped earlier in the year, less fresh in the memory than the holiday blockbusters.
CD Projekt RED has the perfect reminder coming up for those who played The Witcher 3: Wild Hunt back in May in the form of Hearts of Stone, a hefty premium expansion for the developers' massive open-world RPG.
I got a chance to go hands on with the expansion before its release next month and chat to CD Projekt RED about how Hearts of Stone aims to offer a fresh perspective on Wild Hunt's sprawling world - and while a few hours' of hands-on time is of course never quite going to cut it for something this large, what I had time to explore looked promising indeed.
"If anything, I prefer the expansion pack," Jamie Bury, Senior Animator at CD Projekt RED, tells me.
"What I mean is - it's slightly more grounded," he explains. "When I play Witcher 3 normally, the sheer number of icons can just be a little bit overwhelming - I get a bit stressed. I end up like, oh god, do I skip this, do I fast travel... it can be quite a lot to deal with. The expansion is a story of its own - it has its own beginning and end, and it's just dropped into the main Witcher world, but you can follow it through quite separately."
These comments mirror my experience in the hands-on. Without my own personal save file to hand, I merely pick to boot Hearts of Stone directly from the main menu - and doing so gives me a character of a level approximate to that required for the expansion's content. In this mode all of the quests from The Witcher 3 have been marked as complete, but it still drops you into that familiar world a short horse ride from where Hearts of Stone's main story kick off. If you prefer you can of course load up your existing save, where the new content will seamlessly integrate and appear as a new quest line.
"A lot of people mention the Bloody Baron quest," Bury says with a grin. "Hearts of Stone is sort of like that." That's a statement CD Projekt know is likely to please, but he then goes on to elaborate.
"If you take one of those quests, people tend to usually play that one quest through and follow that thread in a more linear way, start-to-finish. That's sort of how the expansion feels to me; you get caught up in its core story and go through the different sections. I know that the first time I played it, I ended up ignoring a lot of the side stuff because I was just hooked into finding out what happens next. It was good, as I managed to not spoil the actual story for myself beyond the specific pieces I worked on. I actually got to play it properly!"
Bury clearly loves the game he's worked on, and happily explains how he dared to spend part of his post Witcher 3 holiday reading comments and reaction to the game online. A British veteran of a number of UK and German studios, he moved to CD Projekt to work on The Witcher 3, and has spent the last several months toiling away on Hearts of Stone, but is clearly as much a fan as a developer.
After a string of smaller free pieces of DLC, Hearts of Stone will be the first to charge players. It justifies that by being bigger, bolder and more like a full expansion, featuring one major new quest line and a variety of new side content, plus new areas, enemies and so on. While the game doesn't stray far from the map and world established in The Witcher 3 proper, Hearts of Stone finds an opportunity to spirit you away to an all-new area almost immediately in the form of a dank, dingy sewer beneath a city players will have visited before.
"We've been able to do some things that I feel expand the world," Bury says. "For instance, there's the sewers you've seen - they're really dark and really just a very different kind of environment. That kind of thing has been really interesting to me - we didn't really have too many of those dark, dingy sort of places in the Witcher 3. We had some, but this for me was something that I was really glad to see added to the game - and I'm very glad you see it very early in the expansion - almost immediately, you're into a new environment. It's cool."
After I meander a bit, reminding myself of the flow of the combat, I head right to the first objective. Quickly I'm pointed down into the sewers, and down there Geralt finds a familiar face, dead bodies, and of course creatures eager to do harm, plus all-new architecture to explore with extra loot to gather and such. The sewers look great on this (frankly ridiculously powerful) PC at the preview event, and it's easy to be inclined to agree with Bury - this is a new type of area for The Witcher 3, somehow naturally cavernous and man-made all at once, with the slick wetness of every surface a great use for the REDengine's lighting systems.
Battles ensue down in the sewers, with the beast down there threatening to poison the water supply for hundreds. After some basic tracking, the enemy appears - a huge, disgusting frog-like boss. When the boss is downed some interesting events transpire in that sewer involving a group of cultists of a sort - and while I'll keep this preview spoiler-free beyond this introductory encounter, I will say it opens the doors for a much wider story in even more new places - which makes sense, considering CD Projekt claim that Hearts of Stone will be at least a good eight hours longer than I got to play.
"There's some stuff where I'm really interested to see what people's opinion is once they've played through... But I don't think I'm allowed to talk about any of it today," Bury teases with a laugh. "When people go to the mansion - I'm looking forward to seeing how people react to that stuff."
"If you're having to pay money for a video game DLC, it needs to be worthwhile. If we released our free DLCs but instead they were paid, I personally probably would not buy them."
The combat and general flow of the game is very much more of the same - but behind-the-scenes there's clearly a meaningful attempt to pull Geralt in new directions and shine a different light on The Witcher 3's world. A few hours is a brief period to play, but in this expansion everything felt as immediately polished as in the main game, from animations to voice acting and ambiance right through to the sometimes fiendish challenge in combat. In announcing Hearts of Stone CD Projekt co-founder Marcin Iwinski evoked the old boxed PC expansions of old, and this certainly feels closer to that than your typical downloadable add-on.
"I think it actually helps us in a lot of ways," Bury says of the decision to charge for a larger, more extensive expansion. "I'm purely speaking to my job on the animation side of things, but if you're doing something like a paid expansion pack, you're given the time to really work on things. You're given the time to get the quality right, to iterate on the content, that sort of thing. The smaller, freer DLCs that came out before, they're not a huge amount of work for us to do. For animation we added some new finisher attacks and things like that - but I don't think those things aren't the sort of thing you can really charge for."
"If you're having to pay money for a video game DLC, it needs to be worthwhile. A lot of these things... if we released our free DLCs but instead they were paid... even if they were, like, a couple of bucks each, I personally probably would not buy them. There was enough content in the base game that you wouldn't need to pay for those things. The larger DLCs - I find it's nice, because you have the time to really focus and make something really good, really new."
CD Projekt proudly boast 'we are rebels' as their studio motto, and even Hearts of Stone feels custom-made to match that battle cry. In an age when most studios are shifting to more bite-sized DLC, Hearts of Stone appears to be a more traditional expansion, and is even getting a full retail release which is simply a download code in a box alongside a playable real world replica of Gwent, Wild Hunt's addictive in-game card game.
Unconventional as much of their approach might be, it appears to be working. The Witcher 3 has seen huge success, and my short hands-on with Hearts of Stone seemed to mark it as a quality expansion, especially for its $9.99 digital price tag. I'm certainly looking to getting my teeth into it more properly.
"It's good to see how well the fans think of CD Projekt now. I feel like this is the first game where people look at us as a real Triple-A studio," Bury beams. "The Witcher 2 was in that direction already, but... yeah. CD Projekt made it."
Hearts of Stone launches as a digital download on Xbox One, PlayStation 4 and numerous PC outlets on October 13th