The Witcher 3: Get Junior Walkthrough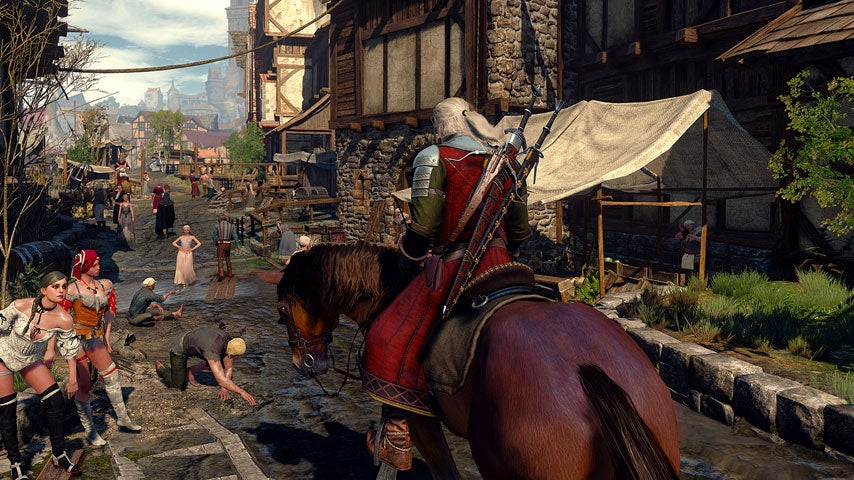 Get Junior is a lengthy quest but moves The Witcher 3's story along considerably as Geralt learns more about Ciri's adventures.
The Witcher 3: Get Junior Walkthrough
Head to the bathhouse and knock on the doors; the HorsePS waypoint is a little misleading, as you have to find the steps leading down to the doors to reach it. When you obtain entry head into the dressing room and use any of the cupboards to prepare for the meeting ahead.
Go through the bathhouse to the waypoint and investigate the door to enter. After a short parley you'll be set upon by thugs. Beat them up (you can use Signs) to have a further chat with these interesting fellows, known as the Big Four.
As the conversation proceeds, you can offer to help Reuven will a problem of his own, and challenge him to Gwent. The quest he offers, Count Reuven's Treasure, is one path to putting together the story of Dandelion and Ciri. It's a mandatory quest, so accept it. I recommend doing at least the first part, which takes place in the sewers beneath the bathhouse, now - but if you prefer to wait, just take note of the path leading down to the sewers through the bath, or don't accept the quest until later. Here's the Count Reuven's Treasure walkthrough.
When you're ready to move on with Get Junior, you can optionally switch to the secondary quest Gangs of Novigrad and visit Cleaver before starting. This means several dwarves will accompany you to the casino and arena, making fights much easier, but negates any chance of obtaining the information you need with subtlety and diplomacy, both now and in a later section. I did this, because it seemed the most expeditious route through.
Go to the casino first and beat up all the baddies (or, if you're alone, follow the waypoint to your goal on the third floor, fighting only when you can't get out of it). On the third floor free Nico, triggering the secondary quest Honor Among Thieves. Search around carefully, including all the bodies, for a pass allowing you to enter the Arena peacefully under a false name; read it to open this option.
Head to the Arena next. Keep the Gangs of Novigrad quest active if you like, or switch back to Get Junior for a peaceful entry using the pass you found.
If you take this second option, you can end up battling in the Arena after chatting with Igor. Elect not to kill your first opponent when he yields (just interact with him instead), and he'll help you out with subsequent fights against dogs, soldiers, and all manner of beasties including a very tough bear. Eventually Cleaver's men break in through the sewers and you'll get to fight Igor. Once he's dead, search his body for a key and look around for a hidden treasure room. Make your way up to where Igor was sitting and search for a locked box with a mysterious note.
If you went with Cleaver's men, just beat everyone up and grab the document by the chair.
Having completed both of these visits, you'll be able to cash in those two secondary missions with both Cleaver and the King of Beggars. Feel free to do it now, if you like. Note that the HorsePS on the Beggar King is pretty erroneous, so you'll have to remember your own way back into that complex (look for the locked gate near a merchant icon). Cleaver will only pay you half if you took a peaceful option at one of the two destinations.
You don't need to visit Junior's hideout; just read all the documents you've found, and go talk to Reuven; his location depends on where you are in the Count Reuven's Treasure mission. He'll advise you to seek out Vernon Roche. Roche, an old friend, is hiding out in a camp between Novigrad and Oxenfurt, not too strenuous a ride away. Track him down and check with him – challenge him to Gwent, if you dare.
Vernon will take you to meet his contact. Enjoy the pretty ride, and feel free to stop at the quest marker and speak to the Beast Tamer for a nice battle with a monster. When you eventually get to the waypoint, speak to Vernon, and then follow him to the meeting.
As usual, things don't go as Geralt expected; you'll come face to face with quite the celebrity. Radovid seems to be mad as a ferret, but he tells you where your target is hiding and how to get in, so that's good enough for me.
Head to Whoreson's hideout. If you beat up the guards at the casino and arena, these ones aren't friendly and won't let you talk your way in, so beat them up, too, and loot their corpses for the key instead.
Inside, everyone will attack if you decided to aid Cleaver (or possibly they'll attack anyway). Kill everyone (Axii, Axii, Axii) and enter the building near the fountain. The stairs to the second floor are in a side room near the front door. Head on up.
Junior is not a nice man and I'm starting to feel pretty good about murdering him. Geralt obligingly puts the boot in during a cutscene. He also has a bit of a tanty regarding the many hoops he's had to jump through to get the slimmest of leads on Ciri if you offer to explain why Junior shouldn't lie.
As Ciri, chat with Dandelion and climb onto the roof via the ladder and the scaffolding. Cross the roof and drop down onto the balcony. There's a dark window you can examine to gain access.
Inside, beat the shit out of Junior. Hold and release R2 to perform Ciri's special move, Blink, if her energy metre is full. Energy refills when you attack, and on lower difficulties, over time.
After the custscene, beat everyone up. If you hold down the Blink key until every enemy is inside the green border, Ciri will hit all of them before returning to her original position.
Go downstairs and beat everyone up again, and then go down one more floor and have a little tea party. No, no, I'm kidding: beat everyone up.
After the cutscenes you can choose to kill or spare Junior. If you decide to spare him, Geralt will threaten to sell him out to the rest of the Big Four, which is probably a death sentence. Nice.
This brings Get Junior to a close, but we can't get on with the main quest just yet; when you leave Whoreson's complex, you'll be automatically sent to A Favor For Radovid. Have a chat with the king and receive the Redania's Most Wanted quest, and you'll then be free to leave his ship and do as you please. To exit the ship, run to the far end and approach the bare-headed guard to get your gear back.
Our next stop is Count Reuven's Treasure or, if you've done that, The Play's the Thing.
Onwards to Count Reuven's Treasure walkthrough, onwards to The Play's The Thing walkthrough, or back to The Witcher 3: Act One - Novigrad walkthrough.
Back to The Witcher 3 guide and walkthrough.