The Witcher 2 gets a new screenshot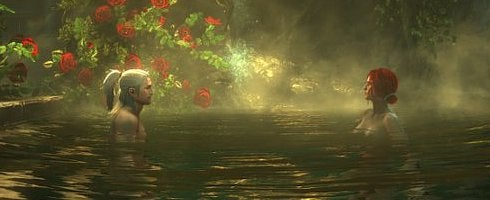 CD Projekt Red is a bit of a tease, what with showing screens of The Witcher 2: Assassin's of Kings here and there, and dropping just enough information to get you salivating for more.
Yesterday, through the magic of Facebook, we became privy to a new screen showing our hero Geralt taking a dip with a lovely lady.
It all looks very romantic, which is a lot different from the last outing, where women were collected via trading cards.
This time around, Geralt's love interests will have their own part to play in the storyline, and will be approached from a cinematic point of view.
"It was important for us to rethink and redesign the presentational aspect of sex, nudity and romance in The Witcher 2," the game's senior producer Tomasz Gop told us back in March.
"We focused on this being more bound to the story, and less "collectible".
The Witcher 2: Assassins of Kings is scheduled for a 2011 release, and it will be shown behind closed doors at E3 next month.