The true triumph of GTA Online's character customisation: it lets you grow old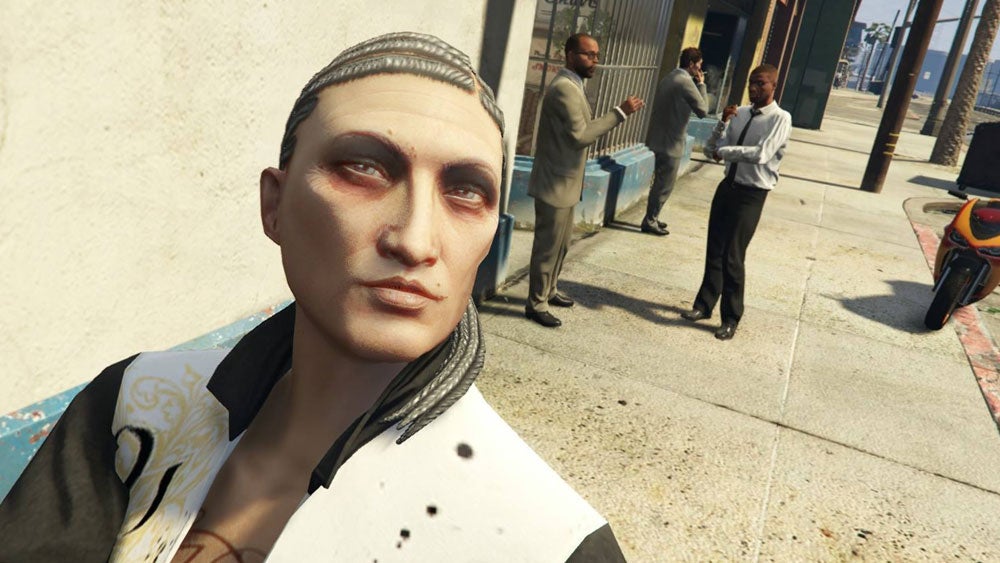 GTA 5 on PS4 and Xbox One allows you to grow old disgracefully. Patrick Garratt's thankful of the opportunity.
I'm relatively old. I'm 41. I'm literally middle-aged, assuming I last that long. There's nothing wrong with getting older - you're doing it right now - but, for all their bluster about being a medium for all, games almost inevitably get stuck in the kid bubble. You can slap 18 on them as much as you like, but proper grown-ups know games are made for kids, enjoyed by kids and feature kids (when you're in your 40s, the term "kid" begins to apply to 30 year-olds as readily to those still kicking around a playground).
Video game protagonists are young. We live our vicarious digital lives as Peter Pan; from the 80s to the 90s and into the twenty-first century, our faces creased but the alter egos remained forever youthful. The early 40s are a notorious cut-off point for "gamers": you can still enjoy the gaming equivalent of Harry Potter with your kids, but the nag telling you to grow up and read some Dickens wins out as the reality of death builds in importance. Your time is evaporating and there will be no more. Games become too young as the urgency escalates, the content being largely to blame. You're probably going to see the word "ageist" bandied about in relation to games in the near future.
The next-gen versions of Grand Theft Auto 5 have to be the first genuine admission in a triple-A video game that the audience is ageing and needs to be catered for. We're not old, as such, but 40 is 40. It isn't 20. It's twice 20, in fact. I'm easily old enough to be the father of a 20 year-old person. Very few games even acknowledge that older people play, but GTA 5 made nods towards middle-age in its old-gen forms simply by including Michael and his family situation, as well as Trevor and his "difficulties". With fidelity comes realisation, and the PS4 and Xbox One versions take the concept to their logical conclusion, allowing you to age your GTA Online character.
When you transfer yourself from the old versions, or start a new avatar, you'll be given the option to select your parents. They're presented in a black and white photograph in late middle-age, just as they probably are in the pictures middle-aged people keep of their parents to remember them as parents, and you're able to choose whether or not you better resemble your mother or father, whether your parents were white, mixed race, black or Asian. You then apply ageing techniques to your skin from a range that includes First Signs, Crows' Feet and Geriatric. The "grey" hair from the old versions looked bleached white, but now there are various, colourless shades, and there's no mistaking that they belong to older people. You can weather your avatar. I forget the exact wording, but there's even a skin option called Hard Life.
Then you can shower yourself in moles and freckles and put yourself in pant suits, or brown suits, or heels, or sneakers, and you can make yourself look respectable. Or not, as the case may be. My GTA Online character got older in the transition from Xbox 360 to PS4, and that's so right. GTA 5 allows you to act your age on PS4 and Xbox One, to be a middle-aged gangster in a world where so few games are even willing to admit the truth: players are getting old.
You still can't alter the body type, unfortunately, but maybe that's for GTA 6. At least, thankfully, adding ageing options into the world's greatest action game is a step in the right direction. There's nothing wrong with being old. We're still fucking cool. And we're only getting cooler.