The Top 25 RPGs of All Time #13: Fallout: New Vegas
Bethesda made Fallout mainstream, but its follow-up represents the franchise's narrative peak in the 3D era.

This article first appeared on USgamer, a partner publication of VG247. Some content, such as this article, has been migrated to VG247 for posterity after USgamer's closure - but it has not been edited or further vetted by the VG247 team.
It's evident that Fallout New Vegas is going to be a bit different the first time you step into Nipton, near the beginning of the game. You enter the burned out husk of the town to find much of the populace crucified or decapitated. Waiting for you are representatives of Caesar's Legion, the story's primary antagonists.
You're meant to think that Caesar's Legion massacred a town full of innocents. But interrogate them for a bit, and it emerges that Nipton was a town of thieves, and the Legion had come to mete out their own peculiar form of justice. They're still bad, but there's a rhyme and a reason to their madness that feels unsettling.
These sorts of shades of grey are what have endeared Fallout: New Vegas to many hardcore fans over the years. In fact, New Vegas goes the furthest of all the 3D Fallout games in letting you chart the course of the story. It's notably the one entry with almost no invincible or "essential" NPCs, which speaks to the flexibility of its storytelling.
Originally released in 2010, Fallout: New Vegas followed on from Bethesda's smash hit take on Fallout 3. Fallout 3 had been a watershed moment for the series, allowing it to enter the mainstream consciousness for the first time. But to hardcore fans of the original games, Fallout 3 was missing that certain something special. It had much of the wit and the dark humor of the original games, but factions like the Brotherhood of Steel felt a bit off, and the main story was surprisingly unsatisfying. Two years later, Obsidian returned to the series with a mission.
Fallout: New Vegas was a rare opportunity. Founded just a few years before, Obsidian was home to a number of Interplay alums. Many of them had worked on the first two Fallout games, and had been involved in the creation of what was supposed to be the original Fallout 3, which was called Van Buren. This was their chance to put one last stamp on the legacy of the series.
The result was a throwback to classic Fallout in many respects. Unlike Bethesda's Fallout games, set in Washington D.C. and Boston respectively, Fallout: New Vegas was set out west. It brought back the New California Republic, and contained numerous callbacks to previous games. The Master got a shoutout; Marcus, a former companion, returned, and we finally learned the story behind the crashed Vertibird in Fallout 2 (it was Daisy Whitman's fault).
The main quest follows a character called "The Courier," one of the few instances in which the protagonist wasn't a Vault Dweller. The Courier is on the trail of the mysterious man who shot and left them for dead, leading them first to New Vegas and the mysterious "Mr. House," then into the war between the NCR and Caesar's Legion. You eventually have to choose a side, but no matter who you join with, it all eventually comes together in a battle for the Hoover Dam, which is still one of the largest setpieces in Fallout history.
It's a solid story, but what really sets it apart from Bethesda's works are the relationships with the different groups. In Fallout: New Vegas, your choices are meant to be fluid as you float from faction to faction. You may start with the NCR because they're nominally "good," only to discover that they are corrupt at the top, then float over to Mr. House and become disillusioned with his demands to destroy the Brotherhood of Steel. Fallout: New Vegas' philosophy is basically, "They're all bad." But unlike Fallout 4, you can actually strike out on your own if you want.
Such opportunities to set your own path are what define Fallout, and New Vegas handles them better than most. They are a reminder of why NPCs are sorely missed in the upcoming Fallout 76. Sure, you can finally nuke your friends, but what's Fallout without being able to play both ends against the middle and eventually let Caesar die on the operating table?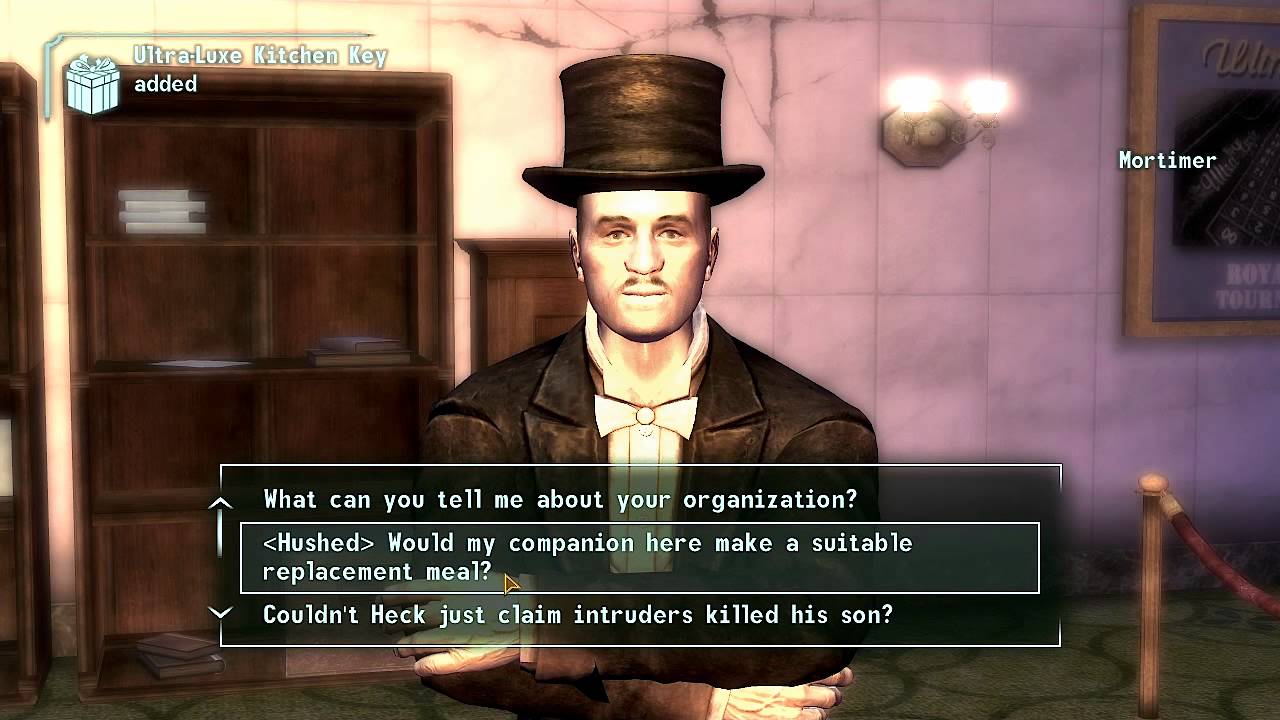 Why Fallout: New Vegas Holds Up
Fallout: New Vegas didn't receive sterling reviews at launch. It was riddled with bugs, and some critics derided it as a mere spinoff that didn't do enough to build on the success of Fallout 3.
But like most latter day Fallout releases, New Vegas ultimately had legs thanks to its dedicated modding community, which supported it long after release. It was also bolstered by well-received DLC entries, including Honest Hearts and Lonesome Road, which expanded upon key parts of Fallout's lore and told excellent stories to boot. Indeed, Fallout: New Vegas is pretty much essential if you have even a passing interest in Fallout's extensive backstory.
It has subsequently benefited over the years from its perceived hardcore cred, which many compare favorably to the Bethesda entries. And it's true: Fallout: New Vegas was definitely designed with long-time fans in mind. It was the first in the series to introduce a hardcore survival mode; it refined the shooting and expanded the customization options, and it had one of the deepest stories. Plus, as one reader pointed out, it was one of the only Fallout games to have your intelligence level actually be reflected in your various dialogue options.
Sadly, Fallout seems to be trending away from the hardcore, story-driven experience favored by New Vegas. Fallout 4 dramatically cut down on its dialogue options and scaled back its available faction choices. Fallout 76, which is due next month, doesn't even so much as have NPCs. Bethesda may yet reverse course with Fallout 5, but it feels more like its apt to continue to put a premium on casual exploration over deep roleplaying.
That makes Fallout: New Vegas something of a last hurrah for both classic Fallout and for the people who made it. Much as fans might want it, Obsidian is unlikely to ever work on the series again. Bethesda hasn't even so much as remastered Fallout 3 or Fallout: New Vegas, preferring instead to focus its efforts on getting Skyrim on as many platforms as possible.
But thanks to the modding community, Fallout: New Vegas remains strong as ever close to a decade after its original release. Bethesda took Fallout to a new of popularity, but Obsidian's follow-up still represents the franchise's narrative peak in the 3D era.