The Studio Behind the Messenger Is Trying to Kickstart Its Dream RPG in the Midst of a Pandemic
We talk to Sabotage Studio about its vision for Sea of Stars, and the nightmare of unveiling its dream project in the midst of the COVID-19 pandemic.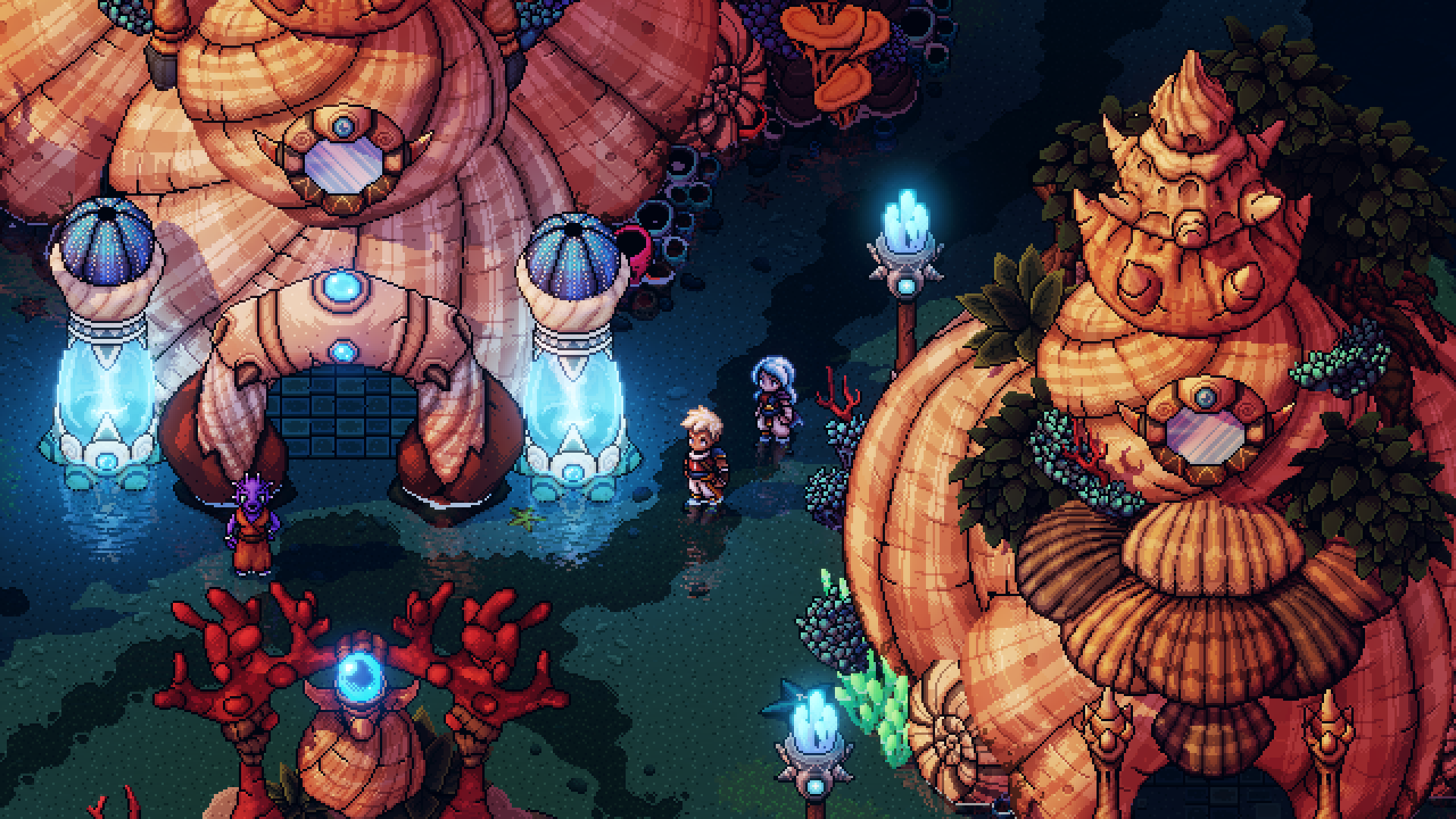 This article first appeared on USgamer, a partner publication of VG247. Some content, such as this article, has been migrated to VG247 for posterity after USgamer's closure - but it has not been edited or further vetted by the VG247 team.
"We've had this burning inside us. We've wanted to make an RPG every since we started the studio," Sabotage Studio co-founder Thierry Boulanger says.
He's showing Sea of Stars, a new RPG set in the same universe of The Messenger, which was Sabogate's debut release (we loved it). This is the Quebec-based studio's second since being founded in 2016, but it might be its most important. The Messenger was a test run. This is the real deal.
"The RPG thing is a lot bigger than the platformer. The Messenger was the first thing we could afford to do in bootstrapping the company. This time it's double the team and double the production timeline," Boulanger says.
Sea of Stars is a top-down RPG in the tradition of 16-bit classics like "Illusion of Gaia, Chrono Trigger, Super Mario RPG, Final Fantasy 6, Breath of Fire, Suikoden 2, and Lufia." Two characters are selectable from the jump—Zane and Valere—with the group eventually growing to six. While the demo only shows Zane and Valere fighting together, the party can support up to three characters.
As with The Messenger, the sprite-based art immediately grabs your attention, particularly the lush environments. Its combat is turn-based, but it features a skill-based element designed to ameliorate the need for grinding. There are timed inputs for attack and defense, and the strategy is partially based on finding elemental weaknesses for enemies. Boulanger says it's "in the spirit of breaking linearity and repetition."
While the demo shown to the press is limited in scope, there are already hints that Sea of Stars is bigger than it looks. Among other things, it will include a boat, which will function as a headquarters in the vein of Mass Effect. It will also include a sailing portion in which you will negotiate the waves, giving it a little bit of Wind Waker flavor. There will be "lots of side content," Boulanger says, though the studio currently doesn't intend to include multiple endings.
Sabotage's decision to base Sea of Stars in the world of The Messenger is a bold and interesting one. In fact, just to prove that it was Sabotage's intention to make an RPG all along, it's possible to find a teaser for Sea of Stars within The Messenger. Observant players may recall the Sunken Shrine, which includes a chamber decorated with suns and moons—a reference to the thematic elements of Sea of Stars. In it was a vision of the Guardian Gods, represented by a yellow flame and a blue flame, which was intended as an overt reference to what Sabotage Studio had planned for the follow-up.
In that respect, Sea of Stars may be Sabotage's dream game, but it's also just the beginning. There are plenty more stories to be told in its burgeoning world.
"As a creative director, it's a world that's been building in my mind since elementary school," Boulanger says.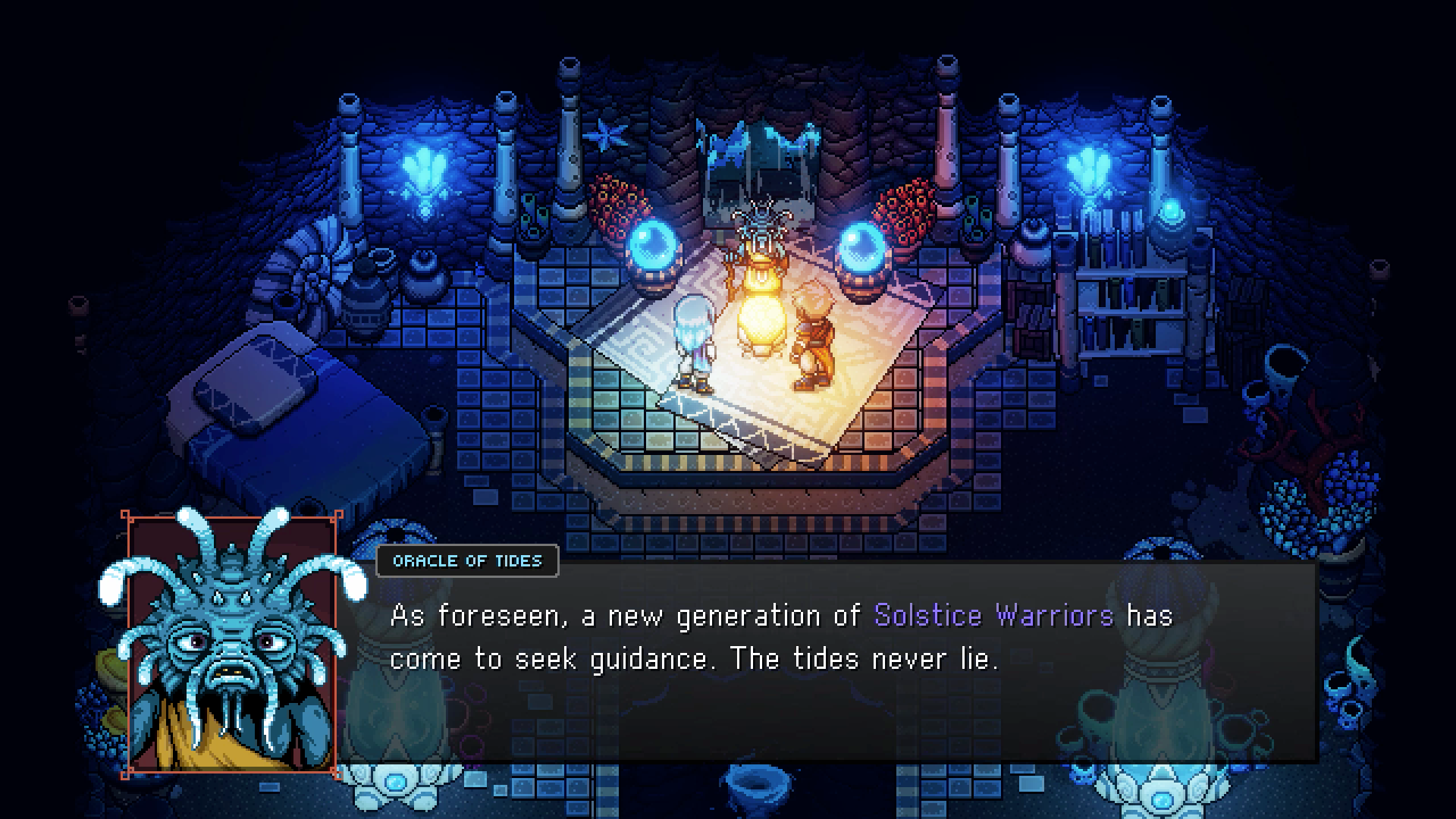 While Sea of Stars is set in the same world of The Messenger though, don't expect it to jump between 8-bit and 16-bit in the same way as Sabotage's first game. The studio has no intention of redoing every asset twice this time around. However, Boulanger does say it will have a twist of some sort. It's all part of the expectations built up by the ambition of The Messenger, which really went for it in a way that few first-time games do.
Boulanger is keenly aware of these expectations. "We're in this boat where, 'How do you surprise people who expect to be surprised?'"
Kickstarting Sea of Stars Amid a Pandemic
Boulanger says Sea of Stars is now out of pre-production, and expects that it will take about two years to build the assets and "make it come to life." In the meantime, Sabotage Studio is launching a Kickstarter, though it isn't intended to fully fund the project. Rather, Sabotage Studio wants to use it to test the waters.
"We need to validate our risk, get that confidence out of the gate," says Executive Producer Philip Barclay. "It also allows us to claim a few things."
Sabotage intends to use Kickstarter to fund between five and 10 percent of the project. In effect it will be a marketing tool; a means by which the studio can connect with its fans. While it won't be early access per se, those fans who are willing to pay will be offered an inside glimpse of Sea of Stars' development, as well as the first crack at a playable demo.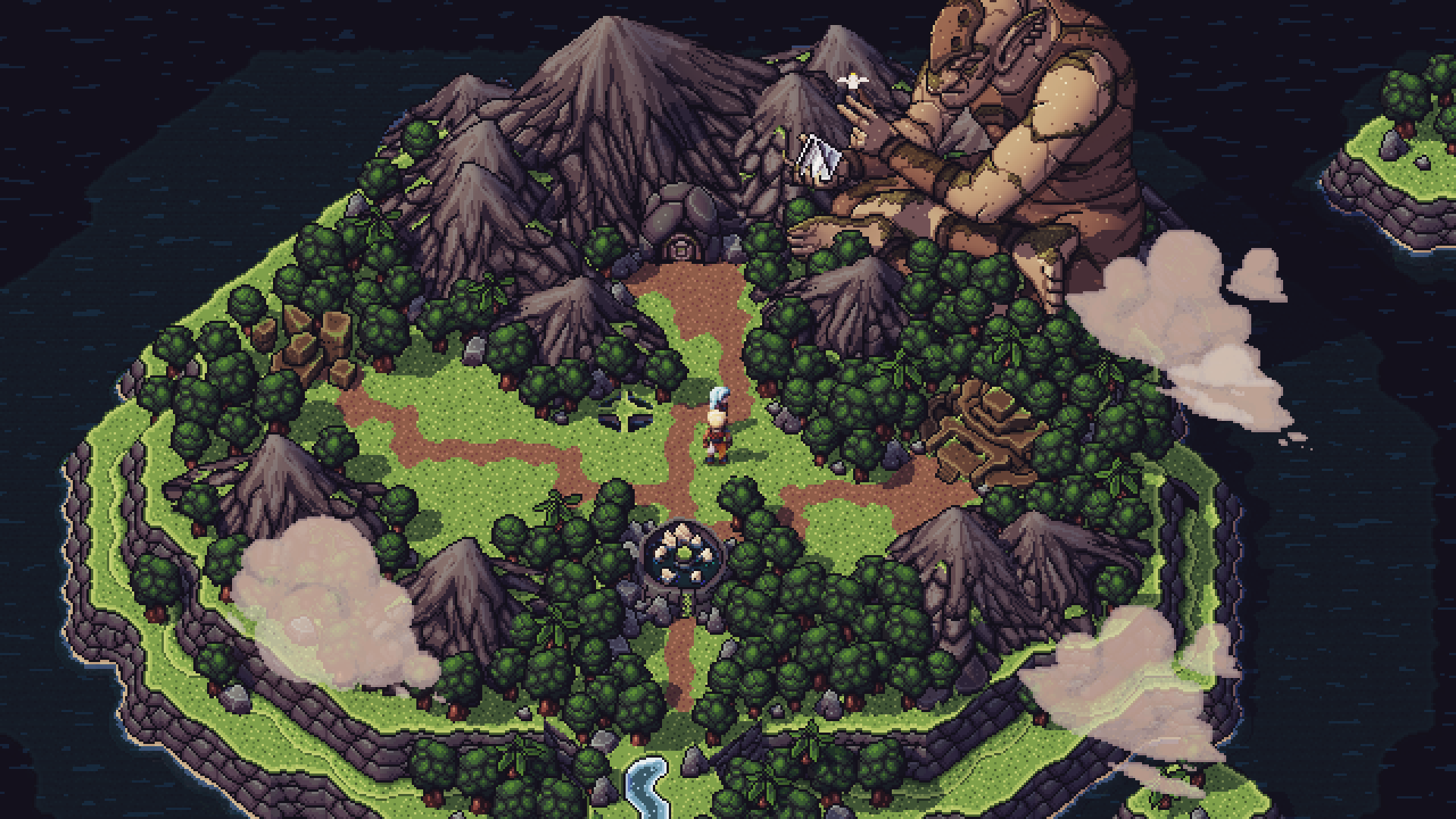 As with everything else, the current COVID-19 pandemic has derailed things a bit. Sabotage Studio had originally planned to reveal Sea of Stars at GDC, and had meetings planned with both the press and potential business partners. GDC's cancellation forced Sabotage to improvise.
With the pandemic continuing to spread, Sabotage's developers are currently working remotely. It's made the preparations for the Kickstarter campaign complicated to say the least.
"We're not too sure how this will go, as this is unprecedented. It feels like it will be easier to get attention, since a lot of people increased their screen time, but getting financial support might prove to be much harder considering investing in a game that will release in two years might not be top priority right now," Barclay says.
The studio did another "sanity check" yesterday and decided to go ahead with the campaign. Still, Barclay is nervous. "It is extremely stressful to feel like the success or failure of the campaign relies mostly on external factors."
The Kickstarter is live now, with funding tiers starting at $1. Sabotage Studio hasn't formally announced any platforms yet, but it is once again planning to support PC and console.
Sea of Stars will no doubt garner plenty of attention with its gorgeous art and nostalgia-driven design, plus the name recognition that comes with developing The Messenger. Still, indie studios like Sabotage have to feel like they're standing on a knife's edge right now. With the economy on the edge of plunging into a deep recession, everyone will be cutting back on spending. That will make an already competitive indie space even tougher.
One way or another though, Sabotage Studio is out to fulfill its dream. The whole of The Messenger was about paving the way for this moment. Sabotage Studio isn't about to waste it. "[The Messenger's success] meant we could make an RPG," Boulanger says. "It was our endgame, you know? The intention was there all along."