The stolen Firewatch art in these Ford ads really sets a nice tone [UPDATE]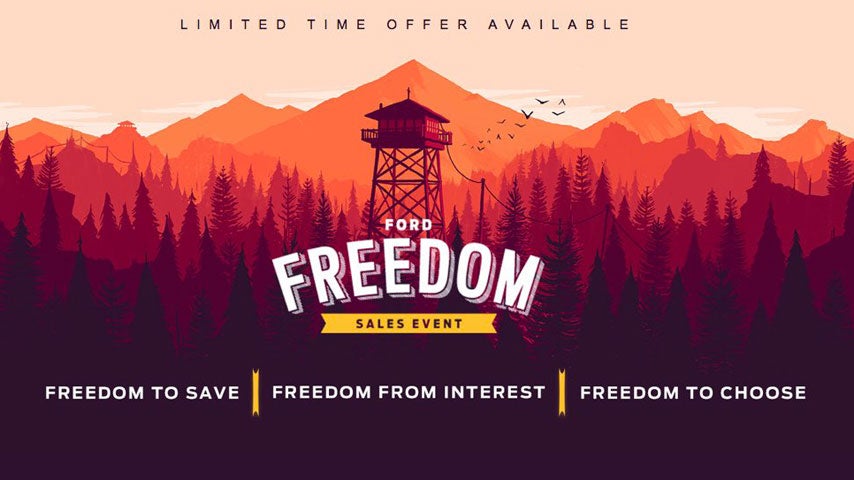 Gosh, it's pretty, isn't it?
Update
Ford was "not involved" in creating the Quirk Ford advertising, according to a tweet from the dealership.
After the snafu was blasted all over the place, the dealership apologized for the gaff and all seems right with the world again.
"We regret the error and to would like to issue an apology to Campo Santo," the tweet reads. See it in full below.
.@Ford was not involved in creating the Quirk Ford advertising. We regret the error and to would like to issue an apology to @camposanto

— Quirk Auto Dealers (@QuirkCars) June 28, 2016
Co-producer of the game Panic, also commented the following:
As far as we're concerned, apology accepted. We all make mistakes! ? And the Rip Off Express drives into the sunset… https://t.co/2aOM3Y9Plr

— Panic Inc (@panic) June 28, 2016
Original Story
Official Firewatch art has apparently been, uhh, recycled for use in ads for a sale on Ford vehicles.
Firewatch assets were used both in the video above and a flyer emailed out to customers, which you can see in an embedded tweet at the bottom of the article. It's not clear whether the ads were produced by a local dealership or issued across the US; the YouTube channel hosting the video is listed as the official account for Ford Motor Company.
GameInformer managed to get in touch with a Ford dealership, and was told the art had been sourced from a wallpaper site. Unfortunately, Campo Santo's Sean Vanaman pointed out that the version used in the ad is different from that hosted anywhere but an old version of Campo Santo's official site. Amazing.
It doesn't look like Campo Santo or co-producer Panic will be taking action over the matter. In a tweet, Vanaman said this kind of thing happens all the time. Artist Olly Moss, who lent his distinctive aesthetic to Firewatch, laughed the matter off in his own tweet.
Firewatch released in February for PC and PS4. Sherif and I both really enjoyed it.
we've had a good laugh over a crappy car dealership flier but it's really a non-story. olly and his contemporaries get yoinked 100x a day.

— Sean Vanaman (@vanaman) June 27, 2016
— Olly Moss (@ollymoss) June 27, 2016
? Ahh, remember when Henry and Delilah were excited about the Ford Freedom Sales Event? #ripoffexpress @camposanto pic.twitter.com/kF5wZnH1ZT

— Panic Inc (@panic) June 27, 2016