The Return of Wonderful 101, The Regret of Scalebound: Catching Up With Hideki Kamiya and Atsushi Inaba
PlatinumGames is finally getting what it always wanted.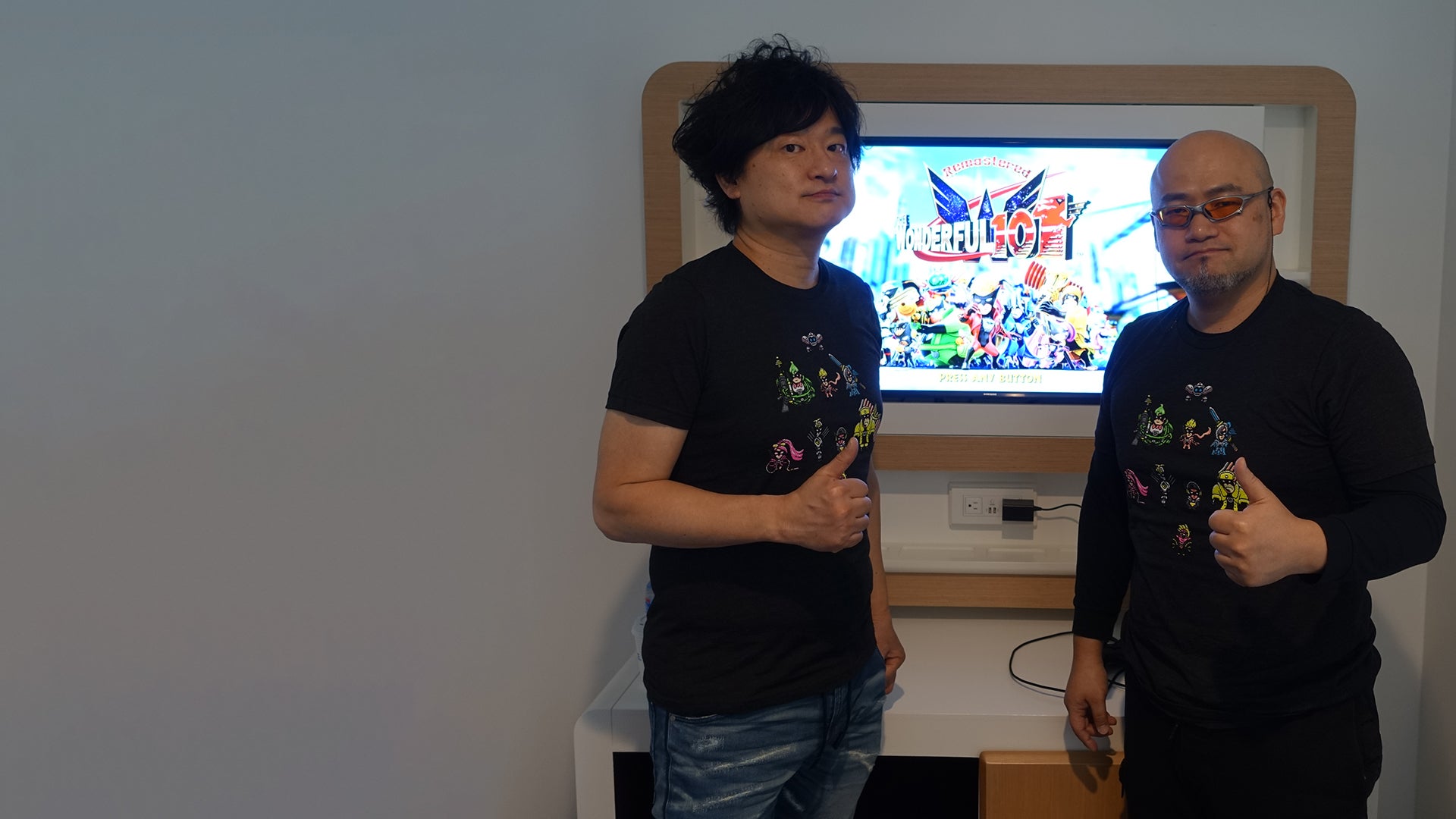 This article first appeared on USgamer, a partner publication of VG247. Some content, such as this article, has been migrated to VG247 for posterity after USgamer's closure - but it has not been edited or further vetted by the VG247 team.
Thirteen years after its founding, PlatinumGames is embarking on a new journey. Back in 2010, PlatinumGames co-founder and executive director Atsushi Inaba said the studio would "like to eventually be a company that owns its IPs." That was, in fact, one of the core goals of the studio when it was first established, but since then PlatinumGames has largely been a collaborative studio, the sort that partners with other major publishers' IP.
That's changing this year, as PlatinumGames grows via an investment from Tencent. With that funding, it's opening a brand-new studio in Tokyo and planning its first self-published IP, Project GG. The studio is also revisiting its past with The Wonderful 101: Remastered, saving it from Wii U purgatory.
"The Wonderful 101 is a game we've always been very proud of, we have a lot of confidence in. We felt that unfortunately, it didn't quite reach the audience that we had hoped. With this opportunity to revisit it remastered and allowing a lot more players to play it is very, very exciting," Inaba tells USgamer.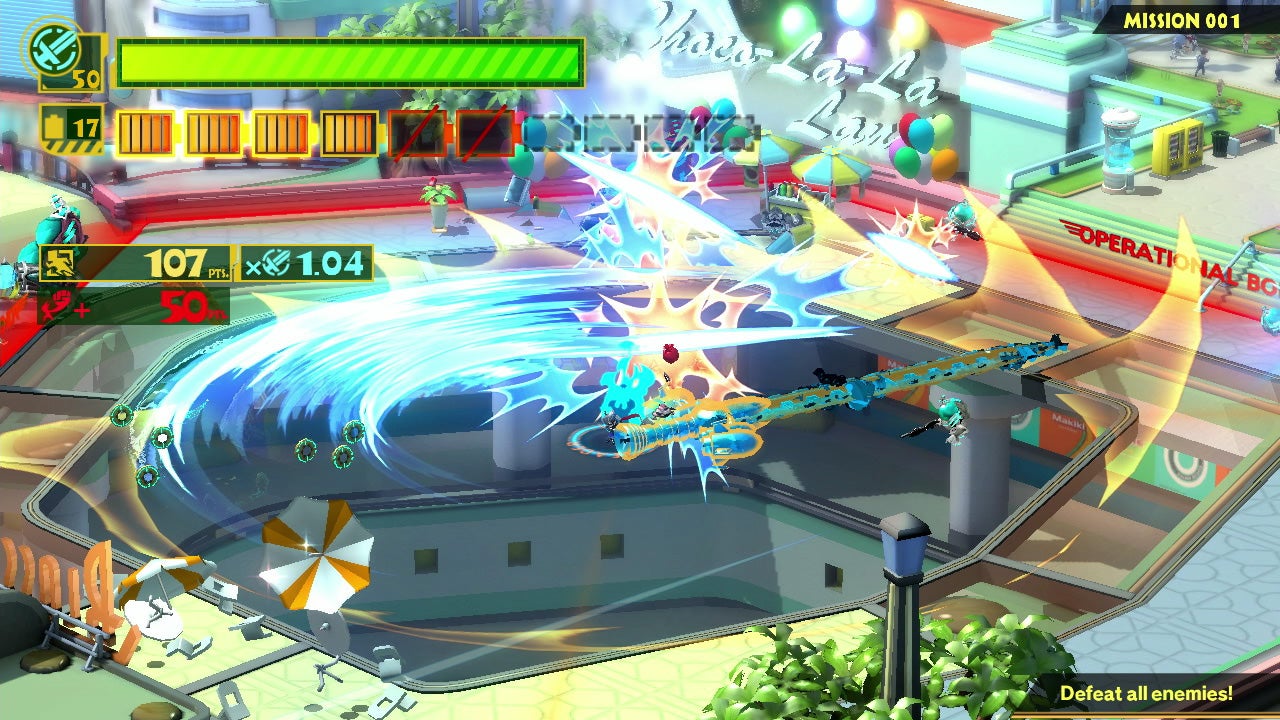 The Kickstarter drive for The Wonderful 101: Remastered has already hit $1.9 million, far above the funding goal of a mere $50,551. Backers have unlocked Switch, Steam, and PlayStation 4 versions of the game, and a brand-new side-scrolling side story, Luka's First Mission. The Wonderful 101 director Hideki Kamiya, who has returned to direct the remaster, says that Luka's Missions are a "completely new idea"—he actually said it in English—and not something that was cut from the previous release. Instead, the additional mission is "fan service."
Kamiya says most of the work for the remaster has been adapting a dual-screen Wii U game for single-screen platforms. There's a new picture-in-picture mode that allows you to see the information that would have previously been on the Wii U's Gamepad. The additional screen can be resized and moved around the screen, requiring a rethink of the game's user interface.
"This is one of our largest games we've ever made and we were very, very satisfied with the amount of content. So we didn't feel that it was really appropriate to add anything new game-wise to it," says Kamiya. "However, when you compare the Wii U version to the new platforms there's gonna be a lot of differences. On the Wii U, you have two screens right? So having to implement a picture-in-picture in the remastered version was something that required attention. Basically, I wanted to make the game more user friendly for players, add some tutorials and some directives basically to enhance the experience for a new player."
Much of the PlatinumGames' portfolio is beginning to see re-releases and remasters. Platinum is handling The Wonderful 101: Remastered, but Bayonetta and Vanquish also saw remastered releases from Sega earlier this year. I bring up other titles that could also use the remaster treatment, like the cult favorite God Hand.
"At the time, it was a really difficult game, an interesting new action concept," says Inaba. "Now when you compare it to things like Dark Souls and things like that—not that we can compare to Dark Souls—but that's become more of the norm. It'd be really cool to go back and remake the game, and make a proper version of it for current consoles."
Tencent's investment is the prime reason for PlatinumGames' expansion, leaving some fans to wonder how much control the publisher has. Inaba stresses that there is no control, and PlatinumGames is finally allowed to make the games it wants without issue. "We absolutely do not want to be told anything by Tencent or to be controlled by them. 'Hey, please make this game. Okay, we will.' No, we choose what kind of games we want to make," he explains. "We want to make that very clear, but that being said, opening the Tokyo office allows us more staff and more opportunities to pursue new things that we want to do. We have to refuse a lot of offers, so in doing the Tokyo office we are looking forward to the new opportunities that it will provide."
The ability to make original IPs has always been the dream of PlatinumGames, and the recent investment allows that to happen. I show Inaba his old statements about Platinum making original games for itself, and he admits that it's great they've finally been able to get there. That said, the days of Platinum collaborating with other studios aren't entirely gone either.
"My stance is not changed at all," says Inaba. "I completely want to make a lot of original games, and the fact that now we can create their own IPs and things like that is going to provide us with the opportunity to do that. However, we appreciate the collaborations that we have established up until now, so if those unique opportunities come about to continue those collaborations, absolutely. But we also want to continue making unique games, new gameplay, new action, and continue doing that with our original IP across self-publishing and the collaborations."
Project GG, the first self-published title from PlatinumGames, carries forward the tokusatsu inspirations of Viewful Joe and The Wonderful 101, which were based on Kamen Rider and Super Sentai respectively. All we've gleaned from a brief teaser is that Project GG features a giant hero, akin to Ultraman. Kamiya is directing the original title, something he has mixed feelings on.
"I do feel a sense of freedom, but while I have the sense of freedom, I have a sense of responsibility. It is gonna be now our original IP and a Platinum-only game, I feel like I want to take this game very seriously," Kamiya admits.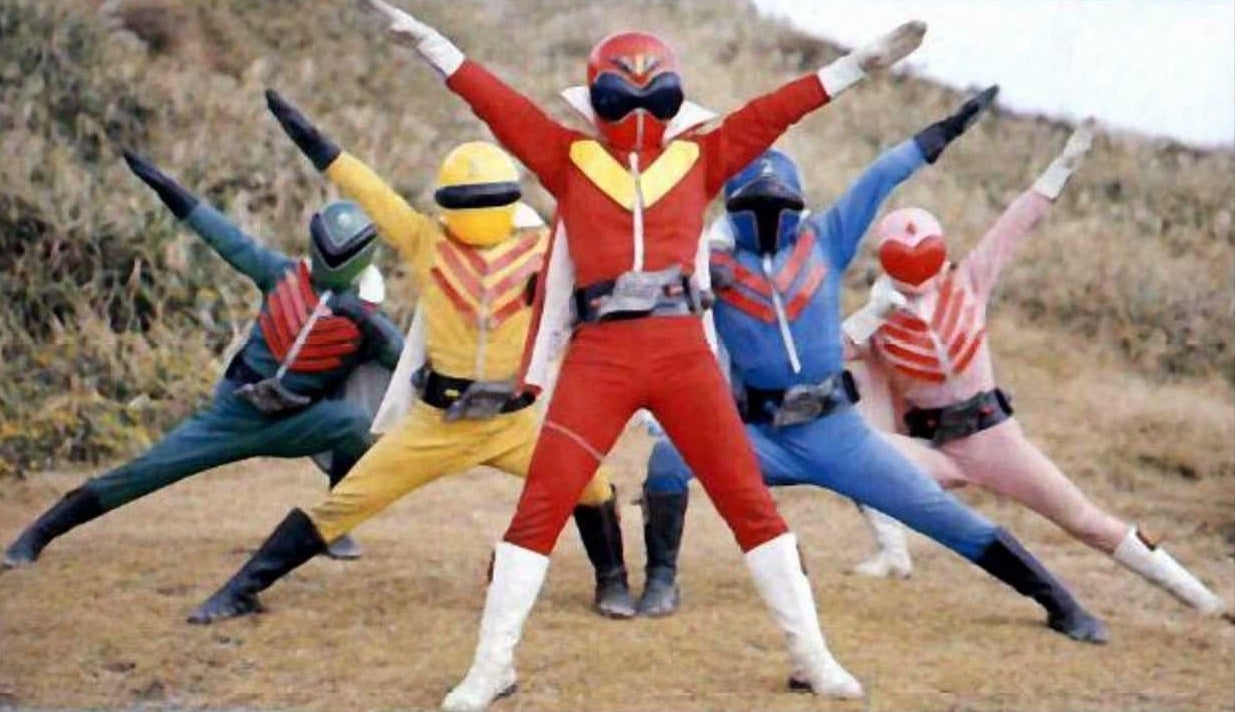 Given the tokusatsu focus of three of his past titles, I ask Kamiya who his favorite toku heroes are. Surprisingly, he goes all the way back to the beginning of Super Sentai. "Gorenger. It's actually my favorite. When I was about four or five, when Gorenger was very popular, there was a bag of potato chips, but if you bought it, there was a card inside. So I really wanted these cards. Every day, I would buy these chips just so I'd get those cards," Kamiya says.
PlatinumGames' Tokyo studio is meant for the development of live-service games, something the studio has generally avoided in its long history. Most of Platinum's titles are done-in-one games, with very little in the way of downloadable content. Kamiya says he's open to the idea of making live-service games, as he really just wants to make new experiences.
"As we mentioned before, it's not like we are of the stance of, 'Oh, we're an action game maker.' We want to invent new things for the gaming world. So for me, absolutely. I would very much like the opportunity to make something like that. Something that necessarily isn't an action game. Maybe it's a racing game, or maybe it's something else," he says.
Over the course of the studio's 13-year history, Platinum Games hasn't always been riding high. For Inaba, the worst period for the studio was actually prior to The Wonderful 101. PlatinumGames had finished its four games for Sega—Bayonetta, Mad World, Infinite Space, and Vanquish—and had no idea where it was headed next.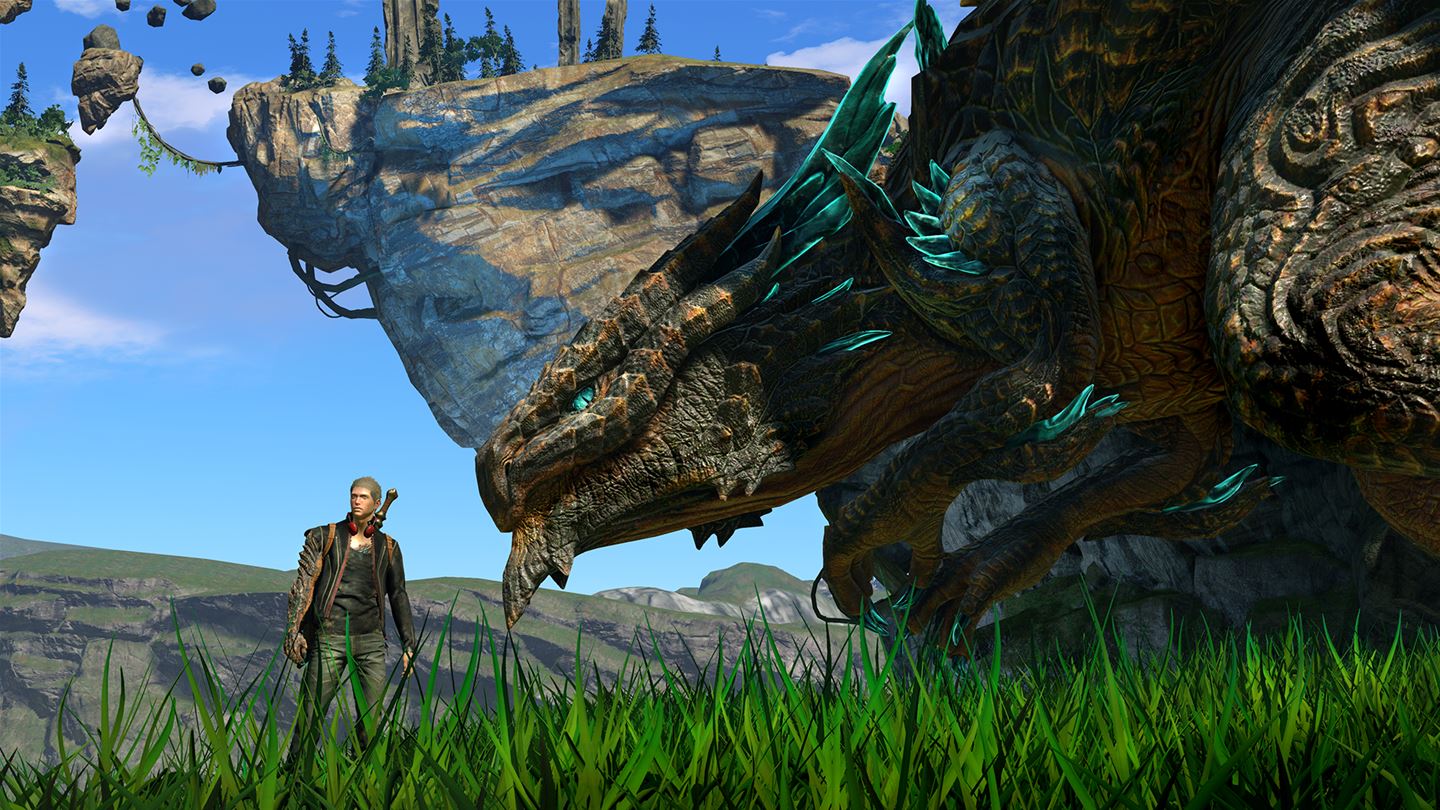 For Kamiya though, his worst memory was the effort put into Scalebound, a title originally developed for the Xbox One in collaboration with Microsoft. "I put a lot of effort into that game and it was just really regretful for me. So it's very interesting, we've been doing autographs sessions here at PAX and some of the fans come in wearing Scalebound shirts. It's a very complicated set of emotions for us," says Kamiya.
Finally, I ask the pair about the most important part of The Wonderful 101: Remastered: Can we expect Dru Hill's Sisqo to be included in the roster? Both are open to the idea, but nothing is confirmed yet. "We were really thrilled when this offer came in and we're really grateful for the support. If there's a chance to do a collaboration we are very open to it. That's all we can really say for now," Inaba says.
It's an exciting time to be a PlatinumGames fan. We'll soon see what Kamiya's best looks like when he's not developing something for a publisher. But more importantly, it's great to see Platinum finally get the chance to deliver on its wildest dreams.