The Pathless, From the Studio Behind Abzu, Is All About Motion
Nock, breathe, release.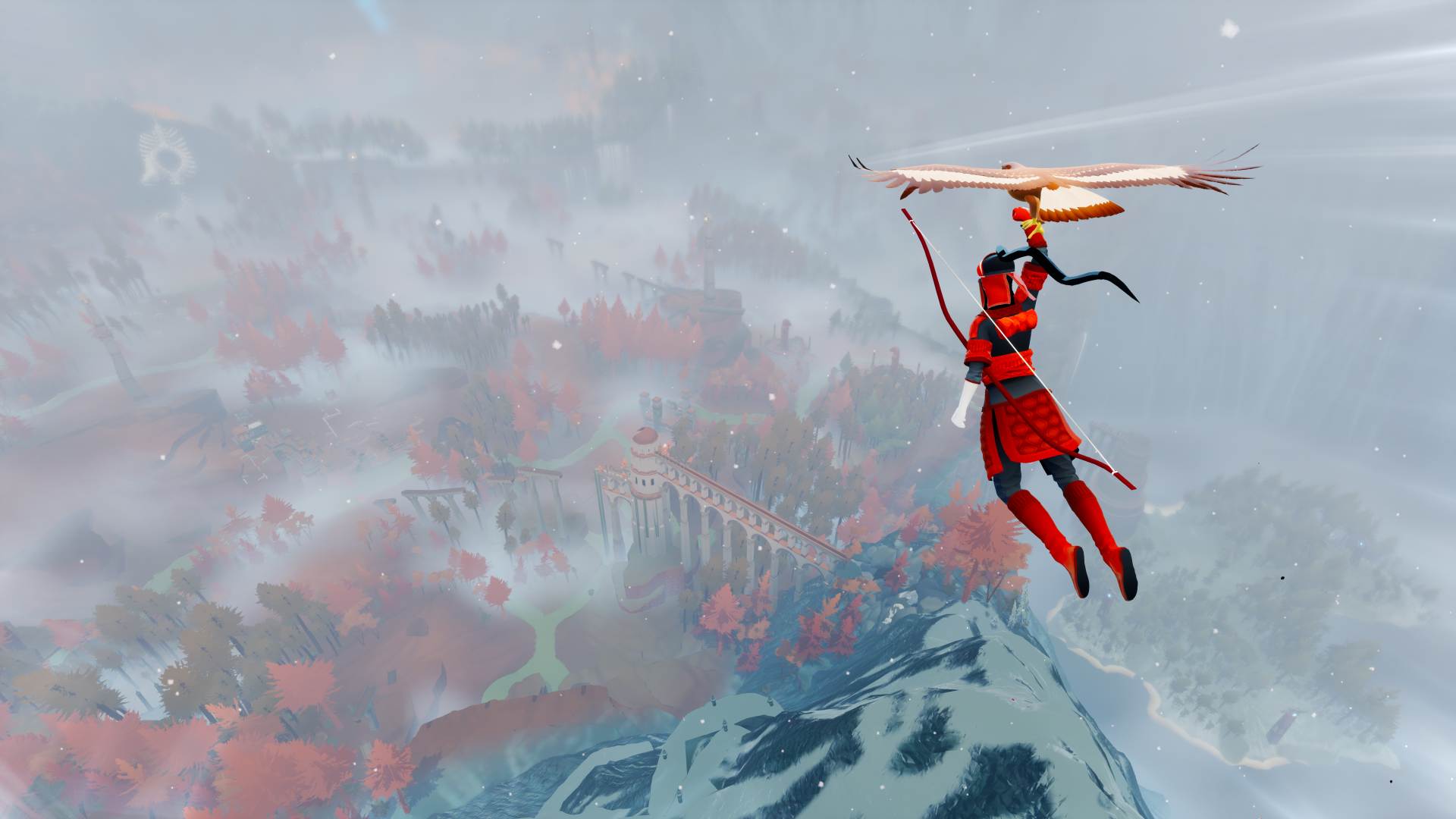 This article first appeared on USgamer, a partner publication of VG247. Some content, such as this article, has been migrated to VG247 for posterity after USgamer's closure - but it has not been edited or further vetted by the VG247 team.
There have been a lot of games about archers in this generation. The stars of big games like Tomb Raider, Horizon Zero Dawn, and The Last of Us have all carried a bow and quiver as part of their arsenal, as developers have found a fascination with the tried-and-true tool.
I recently had the chance to demo The Pathless, an upcoming PS5 launch game that also stars an archer: a nameless Hunter with an eagle companion. But the focus isn't necessarily on the finessing of crosshairs, but on the fluid motion of the archer. When you're sprinting across the grasslands of the cursed island, breaking the floating crystals that infuse you with more boost, you never once "take aim" in a traditional sense. You just hold and release. Find a rhythm, and let the arrow do the rest.
The Pathless is an upcoming game from Giant Squid, the studio behind the underwater exploration game Abzu. Your wandering archer seeks to cleanse the corruption of an island with the help of a mysterious otherworldly voice and your friendly eagle companion. The local spiritual animal beings, essentially gods of nature that could have stepped right out of Princess Mononoke, have been taken by a dark force. By collecting special gems and bringing them to landmarks, you can eventually blast them with light and, subsequently, arrows, to bring them back.
Shooting an arrow in The Pathless is as simple as depressing and releasing a trigger. It might seem like a boiled-down way to approach archery, but the goal seems to be emphasizing the speed and skill of the archer in question. Director Matt Nava says it's about continuing what it started with Abzu's similarly fluid movement.
"In Abzu, you would swim and you could flip and do all these kinds of motions," Nava says. "That was something that we really loved and we wanted to carry over, and we realized was kind of a defining feature of what makes a Giant Squid game one of ours."
You auto-lock onto targets, but that doesn't mean you'll automatically make every shot. Trees and other objects can still get in the way, and there's also a timing component, the most critical part of The Pathless' rhythmic movement. Pulling down on the trigger puts an indicator over your target; let go before it fills up, and you'll miss. You can also risk an early shot at the halfway mark, something Nava refers to as a "skill shot," but if you don't time it right you'll still miss.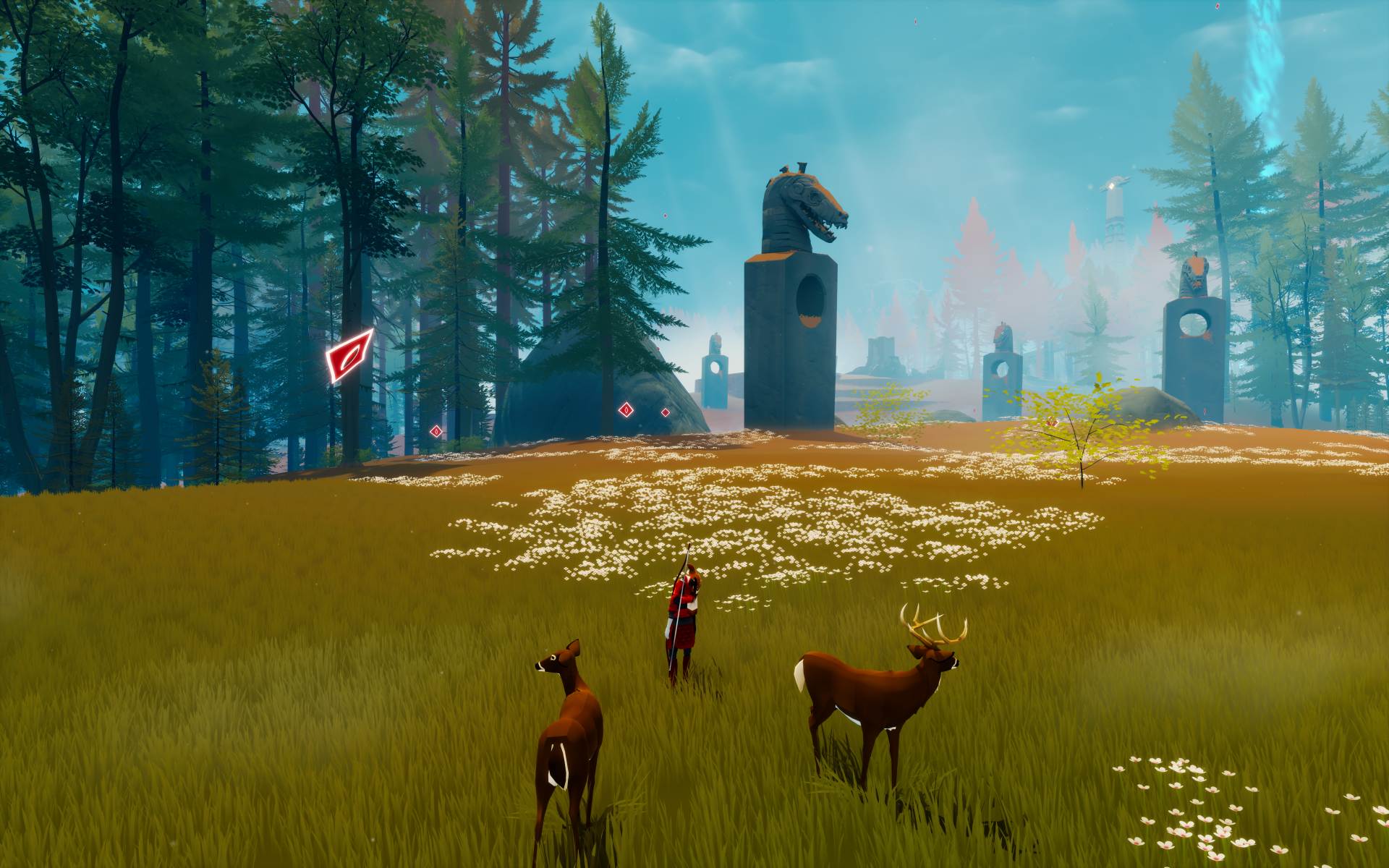 Shooting the floating crystals around the island is key to keeping your boost meter filled, which is crucial for staying one step ahead of the cursed beast's storm and on the trail of more gems. It also just feels good, and over time, a cadence starts to solidify: zipping along the plains, carefully timing shots out to keep your boost from running out, feels good.
The concept started, as Nava tells it, as a way to get around how most games handle moving and aiming. Many, like The Legend of Zelda: Breath of the Wild, put you into a slo-mo effect, to give you time to line up a shot. Slow the world to a crawl, as you carefully draw your reticle over your target and release.
But what if your goal is to keep moving? The Pathless is about motion. Even your eagle companion assists, as it allows you to grab its talons to hang-glide. Throughout the course of the game you can acquire more uses of its "flap," to thrust yourself higher into the air while gliding. The timing mechanics, Nava says, were invented to keep that sense of fluid motion.
"A lot of the design of the game fell out from that," Nava says. "All the puzzles that incorporate it, and all the more advanced moves that you can do by chaining them and jumping them, it really was all based on that idea of, let's make it so that you can move fast through this space in an interesting way, moment to moment."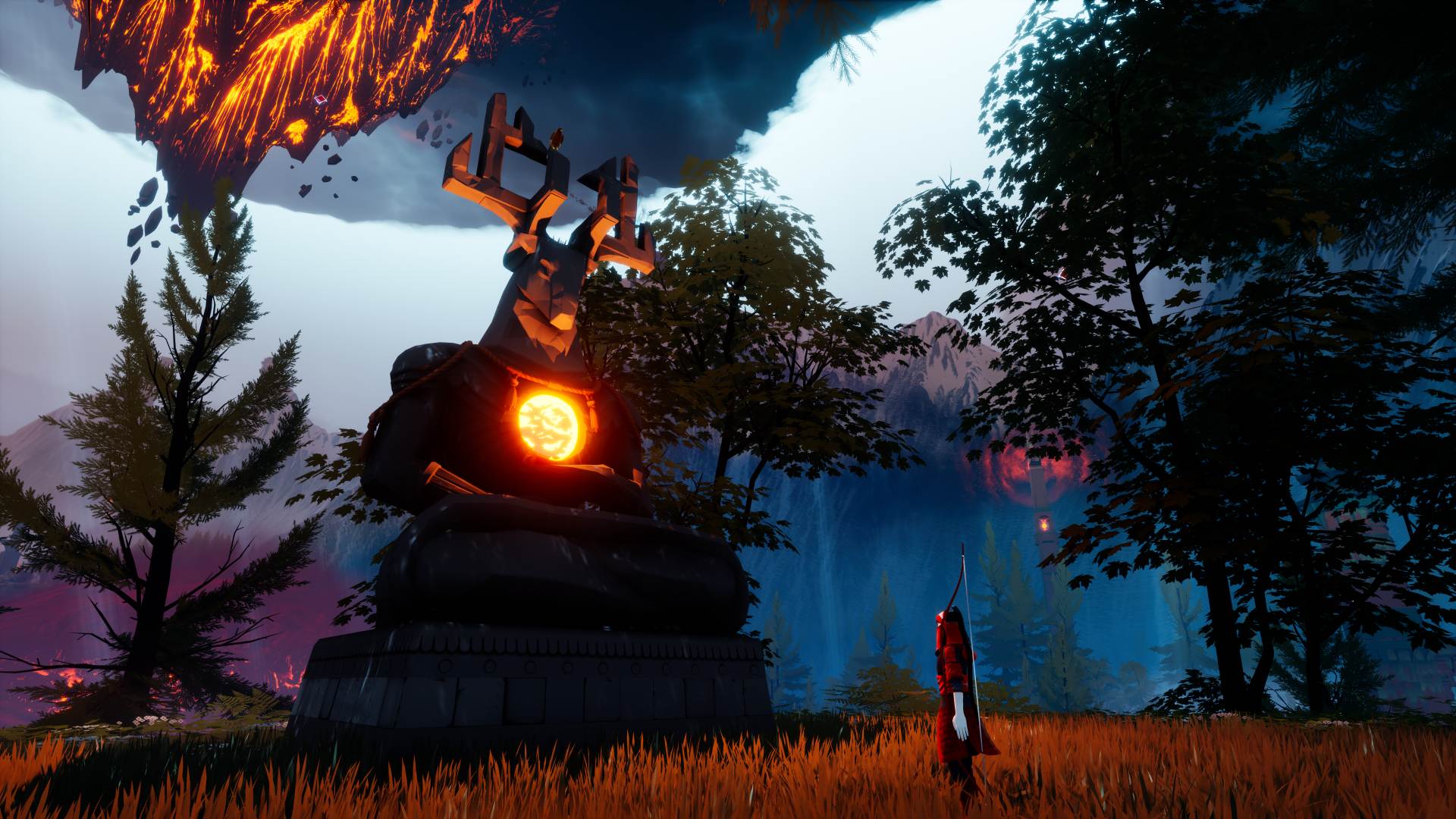 The Pathless is also coming to PlayStation 4, PC, and the Apple Arcade. But as a PlayStation 5 launch title, it'll also have some neat features specifically for that console. A silky-smooth 60 frames per second option is an obvious benefit—one that's especially great for a motion-centric game like The Pathless—but Giant Squid is also making use of the DualSense's haptics. The trigger will rumble for bow-shot timings, which sounds like it lets you sink into the rhythm that much more.
With all this movement, it makes sense that the world of The Pathless is fairly large. It's bigger than Abzu, and separated into different areas by plateaus. Scattered around are key objectives for progression—the gems and towers that let you cleanse the god-animals—but also a number of optional puzzles and challenges. These reward you with more crystals that go towards your eagle companion, eventually boosting its flap charges.
Get enough flaps in one area, and you can even sequence-break the plateaus, according to Nava. It's amusing that you can grind upgrades in this game, though it might be challenging with the storm seemingly constantly on your heels. While you complete various challenges and set up the final confrontation, a beast roams the land surrounded by a storm, and if caught by it, you'll have to complete a short stealth mini-game to reunite with your eagle pal and escape.
It's a short annoyance in an otherwise smooth blend of motion and rhythm, culminating in the final fight of the plateau. You have to locate and chase the beast, taking out various evil eyes that spawn on its body, until you blast it with enough light to restore its original self. Once you do, no more storm and you're free to move to the next area. But really, the choice of when you engage with the final conflict is up to you.
It helps that there's no map in The Pathless. Instead, you can invoke a detective vision-like view that highlights points of interest, and also tracks which areas you've already been to and which you haven't, in one big sonar-style ping. Giant Squid doesn't seem to want you opening maps and scrying over locations.
"There's no defined path. You can go any way, and you have to find your own by understanding the world in this kind of unique way," Nava says. "It makes you think about the space in an interesting way, and it makes you think, 'Oh, I'm gonna get up high on something so I can look down and see more navigation information.'"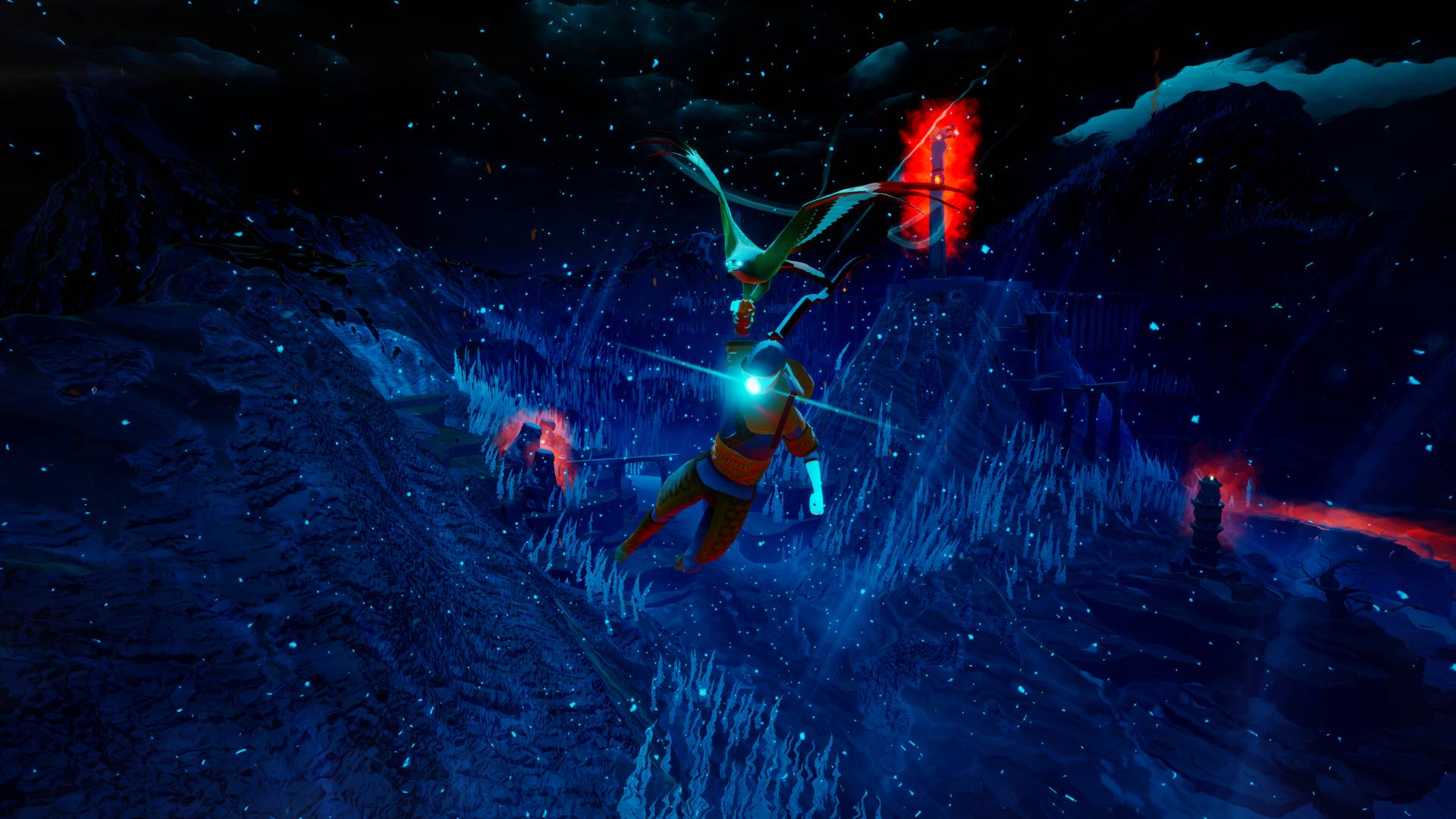 It might sound ambitious for Giant Squid, but in practice, The Pathless is something unlike any preconceived expectation I had for it. At the outset, I was sure I understood the general idea of what a game about an archer with an eagle companion would be. I went in expecting Zelda, but it's more like Sonic or Panzer Dragoon; rather than slowly parrying and returning fire with arrows, I was speeding through foliage and dodging fireballs, leaping into the air to line up a lock-on and fire in perfect rhythm.
The Pathless is fluid, and absolutely gorgeous—not really a surprise coming from the folks who made Abzu. It's got a fascinating take on archery in motion, combined with a world that seems like it will always have some new secret tucked away, some puzzle or movement challenge to complete. New consoles arrive in just about a month, and indies often end up rounding out holiday playtime once the big AAA releases are out of the way. If you're looking to flesh out a launch lineup, The Pathless should be on your radar.