The Outer Worlds Companions Guide - Where to find every follower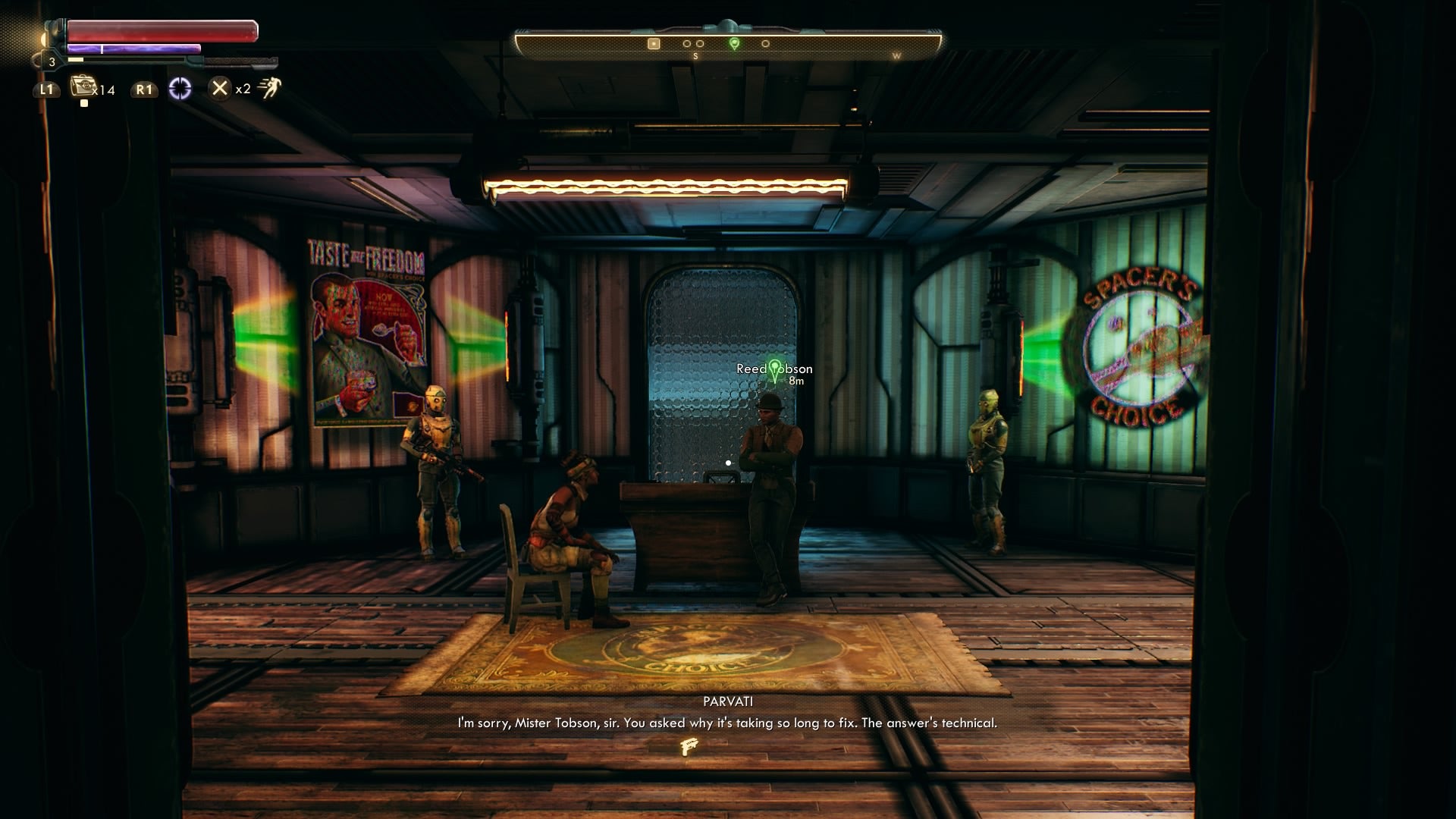 The Outer Worlds just wouldn't be an Obsidian RPG without a cast of kooky companions to recruit. And while many of the followers are tied to story missions, it's easy to miss a couple and leave them stranded without a crew. Here's how to find and recruit every follower and companion in The Outer Worlds.
On top of all the fun Companion Quests that adding to your crew unlocks, your character receives bonuses based on the company you keep. Each follower has three special stats which reflect their areas of expertise.
When these skills are called upon, they can either step in to help or boost your abilities. These buffs stack as well, so you can create some powerful teams that make a big difference to your starting stats.
For example, the early follower Parvati buffs both your Persuade and Engineering skills. So you can pass tougher Persuade checks when they appear. But she can also step in to solve engineering problems, like with the Edgewater quest, Die Robot.
You can also unlock perks for companions which further boost your skills while they're in your party.
While I'll keep specific story details brief, expect minor spoilers for planet and location names, quest names and solutions, as well as the order you unlock companions and when you can access their follower quests.
Edgewater Companions
There are two companions you can recruit in the Terra-2 settlement of Edgewater - your first port of call in The Outer Worlds. One is pretty much unmissable, while you'll have to complete some optional objectives to find the other.
Parvati
You'll meet Parvati as you approach Reed at the Saltuna cannery in Edgewater, and she'll offer to help out with the Rebels. Agree and she'll become a permanent Companion.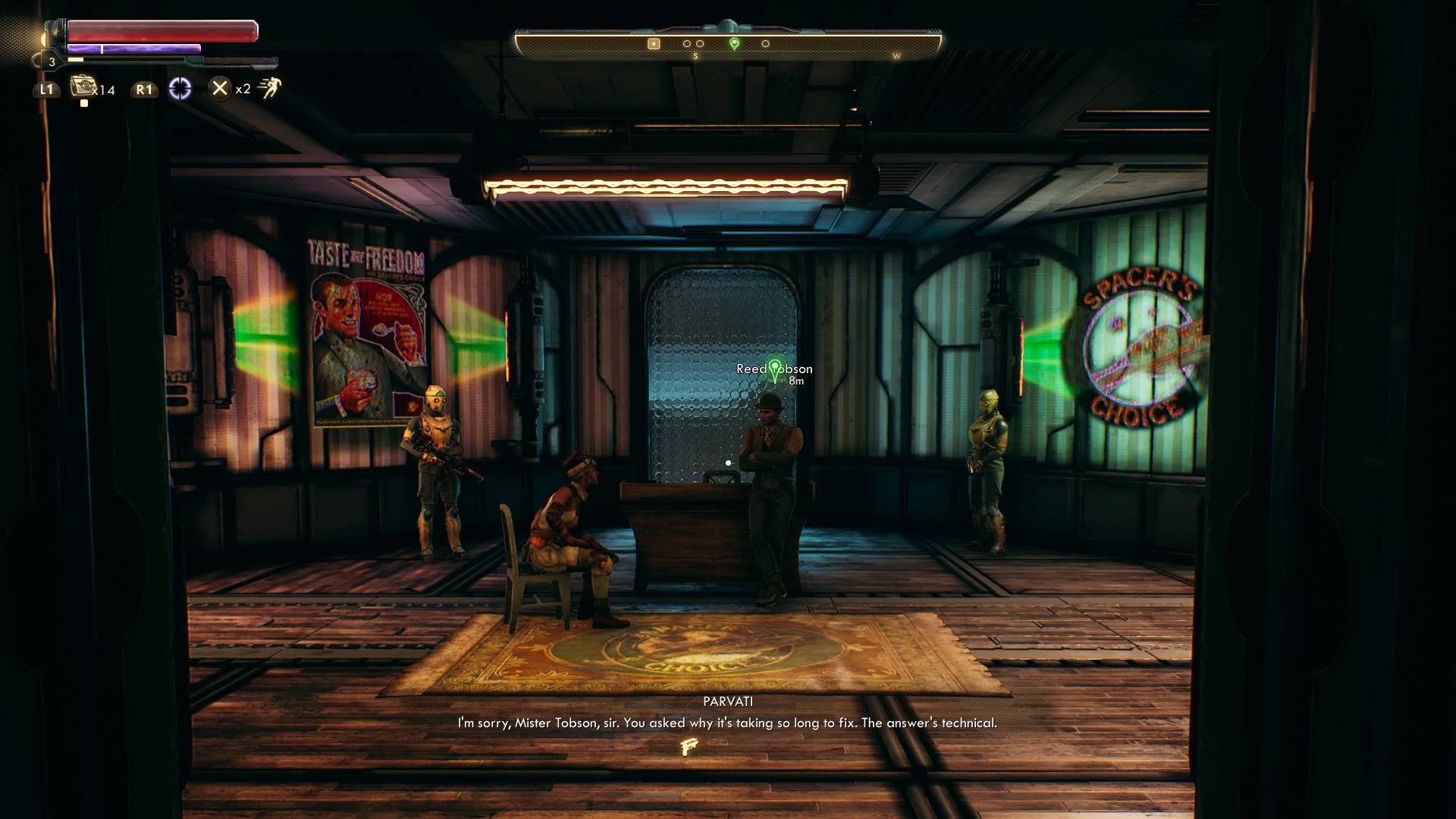 Parvati's follower quest is called Drinking Sapphire Wine and is accessed by taking her with you and speaking to her on The Groundbreaker.
Vicar Max - The Illustrated Manual Quest
Before you head over to the Rebels, Parvati will ask you to seek advice from Vicar Max in Edgewater. Visit him at the church and speak to him. Over the course of the conversation, he'll ask you to acquire a banned text for him.
Agree, and follow the straightforward quest markers on the map. You'll need to clear out or sneak around Marauders, but they're not too tough. Watch out for mines when you reach the book's hiding place in the underground cave though.
Return to him to complete the quest. Agree to help him translate the book and he'll join the crew as a permanent follower.
As mentioned above, Vicar Max's follower quest - The Empty Man - can be accepted once you return the book to him and agree to find a translator; it takes you to Scylla, The Groundbreaker, and Monarch - so bear that in mind before you try to complete it all at once.
The Groundbreaker Companions
Felix
You'll meet Felix as he argues with corpos just outside the landing pad at the Groundbreaker. Speak to him and choose sympathetic dialogue choices, then when you return to your ship having lifted the lockdown he'll be there waiting. Give him a quick interview and he'll join the crew.
His follower quest - Friendship's Due - unlocked for me on The Unreliable after travelling with him for a while around Monarch. Speak to him to start it.
Ellie - Worst Contact Quest
Ellie is probably the most missable of all of the companions. You start her quest in the med-bay on The Groundbreaker. Speak to her there and agree to check on Jessie.
The easiest way to complete the Worst Contact quest is to enter the med-bay, pick up the disguise from the table next to the "Restricted" area. Then walk - don't run - around the corner to the quest marker and speak to Jessie. Agree to settle her debt, then speak to Udom at the Byzantium embassy.
Here you can either pay her dues - around 2,200 bits (not a huge price for a follower in the grand scheme of the game) - or you can persuade him to allow her to balance her debt with a work contract. I chose to pay, for what it's worth.
Return and speak to Ellie, and with the matter resolved she'll agree to join your crew.
The Low Crusade, her follower quest, unlocks once you reach Byzantium.
The Unreliable Companions
SAM - The Cleaning Machine Quest
In the Crew Quarters of The Unreliable, you'll find a decommissioned cleaning robot: SAM. Speak to ADA about your discovery and she'll point you to Hawthorne's terminal in your cabin.
Here you'll find a message that points you towards the Roseway research centre on Terra-2. To get there, you need to speak to Gladys on The Groundbreaker and investigate the distress signal on your ship.
Once there, follow the map marker to the laboratory and you'll uncover an Acid Steeper, which you can then install into SAM back on the ship.
Monarch Companions
Nyoka
Drunken big-game hunter Nyoka is pretty unmissable since she's tied to the main quest "Radio Free Monarch".
Speak to her in Stellar Bay and she's three sheets to the wind. To get her on side, you'll need to complete the side quest "Passion Pills".
To get the Caffenoid, follow the marker and speak to Auntie Abi. Either intimidate her or weasel out the location of the late Dr Williams' body. Lift the key card to the storeroom from his corpse and you'll be able to easily swipe the hangover cure.
Take it back to Nyoka and she joins your party.
Her Companion Quest - Star-Crossed Troopers - unlocks if you talk to her while you're walking to the broker on Devil's Peak.
Best Companions in The Outer Worlds
| The Outer Worlds Companion | Stat Buff 1 | Stat Buff 2 | Stat Buff 3 | Extra Perk Stat Buff |
| --- | --- | --- | --- | --- |
| Parvati | Persuade | Lockpick | Engineering | Engineering |
| Vicar Max | Intimidate | Hack | Science | Hack |
| Felix | Persuade | Sneak | Lockpick | Persuade |
| Ellie | Lie | Medical | Engineering | Medical |
| SAM | Intimidate | Hack | Science | Intimidate |
| Nyoka | Lie | Sneak | Medical | Lie |
Creating powerful parties in The Outer Worlds is all about stacking buffs. This way, you can easily boost your prefered dialogue and infiltration skills to 100.
For instance, teaming SAM with Vicar Max gives you huge, huge boosts to both Hack and Intimidate - easily pushing 100 if you level up to ~50-60 naturally.
Alternatively, you can also do this with Persuade and Lockpick by teaming Parvati with Felix.
However, many followers have unique interactions in certain situations. For instance, Ellie can step in when characters require medical intervention, or if something mechanical needs fixing, Parvati can lend a wrench.
Now that you've gathered your crew, here's where you can find all of The Outer World's Science Weapons from the Void.
You can also check out our guides on where to store your items, how to complete the Die Robot questline and our top tips for what Attributes, Skills, and Aptitude you should pick.