The Master Chief Collection in 2020: Passion, Tech Debt, and the Heartbeat of Halo Fandom
With today's release of Halo 3: ODST for PC, USgamer sits down with 343's Michael Fahrny to talk about the always improving (but not-yet perfect) Halo compilation.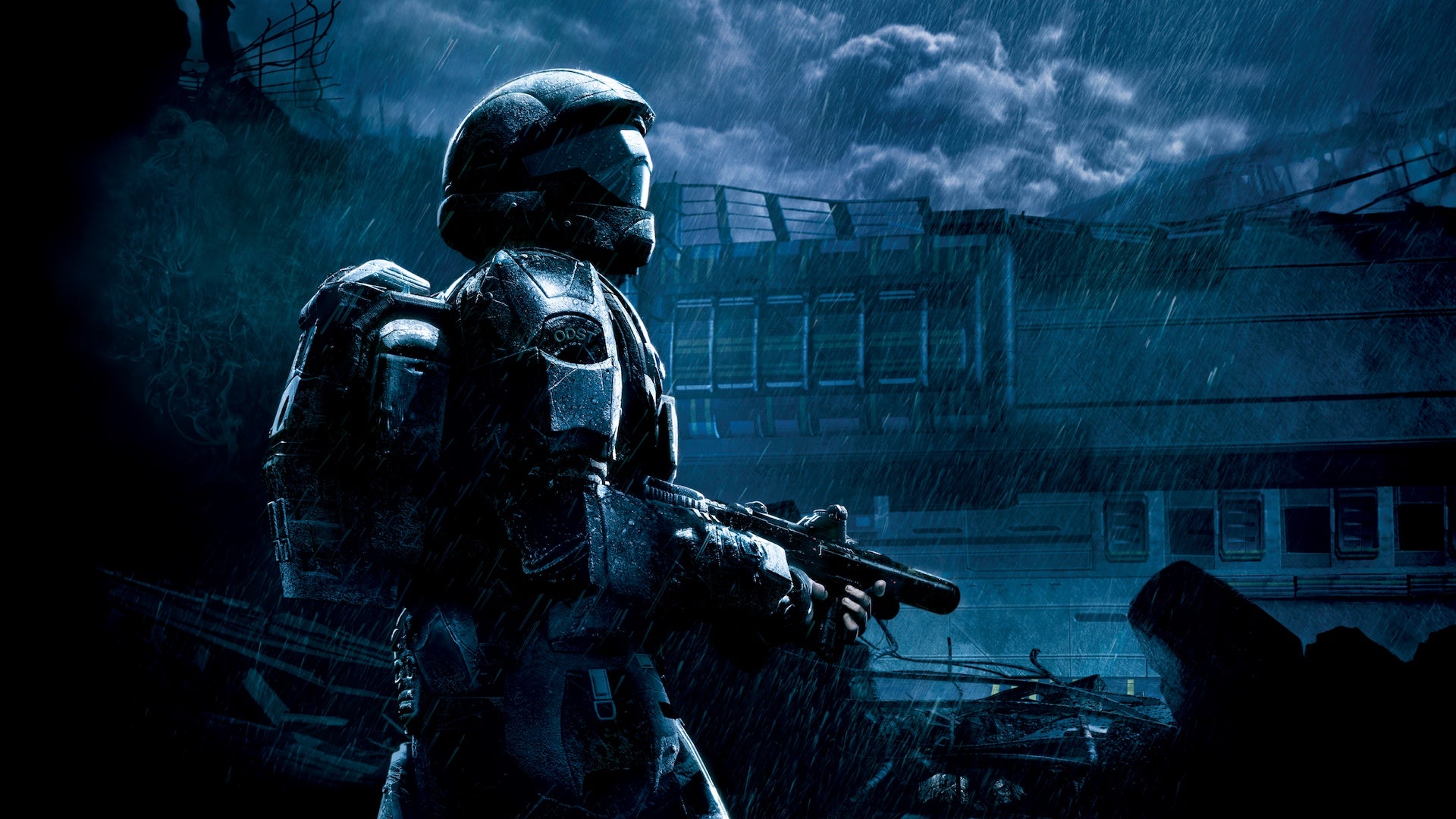 This article first appeared on USgamer, a partner publication of VG247. Some content, such as this article, has been migrated to VG247 for posterity after USgamer's closure - but it has not been edited or further vetted by the VG247 team.
The first time I played Halo was on an Xbox, but the first time I actually owned it was a couple years later on PC. My older brother had an Xbox in the house, but we used it basically as a Jet Set Radio Future and Tony Hawk's Pro Skater machine. For Halo, I waited until the launch of Gearbox Software's PC port, released in 2003. By the time Xbox Live Halo 2 sessions were in full swing, I could already enjoy custom-made maps on Halo's PC multiplayer. Even with the addition of Forge to later titles, it always felt to me like Halo was missing something by not being on PC.
Now it's 2020, and Microsoft deciding against releasing one of its titles on PC would be a significant break from strategy. New titles like Gears Tactics and Microsoft Flight Simulator are helping define a new era in the company's approach to PC gaming, but Halo: The Master Chief Collection (the MCC) is arguably the most important title out of all of Microsoft's PC releases.
Introduced in 2014 for Xbox One, the MCC was initially plagued with severe matchmaking issues. It's been a long road to redemption since then, and the past year's sprint to get all those Master Chief titles (plus Halo: Reach and now Halo 3: ODST, releasing today) on PC has been full of ups and downs. That Xbox One launch gave folks pause when it came to Halo 5: Guardians, and pushed 343 to ensure that the new title launched in a better state. With a heap of data and a year of PC-specific insights to draw on, the MCC has also helped set the quality bar that Halo Infinite needs to pass with its multi-platform launch next year.
Michael Fahrny, Senior Producer at 343 on the MCC, recently chatted with USgamer about the challenges of the past year's PC push and how the MCC will evolve after Halo 4 rounds out the package. From integrating live-service angles, the future of modding, and ensuring the MCC's longevity post-Infinite, Fahrny's happy to candidly discuss just about everything regarding the collection—just, please, don't send him any hate mail because he points out which game is the most popular.
---
Porting over a single game to new hardware can be a difficult and potentially thankless task. Some folks in-the-know have a shortlist of studios known for doing great ports (Saber Interactive is probably on most of said lists, and it contributes to the MCC). Emulation of older titles is also a possibility in some cases, as with the new Super Mario 3D All-Stars collection. Bringing most of the Halo series to PC in a single, unified package designed to onboard new players and satisfy the hardcore necessitates a different approach.
That has resulted, Fahrny says, in a package built across 12 different game engines, most of them iterations on Bungie's "Blam!" tech which has barely been used beyond the series. Fahrny, who joined 343 in late 2018 to help bring the MCC to PC, has learned from experience that potential setbacks and dead ends are lurking just under the surface.
"When I came in I was like, 'I want to rip everything up; let's pull the hood up, expose everything, and see what we can do here,'" Fahrny recalls. "Things just get super complicated—you end up going 'let's open this door,' and then you fall down a 10-foot hole and have to dig yourself out, to give you a bit of an analogy there."
343's approach to these "10-foot holes," from the ones it's fallen in (like the Halo: Reach port's audio woes) to the ones it knows to avoid, has been to be upfront with players about them. Fahrny is a regular contributor to the MCC updates posts at Halo Waypoint. "I wanted to be more open about not just the good things that are happening, but some of the bad," says Fahrny. "We obviously don't have time to get into everything—those things end up being 10,000-plus words, you kind of pick and choose things—but I think it's been pretty cool to watch the community reaction to that."
The main focus for MCC's past year has been the PC releases, which have brought a new title to the collection every few months since Reach's launch in late 2019. While the primary aim is to get the games out there and stable—a formidable task that can also introduce new problems—each release also presents an opportunity to fix existing issues.
"We have a mountain of tech debt, we always have for MCC," Fahrny says. "We've added some on top of that. One of the things that we've done with Saber over the last six months is, as features have come online, we try to spin people off into a strike team that specifically is going back through and trying to pinpoint those issues. So basically, on PC with each title launch we're not only just releasing the game, we're trying [to fix] community related issues, maybe some old legacy issues that we can fix that are low risk, and get this mountain of tech debt down."
For every title in the MCC, 343 has a list of bugs and feature requests that can stretch back over a decade. Some issues were present in Bungie's original releases, some come from the MCC porting work, and others came in-between. "I know a lot of people are still unhappy with the original Gearbox port," Fahrny notes, nodding to the PC version of the first Halo that I played as a teen and which also serves as the basis for the MCC's version. "I do want to go back and do as much as we can there at some point, but right now with our current priorities, I can't really open that door because it will completely destabilize the project."
Teaching an Old "Blam!" New Tricks
Hearing about the "mountain of tech debt" makes it sound like MCC development is mostly focused on fixes, but 343 and its partners have still managed to add new content and features to the collection whilst ironing-out wrinkles where it can. Today's launch brings ODST's campaign to PC, yes, but it also adds the game's Firefight co-op mode to both PC and Xbox One with a host of new gameplay features, like the addition of the Battle Rifle, as well as weapon and vehicle settings. On top of that, integration with the MCC's relatively new seasonal live service model is bringing additional cosmetics to Firefight plus brand-new armor, weapon, and vehicle customization for Halo 3's multiplayer.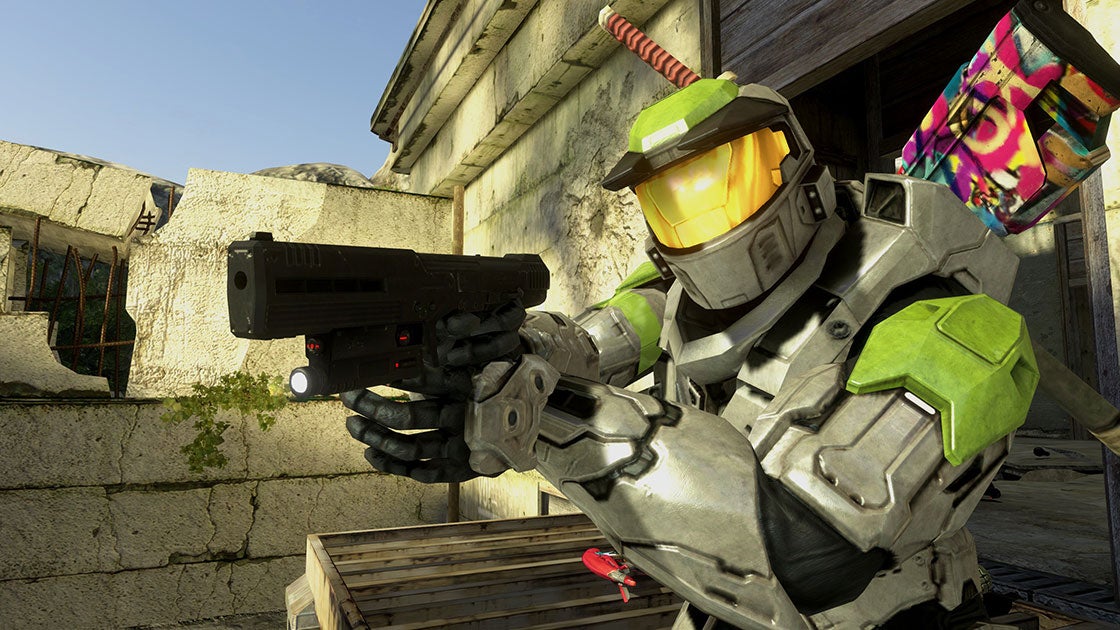 It is rare, in anything short of a full remake or remaster, to see new features like this added to a legacy re-release (yes, typing those words about Halo 3, a game that came out in 2007, makes my bones ache). Fahrny says that, like many decisions 343 makes, adding new cosmetics to older Halo titles is informed by both passion for those titles and the hard data.
"Halo 3 is, I can safely say, most people's favorite," Fahrny says. "I'll probably get some hate mail for stating that, right? But that one's got the most love so far, and will continue to get some because it's probably our most-played game in the collection right now."
Halo 3 isn't the first title in the MCC to get new multiplayer cosmetics, however. "We chose Halo: Combat Evolved to do that first," Fahrny points out. "One of the reasons there was [that] it's the hardest one to do. We knew that if we could prove it out in that, and stand up our content line to do that, we'd be pretty set for the remainder of the games."
The goal is to keep giving each title in the collection "a little bit of love," and with today marking the launch of the MCC's third season, Fahrny says 343 has already got the next two in the development pipeline and ideas underway for the sixth and beyond. Again, we're talking about sustained plans for adding new content to games that came out over a decade ago, set in motion to overlap with the introduction of Halo Infinite and its free-to-play multiplayer. Despite talk of Infinite becoming a new, long-lived platform for the series, 343 isn't planning on abandoning the MCC—which Fahrny calls "the heartbeat and pulse of the Halo community"—any time soon.
"What I can say is that I'm currently planning out the next year of MCC," Fahrny says. "There's no plans to stop the train from moving as fast as it has been, more or less. We are going to be switching from game release development to more of a feature and sustained release development. We do plan on continuing season content, kind of in perpetuity as long as people are there playing—we can collect data on the content people are still interested in, and for MCC in general there will still be support."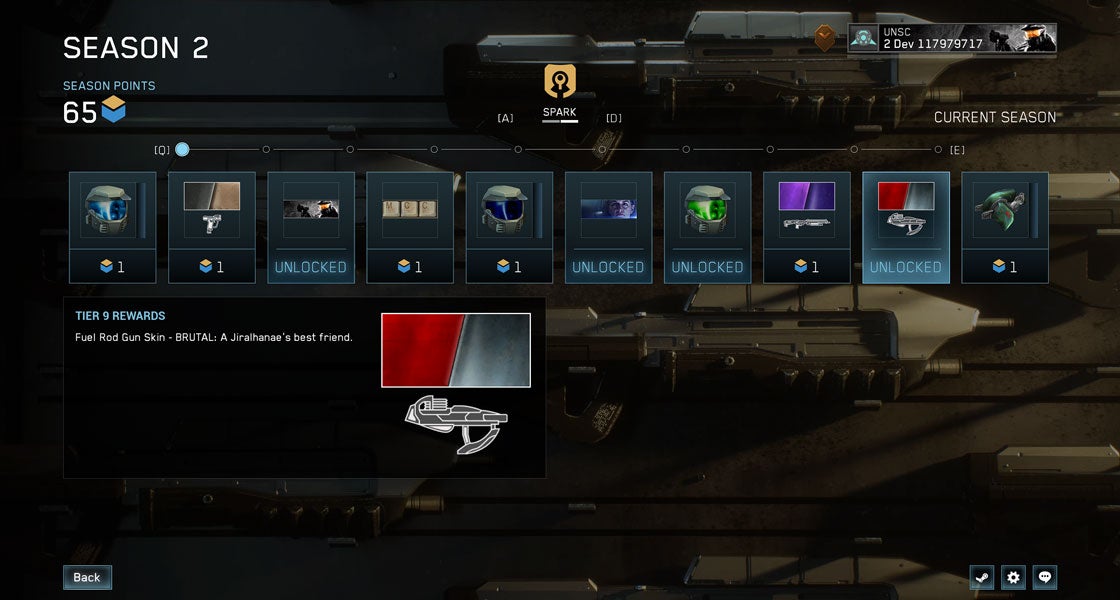 Someone Built It, So It Must Lead Somewhere
With the MCC embracing not just the preservation of the Halo franchise but new additions as well, it also dabbles in restoration of cut content. The Halo: CE flamethrower, once a Gearbox port curio, can be commonly found in MCC's multiplayer playlists. There have also been teases about bringing back the GRD, a helmet variant that was glimpsed but eventually never added to Halo: Reach's beloved range of Spartan armor.
Fahrny says that although the MCC team does have access to large archives of Bungie and 343's older Halo work, there are "surprising" things that the team misses. Still, it sounds like there's no shortage of work that could be done to reintroduce old or abandoned content, such that the team doesn't want to get ahead of itself or get the community's hopes up only to discover it's dropped into another 10-foot hole.
"A lot of that stuff happens in secret," Fahrny says of the investigations and "constant tinkering" the MCC team does to look at restoring items or features. "And then, once it's actually ready and we understand that it's going to meet the quality bar for both our team and the community, then we'll talk about that stuff."
That sums up 343's approach to modding as well, at least for the time being. With the original Halo PC port having received a suite of mod tools back in the day, it did not take long at all for people to start tweaking the MCC releases, and that's something that 343 seems happy to see (so long as you're not cheating online, of course). Further support for modding has come up time and again in discussions around the PC releases, but it's still something people should remain patient for until after Halo 4 rounds out the collection.
"The modding story is something that we're still continuing to build," says Fahrny. "It's very important for us from a franchise level and from a community level. We really want to empower the community to continue to just grow the games and the collection, [and] they've already done some great things with the very limited toolsets they have out there." It's still too early for talk of officially supported tools, but Fahrny promises he's currently working on those kinds of plans and will have more to say in early 2021.
Even further out than potential PC mod support is the idea of bringing mods to consoles. It's been discussed, even quite recently Fahrny says, but it's another matter of letting the data inform the MCC team's decision making. First, the PC ecosystem would need to be "actually up and running with mods," giving 343 insight into what people like to play and what could make sense for consoles. After that, the team could start evaluating "some of these other options that developers and partners have done on consoles for modding" to devise a plan for bringing that to Halo on Xbox. We even touched briefly on Bethesda's console mod support for Fallout and Skyrim prior to news of Microsoft's ZeniMax acquisition (now, cross-studio knowledge sharing on the subject would appear to be a possibility).
With a hint of dissatisfaction in his voice, Fahrny acknowledges that the console version of MCC is still waiting on certain improvements to migrate over from PC. "In all honesty, I don't think we're quite there yet," he says of the PC push benefitting Xbox players. "The priority has been getting the games out on PC, but we are now reaching the pivot point where some of these PC features will start hitting consoles."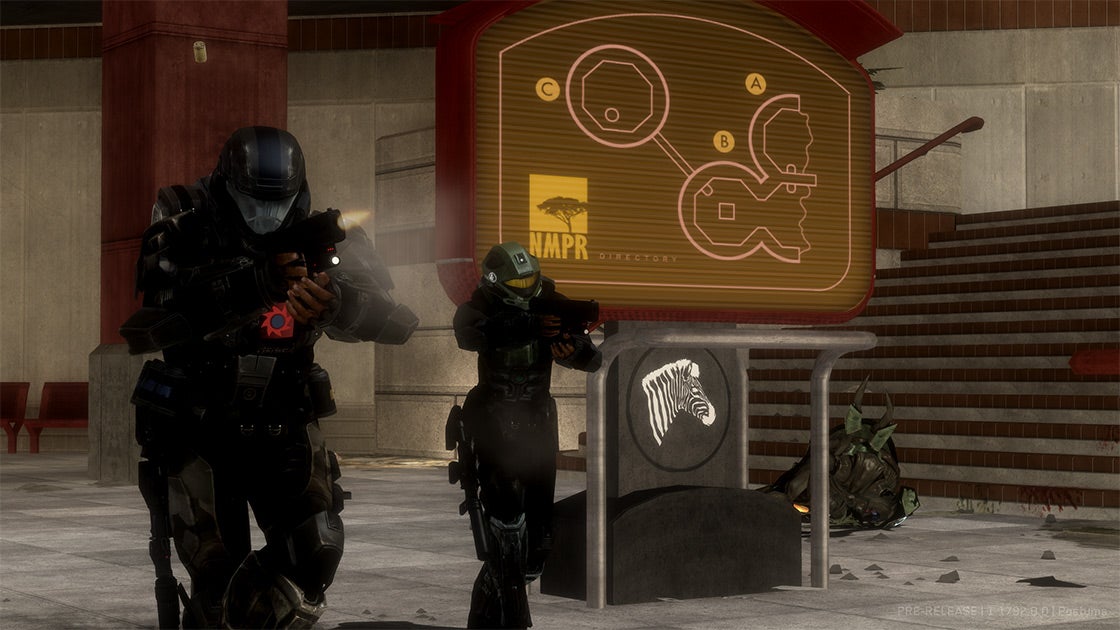 Cross-play is on the list, and features often not found in console shooters like field-of-view sliders and view model adjustments are also being looked at for Xbox viability. The team also isn't ready to discuss any solid plans for new MCC features on the Xbox Series X or Series S, but Fahrny does say there are "potential factors" to bring some PC work over "especially for the newer hardware."
Infinite Room for Improvement
Though Fahrny and the team are careful not to set anything in stone that they can't guarantee, it should be reassuring to players on both PC and Xbox to hear that these old Halo titles will enjoy at least another year, if not more, of the support and attention they've been receiving of late. Peeking behind the curtain of the MCC's development may also come as reassurance for fans worried about Halo Infinite, especially in the wake of its delay.
Following Infinite's delay to 2021, lots of headlines (including USG's own) focused on the addition of former Bungie writer Joseph Staten to the project. Staten's new role as Project Lead on Infinite's campaign has been taken by many as both a step in the right direction and as another potentially worrying sign of struggle with the single-player, but he's also being joined by Pierre Hintze. Hintze, once the head of 343's MCC publishing team, is the new lead on Infinite's free-to-play experience.
Clearly, Hintze's addition to the team signals a desire to bring lessons learned from the MCC closer to the core of Infinite, but the collection's trajectory will influence the next Halo in other ways as well. Fahrny stresses that he's not essential to Infinite's development, but says that the teams at 343 do regularly check-in and share their expertise around.
"I'm really so far removed from [Infinite], but what we do as a team and as a studio is we're very data-driven," Fahrny explains. "Everything we do with MCC gets seeded into the rest of the teams at 343 to learn from. MCC is a great test bed for a lot of different things within the community, so we definitely communicate frequently with the Infinite team about the things that are working for us, and the things that are not. They ask us a lot of questions, PC-centric stuff specifically. I have very regular meetings about that stuff."
Fahrny adds that the MCC team has also spread some of its know-how regarding remote work and working with external partners to 343 and "Microsoft in general" where it can, especially with regards to the pandemic. "I think because we're so heavily on the publishing side with partners, we definitely had a leg up," Fahrny says of the early transition into quarantine work.
"I think the first month was a shock, like 'is this permanent, do we keep just trying to do the same thing that we've been doing before?' It doesn't affect how we're working with our partners in any way, it just requires a bit more management from people on the production side to make sure that for all those hallway and organic conversations that happen in the office, we still figure out a way to pick those up. We had a lot of learnings around that."
Having moved away from a lockdown rhythm marked by "meetings all day, every day" that left Fahrny and others feeling "more burnt out than [they] did at the office," he says the team is now at a point with designated quiet times and other allowances that leave them in good shape to take on Halo 4 and look to the MCC's future. That includes bolstering the small MCC group with some new additions, from a few producer positions to a new UX designer.
"We're very small, but as we continue to support MCC, it was already a struggle with just the size of our team and our partners that do it," Fahrny says. "We realized we needed to grow."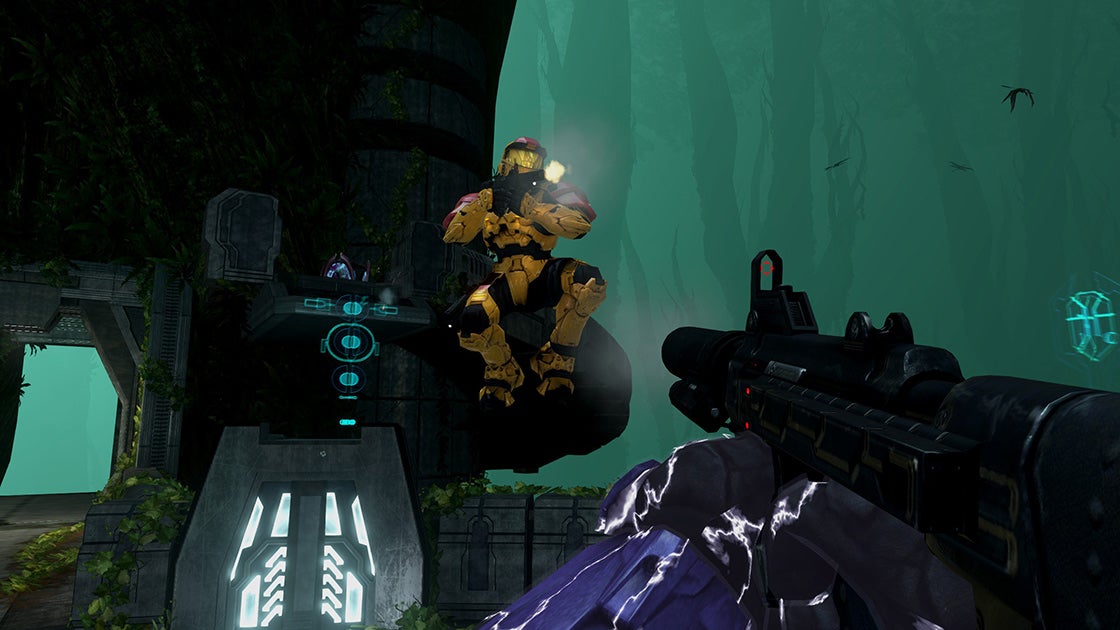 That, more than anything else, should come as a sign that the MCC story is far from over. There's a lot riding on the success of Halo Infinite for both 343 and the future of the series, but the continued commitment to supporting the MCC shows that Halo's past is in good hands. Personally, I still hope the days of PC mods, cross-play, and more are not far off, but I know these things take time.
Fahrny does too. "Oddly enough, it's a full-circle thing for me—[Bungie's] Marathon got me interested in game development, I got into game development, now I've circled back 20 years later to working at 343 and on Halo, on some of the games that got me into this whole thing," he says. Looking back on the MCC so far, going from a troubled package to a beloved collection that's shipped several large releases during a pandemic, it seems like Fahrny only stops moving long enough to appreciate this arc every once in a while.
"It's definitely been a journey," Fahrny says, chuckling, "but, I think we've come to a pretty good cadence right now."