The Last Guardian walkthrough part 10: Climb the spiral staircases, destroy the glass eyes, the leap of faith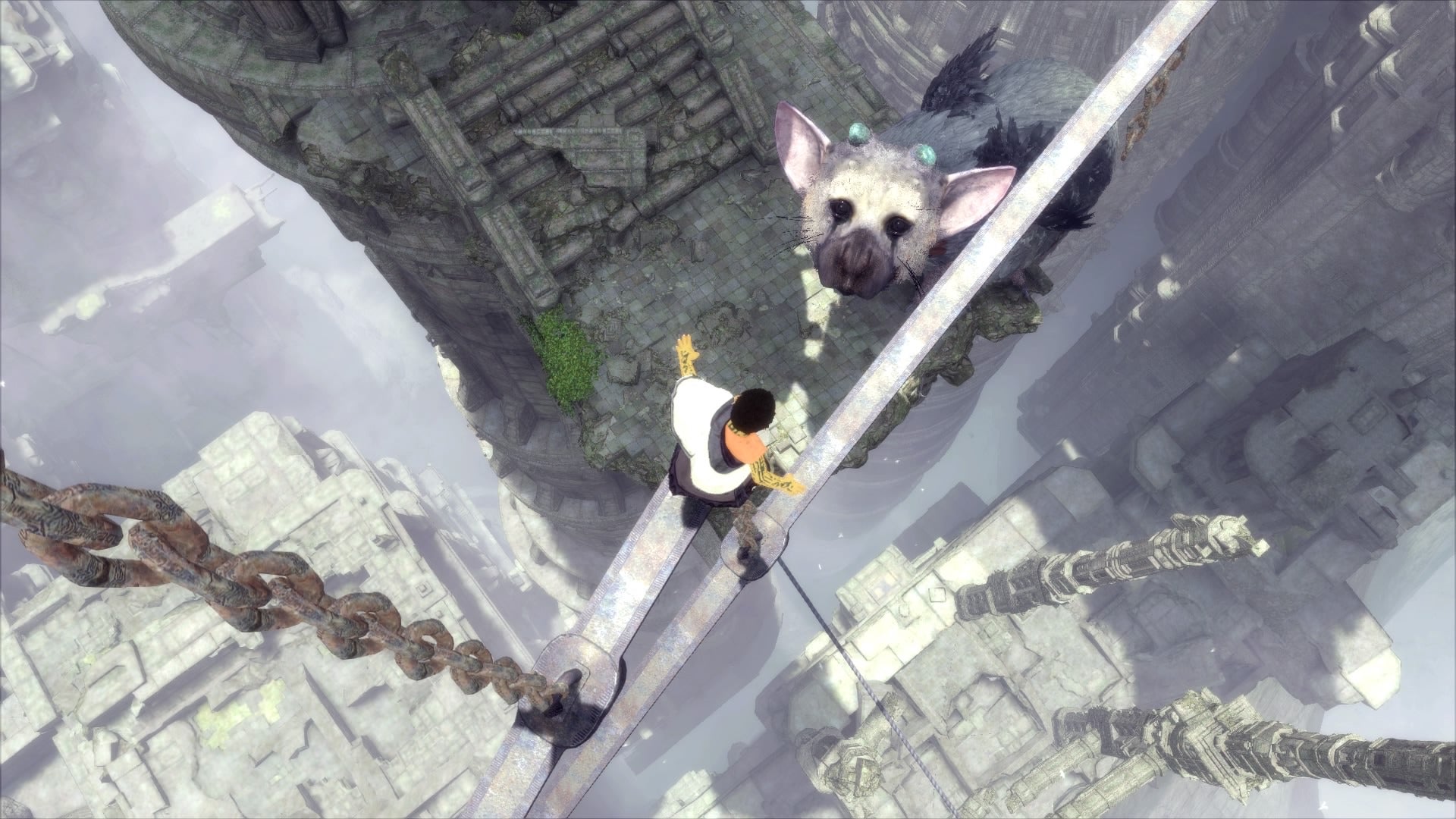 How to move the minecart
You're in a courtyard with the half-buried statue of a Trico in the grass. There's a mineshaft and cart in front of you, but the cart is blocked by the gate.
Walk into the mineshaft and down below the track you'll see a crack on the left, which you should walk through to get the barrel.
Take it to Trico, it's hungry. You'll need to throw it towards the stones with the blue glowing tiles on when you can't walk any higher with it, then jump over and pick it up again.
Once fed, go back inside the mine and pull the cart to the rubble, then use it to climb up to the platform and pull the lever, opening the gate for Trico to walk through.
Now lead Trico into the dark corridor on the left, carefully. You need its horns and eyes to light a path here as it's pitch black. Carefully make you way into the furthest corner (if you fall, you'll have to walk out the crevice and back around again). Once in the furthest corner, get Trico to jump (R1 and triangle) up into the light.
Get Trico to lean on the closed drawbridge to knock it down.
Then hold on as it leaps to the pillars until it comes to a stop in front of a stained-glass eye. You can't go past it, so you're going to go under it.
Climbing the spiral towers
Climb down Trico's tail and leap onto the pillar, beneath where it stands.
Walk across the tightrope and up the ivy on this first pillar, then round to the right, up the tightrope and up the ivy to the second pillar. Finally, walk along the third tightrope to the glass eye wind chime and drop the glass eye to the floor.
Carefully shuffle down the chain links to get to Trico. Carefully!
Now hop on Trico and command it to climb the spiral staircase, which it will until it reaches another glass eye blocking the way.
Hug the wall and follow the path around and up, through the gap, and onto the beam that supports the eye.
Pull the lever and it falls, causing the beam to snap as well. You're left dangling.
You're going to need to drop, but make sure you call Trico as you do, otherwise it won't catch you. Once reunited, Trico will climb back up the spiral staircase to the very top of the tower, before something very dramatic happens…
Next - Part 11: how get out of the tree, how to escape the water cave