The Halo: Reach launch - midnight openings, review scores, supermarket pricing, more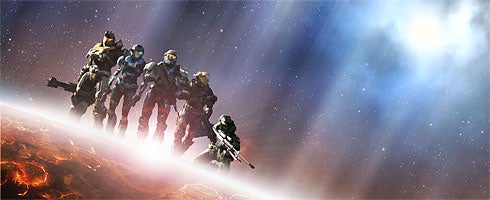 After ten years working on the IP, Bungie says farewell to Halo with the launch of its final game, Halo: Reach, at midnight tonight.
Want to know about the openings? Planing on getting it with a fresh loaf down at the supermarket in the morning? We've got you covered.
You're standing in the pissing rain at night for a game? Are you mad?
Retailers GAME and HMV have promised to open doors in stores around the UK. Main launches from GAME are at the Westfield Shopping Centre and Oxford Street in London.
Other stores will be open in Edinburgh, Cardiff, Dublin, Derry, Leeds, Belfast and more.
You can find launch details for GAME here, while HMV's launches are over on MCV.
GameStation's opening up for it as well. You can get all the details on the chain's Reach effort here.
While you're there getting your computer majob, get some milk
Once again, as with FIFA 10 and Modern Warfare 2 before it, Reach will have supermarkets cutting each others' throats for the cheapest deal.
Sainsburys has the game on for £35, while Asda is selling it for £37.47. If you get it from the latter, you'll have the option to buy a Reach hoodie for the bargain price of £9.
Tesco is selling it for £37.70, although as we reported last night, if bought with 2,100 MSP, the price will go down to £28.
Morrisons is selling it for the normal price of £39.99.
No regrets from Bungie
This may be the end of Bungie's involvement in Halo, but the developer has said it has no regrets about the past ten years.
"I don't think anyone at Bungie has specific regrets about anything that's been done through the Halo series but everyone can look back and find things that they would probably do differently or improve upon if given a chance," Bungie's Brian Jarrard told CVG.
"That drive to constantly improve and outdo our last effort is definitely one of the forces that pushes our entire team to continually raise the bar."
343 Industries now takes over the day-to-day running of the series, but if an outside developer were to develop a main Halo title, what would the studio's thoughts be?
"Any developer who shares the spirit, passion, attention to detail and fan service that have come to define the series thus far would be in a good position to take the job."
Multiplayer goes Silver this weekend only
Microsoft's also announced it's opening Live up to Silvers for Reach only, beginning this weekend.
From September 17-19, anyone who isn't a Gold Live member can experience the full multiplayer experience of the game.
"No game is bigger then Halo," says MGS's Spencer
Forget your Call of Duties and your Grand Theft Autos: Halo's the big stuff, according to Microsoft Games Studios boss Phil Spencer.
"When it comes to the size and scope of a franchise and especially the dedication of the fans, no game is bigger than 'Halo," said Spencer, who will co-host the keynote at Tokyo Game Show on Thursday.
Microsoft claimed today that excitement for Reach is as big as that for the launch of Star Wars: Episode I: The Phantom Menace.
Spencer added: "With Halo: Reach, we're delivering on our promise to redefine blockbuster entertainment experiences and ultimately help make this year the biggest ever in Xbox history."
Bungie has now said that those who've received their copies early won't be penalised for playing right now.
In addition, Halo Waypoint has now been updated in preparation for Reach's release.
Order the game online, line-up outside for a midnight launch tonight, whatever. Buy this game: the reviews say so.
And then watch a Spartan fly about Trafalgar Square. Why not?
We'll update this throughout the day as we approach 12.00am BST.
[Pic]