The Frostbite Engine Nearly Tanked Mass Effect Andromeda
BioWare tried to make Mass Effect into a No Man's Sky.

This article first appeared on USgamer, a partner publication of VG247. Some content, such as this article, has been migrated to VG247 for posterity after USgamer's closure - but it has not been edited or further vetted by the VG247 team.
Despite the best efforts of everyone involved, Mass Effect: Andromeda failed to connect with gamers and fans of the Mass Effect series. Now, in an extensive new report from Kotaku, some of the details regarding Andromeda's troubled development were revealed including how the early version of the game resembled No Man's Sky, or how the Frostbite Engine was a particularly difficult hurdle for BioWare developers.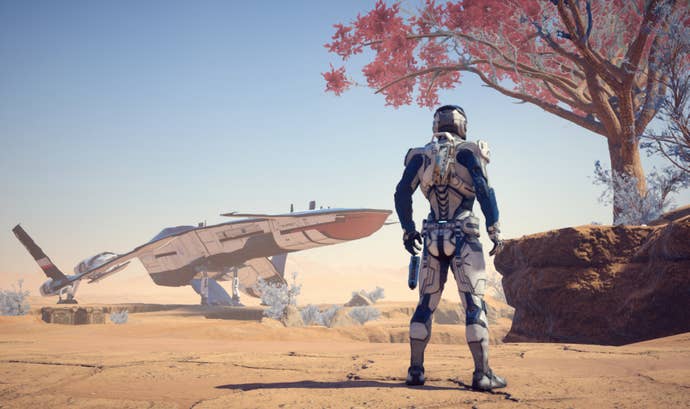 An early idea for Mass Effect: Andromeda was for player's to be able to explore procedurally generated planets a la No Man's Sky, which wasn't even announced at the start of Andromeda's development. The idea quickly caught on with BioWare developers with one source saying that "the concept sounds awesome... No Man's Sky with BioWare graphics and story, that sounds amazing."
Unfortunately, despite building protoypes which allowed players to travel space in a spaceship before landing on planets they could traverse with the Nomad space rover, there were some logistical problems. Chief among them was how BioWare could implement "BioWare-caliber" story into a game with randomly generated planets. Other problems were more technical, with some teams having trouble working with procedural tools without going in and working on a planet by hand.
Another major hurdle for developers was working with DICE's Frostbite Engine, something that was advertised as an exciting direction for Andromeda but caused serious headaches behind the scenes.
"Frostbite is wonderful for rendering and lots of things... but one of the key things that makes it really difficult to use is anything related to animation. Because out of the box, it doesn't have an animation system," said one source.
Since Frostbite has been primarily used for first-person shooters like Battlefield, Frostbite lacked basic capabilities that BioWare needed like how to handle party systems or track item inventory, leaving BioWare coders to build these mechanics themselves. Despite being a powerful engine, Frostbite just wasn't built to handle the scope of a complete RPG game like Mass Effect. These same problems plagued the development of Dragon Age: Inquisition, but continued in Andromeda.
The report details these foundational development issues, alongside inter-company politics that paints a picture of a struggling development cycle and shines a sympathetic light on the developers working under less than ideal conditions. The report even says that the bulk of Mass Effect: Andromeda, which was in development for five years, was essentially built in less than 18 months.
Check out the full report here, and check out our review of Mass Effect: Andromeda here.