The Division, Civilization 6, No Man's Sky and Dark Souls 3 among Steam's top-grossing games of last year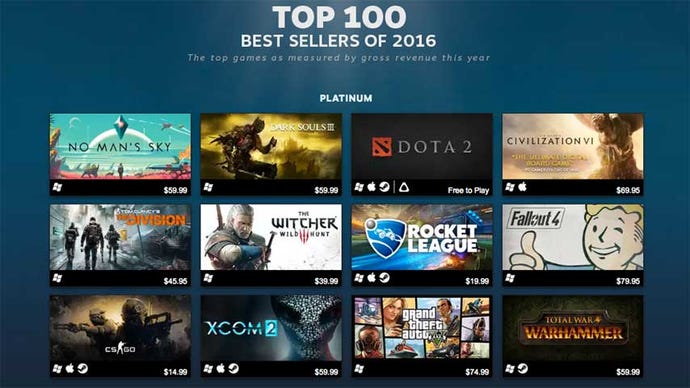 These are the games that made the most money on Steam in 2016.
Steam has published a list of the top 100 grossing games on the platform - that is, the games that generated the most raw revenue from sales, DLC, subscription and microtransactions - and it's pretty interesting for a couple of reasons.
Several 2016 new releases made the "platinum" list: Civilization 6, Dark Souls 3, The Division, No Man's Sky, Total War: Warhammer and XCOM 2. Notice there are three turn-based strategy games on there, along with a From Software RPG - all games that are considered more hardcore niche than mainstream, and none of which have microtransactions.
2015 releases Fallout 4, GTA 5, Rocket League and The Witcher 3: Wild Hunt also reached Platinum status, despite the fact that they must have sold boatloads of copies before 2016 kicked off, and would have been discounted multiple times in 2016. All of them have DLC or add-ons, though.
The remaining platinum level earners are perennials Counter-strike: Global Offensive and Dota 2. Dota 2 is the only free-to-play title in the platinum category, but you'll see loads more in the following tiers.
We won't list the full top 100 here, since you can just check 'em out on Steam, but here are the Silver and Bronze tiers:
Silver
Ark: Survival Evolved
Arma 3
Call of Duty: Black Ops 3
Dead by Daylight
DOOM
H1Z1 King of the Hill
Rainbow Six: Siege
Rise of the Tomb Raider: 20 Year Celebration
Stardew Valley
Stellaris
Team Fortress 2
Warframe
Bronze
Cities Skyline
Civilization 5
Deus Ex: Mankind Divided
Dying Light: The Following Enhanced Edition
The Elder Scrolls Online
Europa Universalis 4
Far Cry Primal
Hearts of Iron 4
Payday 2
Planet Coaster
Rust
Skyrim
Smite
Subnautica
War Thunder
Watch Dogs 2
Some points I found interesting: Watch Dogs 2 and Far Cry Primal are up there despite narratives of them flopping. Call of Duty: Infinite Warfare didn't chart - but 2015 release Black Ops 3 did. Payday 2 did really well despite the huge backlash to its microtransactions, which Overkill backed away from.