The Binding of Isaac: Rebirth is finally available on iOS for those of you hanging out to shoot pooh around a dungeon while on the loo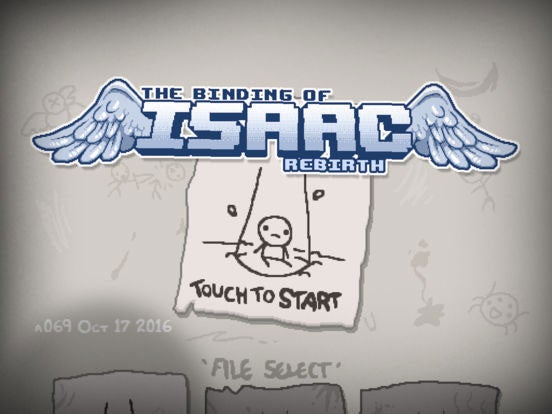 The Binding of Isaac: Rebirth is a perfect commute or commode game.
The Binding of Isaac: Rebirth is finally available on the App Store.
You can grab the fully-featured port for $15, which may seem a lot for a mobile game - but everything you'd find in the mothership version of The Binding of Isaac: Rebirth is here, too.
There was some doubt if The Binding of Isaac would ever make it to the App Store, where Apple's hilariously spotty content policies flagged it for depiction of child abuse or violence against children. Which is kind of the whole narrative set up of The Binding of Isaac, so.
Well, whatever happened with all that, it's clearly been resolved, and now you can have The Binding of Isaac: Rebirth on your iPad or iPhone, and sit on your toilet playing a game with loads of pooh in it, which I imagine is very satisfying. (If you do not have an iDevice, perhaps the 3DS or Vita versions will resolve this need for you.) Note that you mostly shoot at the pooh, rather than use pooh as projectiles, but we can't always have everything.
Here's the feature list for the iOS version of The Binding of Isaac: Rebirth. These are always worth reading for Edmund McMillen's signature style.
Over 500 hours of gameplay
4 BILLION Seeded runs!
20 Challenge runs
450+ items, including 160 new unlockables
Integrated controller support for popular control pads!
Analog directional movement and speed
Tons of feature film quality animated endings
Over 100 specialized seeds
2-Player local co-op (MFi Controller required)
Over 100 co-op characters
Dynamic lighting, visual effects and art direction
All-new game engine @60FPS 24/7
All-new soundtrack and sound design
Multiple Save slots
Poop physics!
The ultimate roguelike
A bunch of achievements
Uber secrets including:

10 Playable Characters
100+ enemies, with new designs
Over 50 bosses, including tons of new and rare bosses
Rooms FULL OF POOP!
Mystic Runes
Upgradeable shops
If you only ever played the original, Flash-based version of The Binding of Isaac, it's really worth picking up Rebirth, the remake built to allow porting to other platforms as well as expansion with new content and features. It boasts an "all-new highly efficient game engine, all-new hand-drawn pixel style artwork, highly polished visual effects, all-new soundtrack and audio by the the sexy Ridiculon duo Matthias Bossi + Jon Evans" and "hundreds upon hundreds of designs, redesigns and re-tuned enhancements" by McMillen.