The best steering wheels for PS4 and PC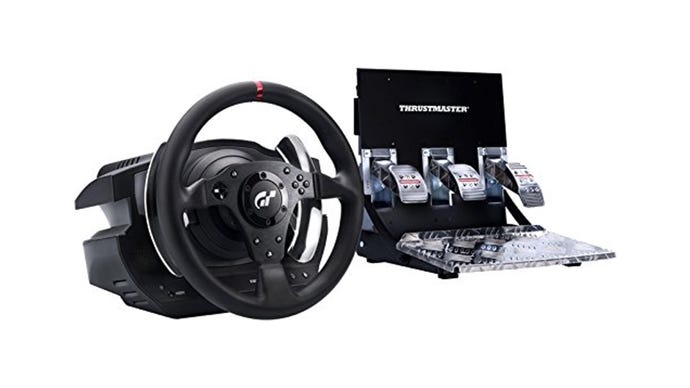 Race to win and be at your best with the best steering wheels for PS4 and PC today.

Over the years, games have made great strides in putting players right into the heart of the action. For racing fans, that's about having the right steering wheel controller. Here's our look at the best steering wheels for PS4 and PC right now.
Racing games have been around almost as long as video games themselves. As technology has advanced, new levels of immersion have been possible in order to make players feel as close to the action as possible. Originally, the best way to feel like you're really in the driver's seat was if a game gave the option of a cockpit view. However, over time home gamers were eventually given access to something that was previously only seen in the most extravagant of arcade cabinets - steering wheel controllers.
Out of all the various types of gaming controllers out there, steering wheels are surprisingly simple to quantify and stack-rank against each other. This is mainly due to the fact that while there is a large demand out there for these controllers, only a few companies focus on creating competing products to satisfy demand. This handful of companies, though, really focus and dedicate themselves to creating some truly fantastic products, which is what we're here today to look at.
What you're looking for or what you'll need from a steering wheel controller depends on the type of video game player you consider yourself to be. If you enjoy racing games and want to up the ante by adding a steering wheel, you may only really need to grab an entry-level or mid-range controller. If, however, you consider yourself as a more dedicated racing fan and want to make sure you have the absolute best experience possible when sat behind a wheel of any kind, then you're going to want to save some pennies and get one of the higher-end models.
This will involve saving those pennies, for the record. In order to get a truly fantastic experience from a racing controller, you're going to end up spending a decent chunk of cash. For the vast majority of us out there, we can get by with a mid-range controller and be very happy with our purchase but trust me, if you're looking for a way to get completely immersed in your race, the high-end has you covered.
The games, of course, also vary the experienced found within, so keep that in mind when deciding what steering wheel is for you. Consider how often you'll use this, what you want to get out of your experience and just how much you're willing to pay to get the greatest video game racing experience available. If any of this sounds like what you're after, you've come to the right place. Let's begin, shall we?
The best: Thrustmaster T500 RS
You know that old adage - "you get what you pay for"? That's especially true when it comes to the Thrustmaster T500 RS, the most luxurious of steering wheel controllers. This one is almost definitely only for the most enthusiastic of racing game enthusiasts. If you're the type of person who wants the best tool for the job, no matter the cost, this is an easy choice to make. If money is no object, the T500 RS outranks and outperforms all other steering wheel controllers on the market.
Equipped with a brushless industrial motor which can be operated at up to 3000 rpm, this steering wheel gives some serious kick back in terms of force feedback. In case you need some context for exactly how powerful that is, this is the sole reason that this controller carries a 16+ age rating. Where this massive amount of power lets the T500 down somewhat is in the fact that it requires an active cooling system during use, which makes it noisier than most other controllers.
The actual wheel itself is replaceable and makes use of a high-quality belt drive, making it a much more unique and precise steering wheel compared to others on the market. The turning radius is a huge 1080 degrees, which is among the largest on the market and enables players to spin the wheel almost freely. The pedals are built from solid metal, can be mounted hanging or standing with the included backplate, and can be customised with various accessories that are sold separately.
Every conceivable part of this controller can be bought as a spare part - if essentially anything breaks or shows signs of wear, it will be individually replaceable. An option gearshift controller can also be used and mounted alongside the wheel to create a fully immersive and realistic experience. There's even a whole range of pedal sets made by real-life vehicle manufacturers to be had, if that's your thing.
Make no mistake, this is a controller made purely for the die-hards and those willing to budget but if you have the money and a burning desire to own the best steering wheel controller available today, the T500 RS delivers in every possible way.
High range: Thrustmaster T300 RS
Moving ever so slightly away from the more absurd price points of the T500, the runner-up to the throne is the Thrustmaster T300 RS. In many ways, the T300 is virtually identical to its bigger brother including the replaceable wheel, leather coverings, 1080 degree turning radius and high-quality belt drive in place of a cheaper gear-based solution. Even the hugely powerful force feedback from the T500 remains intact here. In fact, the only real difference you'll find in the wheel itself is in the shift paddles, which are mounted directly to the wheel in the T300 rather than removable like in the T500.
So what makes this much cheaper option any different than the luxury model? In this case, it's all about the pedals. Most noticeably, the T300 pedal board features only two pedals versus the three seen in the T500 with the clutch pedal having been sacrificed for the sake of budget and space. Moreso, the pedals as a whole feel less sturdy, with less travel on the pair of them and a less satisfying weight to them. During gameplay, comparisons between the T300 and T500 shows that the T500 pedals tend to be slightly more responsive, with less delay between action out of game and in-game.
That being said, this is still a premium item that sits far above the majority of the competition. With the T300, you'll be getting a world-class steering wheel controller with a solid, high-quality set of pedals. Much like the T500, you'll have to buy a gearshift add-on separately for the full experience but for the value, this is an outstanding option for one of the best controllers available for racing games.
High range: Logitech G29
Logitech has a long and storied history with creating gaming peripherals and specialist controllers like its long-running series of steering wheels for consoles and PC. The industry-leading Logitech G27 was, for many years, one of the absolute best of its kind available to buy. Then, in 2015, Logitech discontinued its best-selling G27 and introduced the G29 as its replacement. As such, it has large shoes to fill from the start but the G29 manages to not only fill these shoes comfortably but excels just a bit further.
The G29 retains some of the features that made the G27 unique on release - larger and firmer shift paddles, leather coverings for the wheel itself and a speed / shift LED indicator to name a few - and adds a 900 degree turning radius as well as two force feedback motors to give a nice, hefty kick when you accidentally drive somewhere you shouldn't be. Also added to the G29 is a full D-pad and face-buttons, which unfortunately come at the expense of the gearshift controller which is now an add-on which must be purchased separately. The pedals are solid, with a non-linear brake pedal and a third (clutch) pedal to boot.
When all is said and done, the G29 is a remarkable steering wheel controller that continues the series' trend of being some of the best examples of steering wheel controllers around, though arguably the biggest improvement over the previous model is simply that it is now PS4 compatible.
Mid-range: Thrustmaster T150
With the mid-range T150, Thrustmaster is proving that it is well aware that not every gamer out there can afford to shell out £250-£400 for a steering wheel controller, even if it is the best on the market. The T150 appears to be a scaled-down version of the T300 and beats out the competition for its price range with many features normally only seen in high-end controllers.
The steering wheel itself is solid metal with a rubberised cover, the force feedback is powerful enough to match the T300, the turning radius is adjustable from 270 all the way up to 1080 degrees to match the absolute best of Thrustmaster's controllers, and the whole thing is powered by the same high-quality belt-drive as the T300 and T500, ensuring the most precise steering possible. The wheel itself is stellar. Where the package is let down slightly is with the pedals, as they are plastic-based rather than metal which can lead to some frustrations and inaccuracies during gameplay. You may find yourself pressing down harder and not seeing as much of an instant response as you would expect from a metal pedal set, for example.
Where the package is let down slightly is with the pedals, as they are plastic-based rather than metal which can lead to some frustrations and inaccuracies during gameplay. You may find yourself pressing down harder and not seeing as much of an instant response as you would expect from a metal pedal set, for example.
When it comes to the middle ground of steering wheel controllers, the T150 is unmatched and stands alone as a clear example that it is possible to balance budget and quality to create a product that is every bit as satisfying to use as the models above it in the range.
Entry level: Thrustmaster T80
The thing about steering wheel controllers is that once you go below a certain price point (let's say, around £100 / $100) it's almost impossible to find something actually worth buying. Put simply, budget controllers or cheaper options are generally not all that fun to play with and offer nothing even remotely close to a realistic driving experience. If you're looking to only spend around this budget, you're more than likely going to have to forfeit some of the fancier features of the other controllers on this list.
That being said, Thrustmaster's T80 controller is a surprisingly competent and enjoyable controller and is by far the best steering wheel for under £100 / $100. The build-quality is far higher than other wheels in this price range and feels solid. The wheel itself may be made of plastic but features a rubberised grip, sequential shift paddles and the whole package feels thick, weighty and satisfying to use. Unfortunately, at this price point, you'll be sacrificing force feedback of any kind as well as the wide turning radius of higher end models. The T80 delivers a serviceable radius of 200 degrees, which isn't quite enough to feel fully immersed in the driving experience but it does allow for precise and adjustable steering during gameplay.
The pedals are equally solid feeling, though still made of plastic, and are height-adjustable to suit most seating positions. The controller also features all of a regular PS4 controller's (eleven) buttons as well, so menu traversal will be as smooth as can be. Sure, you won't be getting some of the nicer bells and whistles of other controllers on this list but if this is your budget range, there is truly no other option than the T80.
Accessories: Gearshifts
If you're thinking about picking up one of the mid-to-high range steering wheel controllers and consider yourself a dedicated racing game fan, you're probably going to want to get yourself a gearshift (or gearbox) as an added extra. Once upon a time, steering wheel controllers came with gearshifts attached or in the box but as technology has advanced and expenses have grown, it's more and more common that these things are sold separately.
Gearshift controllers help bring a real sense of immersion to gameplay, giving players the feel of manual transmission shifting as the steering wheel's force feedback indicates when your vehicle's engine is at its limit. For better or worse, the range of gearshift controllers on the market is minimal at best but there are definitely two key ones to look out for.
Logitech Driving Force Shifter for G29 and G920 racing wheels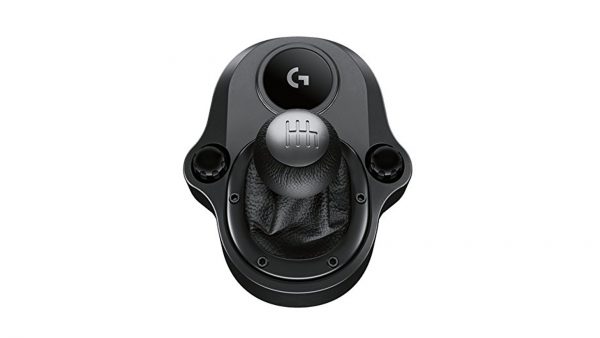 Firstly and the one most commonly seen in the wild, the Logitech Driving Force Shifter, designed to work with Logitech's G29 or G920 controllers. With this, owners of either of the aforementioned steering wheels are able to gain access to a high-quality H-gearshift with a solid, sturdy plastic and metal construction and leather components. More akin to the gear sticks that would likely be found in high priced luxury cars rather than dedicated race cars, the Driving Force Shifter is also compatible with the Driving Force GT steering wheel controllers as well as a handful of others out there, with some minor tweaks to the settings.
Thrustmaster TH8A
Over on the Thrustmaster side of things, the TH8A gear shift controller is designed to match the ultimate luxury of the T500 or T300 wheels. Consisting of a pure metal construction featuring beautifully polished and brushed steel, the TH8A arrives with the ability to switch between a 7-position H-shifter into a straight up-down shifter for sequential gear shifts. It's a beauty, to say the least and while the price is much higher than the Logitech equivalent, it's clear to see that the cost reflects the end product here.
Accessories: Gaming chairs and racing seats
The true racing game die-hards out there will be looking to get the perfect steering wheel controller in order to feel fully immersed within the game of their choice. What can then be added to improve that immersion just that little bit further is the perfect racing seat? Just as companies currently compete to out do steering wheel controller technology, the same can be said for racing seat tech. In order to get something worth buying, though, like a lot of things, it means you'll need to have the budget for it. High-quality racing seats might not be cheap but more often than not, they make all the difference.
Playseat Challenge PlayStation
One of the few companies that consistently walks the line between quality and budget when it comes to racing seats is the appropriately named Playseat. The company also happens to create one of the most popular racing seats for gaming in the past decade, even going so far as making individual models representing different games. The newest option of the company's line-up is the Playseat Challenge, which is designed to be a more affordable option. Though it might look a little more like a lawn chair, its metal framework is designed specifically to hold a variety of steering wheel controllers and pedals.
Playseat Evolution PlayStation Edition
Where Playseat excels, of course, is with the Playseat Evolution. As you can probably tell from the image above, the Evolution does away with the thin frame of the Challenge and instead replicates a racing car bucket seat, alongside an incredibly sturdy metal framework and arm to clamp a steering wheel onto. The pedal board is elevated and angled for comfort as well as ease of use, too, which is a lovely addition.
---
So there you have it, our guide to the best steering wheels for PS4 and PC out there on the market today. Did we miss any that you're particularly fond of? Feel free to let us know.