The best specialist controllers for PS4 - including mouse and keyboard converters
A DualShock might be a good start but trust us, there's so much more.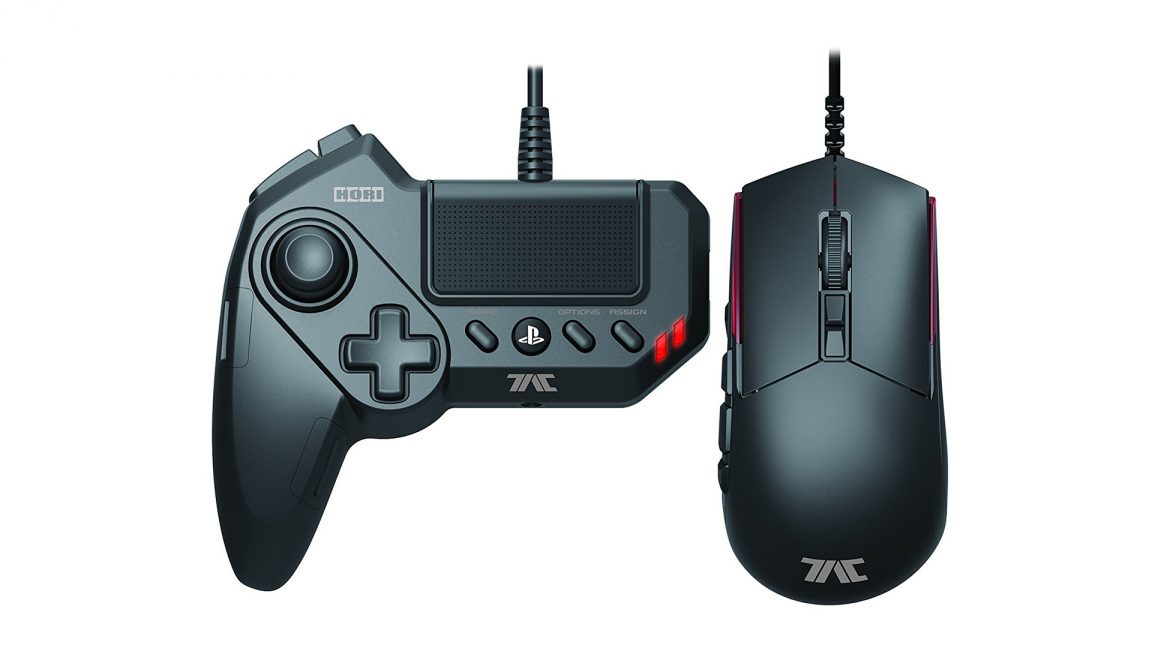 The gamepad! A concept that every gamer in the world is intimately familiar with, no matter how often they play. Each console has its own spin on what a gaming controller should be but if you're after something unique, the PS4 has you covered with a set of specialised controllers for different games. Here, we'll take a look at the best specialist controllers for PS4.
Exactly what we mean when using the term 'specialist' controllers varies from product to product but it can mean anything from a dedicated steering wheel controller and arcade fight sticks all the way to specially designed pads that are meant to feel more like using a mouse and keyboard on your PS4. Of course, on top of that, there are actual mouse & keyboard converters available for the PS4 that will enable you to use your existing mouse and keyboard setup on your console, which may appeal to the diehard online multiplayer shooter fans out there.
You don't have to be an eSports superstar or even a semi-pro competitor in order to get the most out of these controllers. You won't be using a steering wheel to play a platformer and using an arcade fight stick to play a first person shooter is downright insane, so if you're planning on picking up a controller purely to play a specific game or type of game, odds are good that you're the kind of fanatic that wants a controller that will improve your gameplay experience, hone your skills, make you more comfortable or just generally immerse you in the action quicker.
Different controllers suit different genres, of course - dancing games are vastly improved with a PlayStation Camera and a set of Move controllers, Street Fighter V is much more effective with a fight stick, racing games leap into life when paired with the right steering wheel controller. The list goes on and doesn't stop until you're considering buying something that looks like a mouse/keyboard/gamepad mash up all in one. Those, by the way, are becoming more and more common amongst FPS players, for better or for worse, in order to improve reflex-time. If you don't fancy grabbing one of these weird mutant controllers, consider the mouse and keyboard converters and save some space, maybe.
This list is by no means definitive but at the very least, we'll try and highlight some of our top picks for the best PS4 controllers, the best specialist controllers for PS4 that is, as well as the best mouse and keyboard converters for PS4.
PlayStation Camera
Although it's not actually a controller per se, it's hard to find a PS4 accessory more specialised than the PlayStation Camera. Largely used for the PlayStation VR headset these days, this little guy has been around since the launch of the PS4. Before VR came along, players were mostly encouraged to use the camera for live streams as well as video chat, alongside a handful of games that used the camera for a small feature.
Beyond the realms of titles like The Playroom, Just Dance and LittleBigPlanet, the PlayStation Camera also allows players to sign into their PSN accounts using facial recognition and launch games and apps using voice. More than any other use now, though, is PS VR. If you're considering picking up a PlayStation VR headset, you're going to want to grab one of these cameras as well. In 2016, Sony even gave this little guy a redesign so you can pick a squared-off design or the newer rounded type and see which you like better.
PlayStation Move Controller
Along with the PlayStation Camera, you're probably going to end up with at least one of these things. The PlayStation Move controller, originally designed and released for the PS3, is what you'll be using for a wide range of games while in VR. The aforementioned range of non-VR games (especially the Just Dance series) will make wide use of the PlayStation Move controllers as well, but the clear selling point here is the ability to use your hands in a more natural motion while immersed in VR. Having a set of these ready and waiting makes all the difference when playing games in PS VR.
Hori PS4 TAC GRIP
Here's where this post really earns the term 'specialist'. Hori is well known for creating an array of single-purpose gaming controllers over there years and the TAC GRIP for PS4 is no exception. Its full name - the Tactical Assault Commander GRIP - should give you a fair impression of the kind of games this controller is designed for. The pairing of a half-controller and gaming mouse (for left and right hands respectively) is tweaked ever so carefully to appeal to those of us out there who spend hours upon hours playing online multiplayer shooters and need every last bit of precision humanly possible. It even features bespoke buttons for quick-aiming, sniping and walk mode just in case you had any doubt this is built to be the definitive FPS controller.
Both the controller and mouse are wired with three meters of cable length, ensuring no input lag that crops up occasionally with wireless controllers. The left-hand gamepad section comes with a strap to secure your hand in place and make sure that you don't accidentally drop the thing while you play. The right-hand mouse section is capable of 800 to 3200 dpi which can be adjusted with a click of a button. Also found on the mouse are the missing 'right hand' trigger and bumper buttons - replaced here as four thumb buttons on the left side of the mouse. If you're not satisfied with the mouse's performance, fret not since any number of gaming mice can be connected to the gamepad via the USB cable and used to almost the same effect.
The TAC GRIP also comes with its own software which enables the controller's buttons to be completely remapped and customised, which is a nice bonus feature. It's not quite as near to the PC 'mouse and keyboard' experience as it seems to want to be, but it's definitely a cheaper way to get that experience on your PS4 than some of the other options out there.
Hori PS4 TAC PRO
Earlier when I said the TAC GRIP wasn't perfect but it was a cheaper way to get the mouse and keyboard experience on a PS4? Well, meet the GRIP's big brother - the Hori TAC PRO for PS4. As you can most likely tell from the image, the big difference between the GRIP and the PRO is the 'left-hand' gamepad section. Mainly that it's not there anymore and has been replaced by a dinky little keyboard instead. This makes the overall experience far, far more akin to playing a PC shooter. Although it's a little unwieldy at first, once your wrist settles into the right position, you'll find muscle memory taking over for the most part.
The 'section of a keyboard' styled left-hand controller features 20 mechanical keys which are a bit of a joy to use, especially when trying to keep up with the high-octane action happening on screen. As with the TAC GRIP before it, all keys are completely programmable using the accompanying software, this time being able to store up to three profiles at a time, too. The included gaming mouse is almost identical to the version that comes with the TAC GRIP. It's by no means perfect and while it does a great job of emulating the feel of playing PC shooters, there's distinctly something missing overall. Having said that, much like its little brother the GRIP, there are better options out there (look out for the Xim 4) but you'll be paying much more for them.
Hori Real Arcade Pro 4 Kai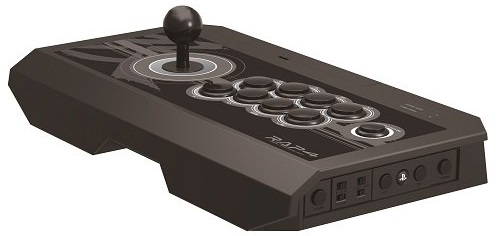 The Hori Real Arcade Pro 4 Kai is arguably the absolute best PS4 arcade fight stick on the market. Featuring nine large, clacky (in the best way) "HAYABUSA" buttons and the "HAYABUSA joystick", this stick is a must-own for die-hard fighting game fans. This is one of the very few home fight sticks that manage to capture the feeling of playing at an arcade while still working on a PS4. As a matter of fact, this stick actually works on PS3 and PC as well with no additional adapter needed, which is a valuable bonus to have. All in all, if you consider yourself a fighting game fanatic, you'll play best when you feel your best and odds are good, the Real Arcade Pro 4 Kai stick will help you get there quicker.
Mouse and keyboard converters
As is typical in life, something that attempts to emulate something can only really get so far. It's great that products like the TAC GRIP and TAC PRO exist and serve their purpose but they will never be able to capture the feeling of playing a game with a real mouse and keyboard perfectly. They may come pretty darn close at times but ultimately, nothing compares to the real thing.
In that case, it's good to know that actual mouse & keyboard converters exist for the PS4, meaning you'll be able to pick up one of these little boxes and plug in your existing (and most likely expensive) gaming mouse and keyboard in order to play using them on your PS4. There's not a lot of these about at the moment but the ones that are out there seem to be doing the job rather beautifully - expect to see more companies making these soon. Of course, as will all emerging tech, you should be prepared to spend a pretty penny on one of these, at least until the market gets flooded with a lot of similar products.
It's worth noting, also, that if your only goal is to play single player games using a mouse and keyboard, one of these converters will suit you just fine. If, however, you're aiming to play online with one of these, be warned that there have been cases in the past of players being banned from matches or games for the 'unfair advantage' of using one of these converters. Your mileage may vary, of course, but it's better to know that before you buy than getting an unpleasant surprise months in.
Xim 4
The absolute best mouse and keyboard converter for PS4 on the market today, without question, is the Xim 4. It also happens to be by far the most expensive. Funny how that works out, huh? Compatible with the PS3, PS4, Xbox 360 and Xbox One, the Xim 4 enables console gamers to use a huge range of PC hardware to play their games with. Unlike some other similar products currently out, the Xim 4 avoids compatibility issues and really boils down to a very simple plug-and-play setup. This little box essentially tricks your console into thinking your gamepad, mouse, keyboard, joystick or whatever else you're using is a standard controller.
The accompanying software, the Xim 4 Manager, also allows players to configure the device entirely using a PC or even a Smart Phone (via Bluetooth). The great advantage of this software is that the database of compatible devices and games is expanding constantly and the Xim 4 receives these updates via this software, in order to stay ahead of the game at every step. As you may expect, this software also enables you to completely remap and reconfigure any and all buttons and keys on your device. The Xim 4 is a beautiful little device and does its job near flawlessly, the only catch may be the price tag.
Hama Speedshot Ultimate
Right now, the only product that even remotely rivals the Xim 4 is the Hama Speedshot Ultimate. As a nice extra, it's also a fraction of the cost, too. There is a PS4 specific model out there as well as a multi-format edition that will work on PS3, PS4, Xbox One and Xbox 360. The multi-format edition is known as the Speedshot Ultimate and it's the one that's worth your attention.
Much like the Xim 4, in order to use your mouse and keyboard, it's a simple plug-and-play setup via USB, no outside installation or any software is required. Up to eleven different profiles can be created and used to store different button configurations, with extra features such as turbo, auto-fire and auto-repeat available as well. It even comes with a nifty little sticker sheet in order to keep track of button layouts.
The thing that lets the package down somewhat and may explain the much-reduced price tag in comparison ot the Xim 4, is compatibility options. There is a largely reduced database of compatible PC hardware although the vast majority of well-known brands and models should work just fine. For full freedom of devices, you'll want to grab a Xim 4 instead, although you'll be paying over double the price of this one.
---
With that, we've finished our look at the best specialist controllers for PS4 as well as PS4 mouse and keyboard converters. As mentioned before, these are purely for the die-hards and won't be suited to everyone. If you do find yourself yearning for the kind of options one of the above controllers or converters offer, then you may just want to grab yourself a nice treat and get your gaming up to speed.